The Enduring Dollar
Pittsburgh's oldest bank restores its historic headquarters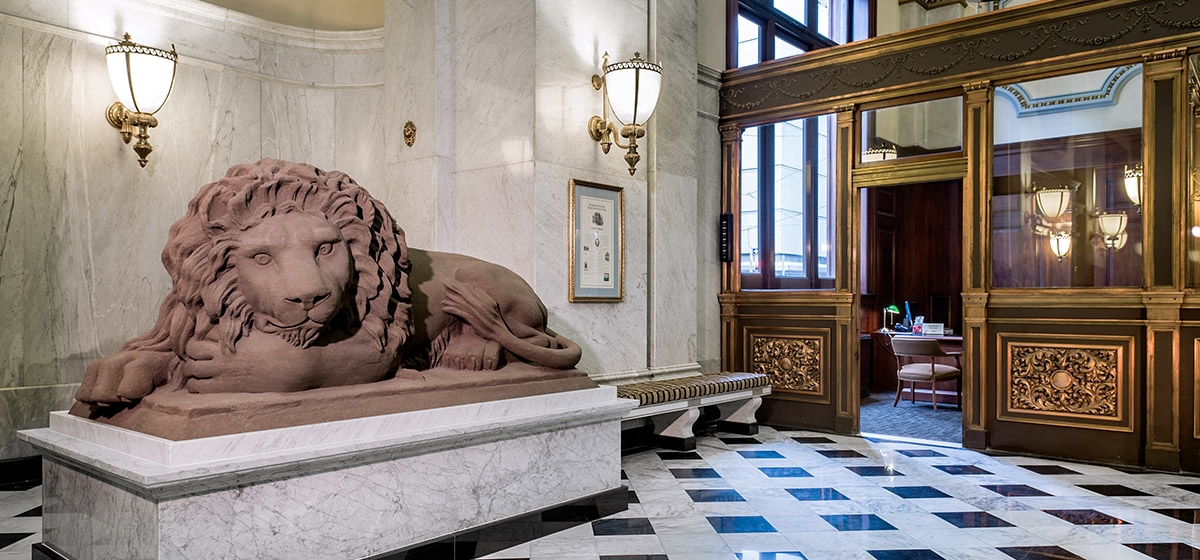 August 21, 2014
They don't call it the lion's share for nothing. Those sculpted felines at Dollar Bank's Fourth Avenue building have grabbed the limelight. A crowd attended their unveiling last year, with substantial press coverage, because master carver Nicholas Fairplay had both restored the original lions, which were placed inside the Dollar Bank building, and replicated them in sculptures placed outside on Fourth Avenue. In addition to the meticulous, chiseled artistry of the carvings, substantial feats of engineering were required to shore up the bank's original floor to support the weight of each multi-ton block of Berkshire brownstone.

Really, though, the lion project was only part of a greater architectural restoration. "Once we started working on the lions," comments Dollar Bank marketing director Joseph B. Smith, "we started paying attention to the rest of the building." In an industry that has thrived over the years on tearing down and rebuilding, Dollar has perpetuated some of its core values and continuing successes in maintaining and enhancing its historic headquarters.
The building is not simply a relic; it was noteworthy at its 1871 completion, designed by architects Isaac H. Hobbs & Son. Though the Philadelphia firm was known nationally for a published book of residential designs, none of those illustrated buildings was as artistically ambitious as this bank. Its Portland brownstone was typical of the era, but the double-height composite columns and textbook Roman entablature were rather unusual, even ahead of the curve at that time. While some larger and more ambitious Pittsburgh banks were building five- and six-story buildings as investments and advertisements, Dollar's building was primarily one story, albeit a tall one with a 36-foot-tall interior. Roman architecture made up in grandeur what it lacked in actual height. The implications of institutional strength and persistence over time were even more powerful in the building than in the lions, all of which were helpful encouragement for the targeted clientele of modest, working-class savers.
Through the late 19th century, financial markets experienced tumultuous expansion and accompanying crashes. Many banks moved, merged, rebuilt, drastically grew or simply disappeared, but Dollar stayed in place. "The city grew as immigrants came here, so the bank grew," says Sandra Wise, project manager for Dollar Bank. "And the building grew to accommodate these people." An inconspicuous addition at the rear in 1896 included the board room, president's office and secretary's office. Much more visibly, the building's wings were completed in 1905, designed by James T. Steen & Sons on land that Dollar had owned since 1871. These added harmonious width to the original building, as well as needed interior space, giving us the architectural exterior we know today.
Today it is the oldest bank building in Pittsburgh, but the recent restoration program has been a considerable investment. "It has taken place over five years, which has allowed us to spread out the cost," says Smith. Walking through it with preservation architects John Martine and Sean Beasley from Strada Architecture is an inventory of puzzle pieces, restoration challenges and engineering feats. Restoring stone in the façade required an elaborate combination of patching and sealing, reinforcement and replacement. As executed by Cost Construction, a Pittsburgh-based contractor, significant portions of the lower columns had to be slid out and replaced with matching stone to be carved in place, while keeping the upper portions undisturbed. "This was the most nerve-wracking part of the whole project," says Beasley.
Inside, the banking offices have original brass office dividers on the west side of the building. Classical revival in detail and period, they are a surprisingly forward-thinking system of modular components. A seemingly identical system on the other side of the banking hall is a meticulous reproduction in wood and plaster that is similar but intentionally not exact. "Preservation requirements state that new construction has to have some indication of difference from the old so that it reflects its own time," explains Martine.
Meanwhile, Dollar Bank's Heritage Center has recently opened in spaces of the 1896 addition to the building, which had actually survived through the years in largely unchanged condition, even as other interior spaces had changed with the times. These spaces have become an exhibition space to display the bank's history. Ledgers, which date back to the bank's earliest transactions in 1855, are on display, as are pieces of bank-associated equipment, such as coin counting machines. A large screen display shows videos of the restoration and reinstallation of the lion sculptures, a cat video for the historic preservation set. School groups come in to tour the space, and Pittsburgh History and Landmarks conducts docent training sessions there. Wise indicates that Dollar is eager to arrange for other nonprofit groups to use these spaces.
The Heritage Center is open to the public, but smaller components of the renovation are ongoing as funds become available. "As we do this kind of work, I want the workers to see themselves as part of the history of the institution," says Wise. "Many of the laborers see what we have here. It makes them want to do better work. And many of them become customers, as well."
The architecture originally aimed to give working people a sense that their money would be secure over time by evoking the forms of an ancient building. Now, with no small help from the clients, architects, contractors and sculptors, the building has lived up to the original design's promise of longevity.