The ease and élan of Ireland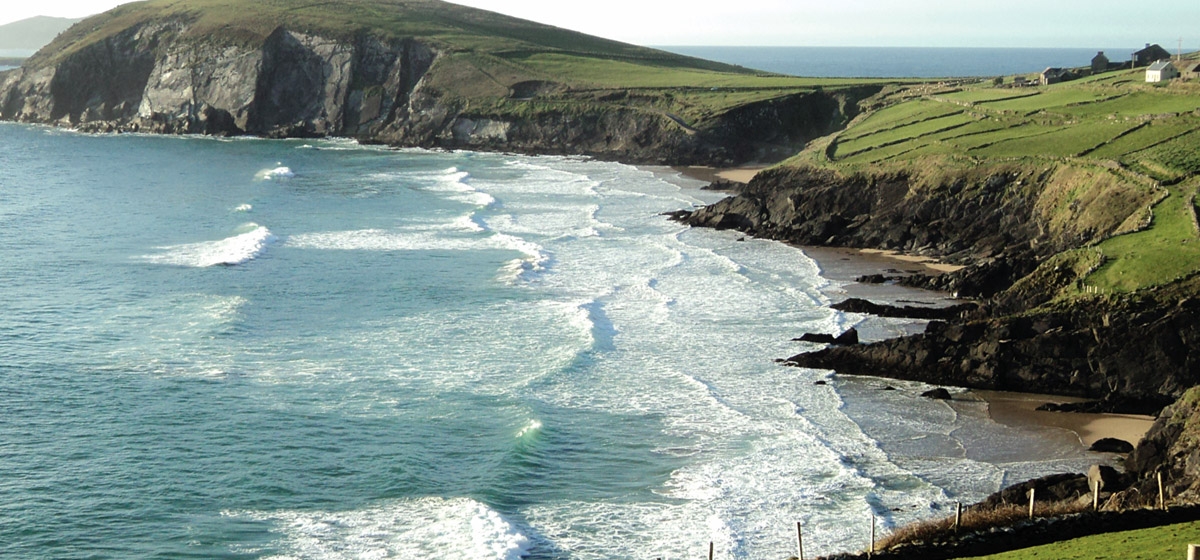 August 20, 2015
I can't really recall why we chose Ireland for our honeymoon 27 years ago. Neither of us is Irish. Maybe it was the writers—Yeats, Wilde and Joyce. Maybe the fishing (not for my wife). It certainly wasn't the weather or, back then, the food. My wife noted that the same boiled potato and chicken meal followed us wherever we went. But now, many years and visits later and despite many travels elsewhere, Ireland has charmed us with its lyrical people, misty beauty and unpredictable peculiarities.
On that first trip, we flew into Shannon—first stop Blarney Castle. As young writers, receiving the gift of eloquence (gab) couldn't hurt, but do it while you're young and can handle the 120 claustrophobic steps. We did the Ring of Kerry and Dingle Peninsula—very beautiful as promised—but our real introduction began one night after driving too many hours and arriving too late for dinner at a bed and breakfast way out in the country.
To get food, we drove to nearby Killorglin on a narrow, windy road in the rain. The road dipped down to the right by a stream, and we had to almost stop before making a hairpin left. Just before the turn, our headlights illuminated a figure standing motionless in the rain by a stone bridge. He disappeared as our lights veered away, and we both said, "What was that?" He had an eerie, other-worldly look, and when we returned three hours later, in a spine-tingling moment, there he was again. It hit us later that it couldn't have been a man. Maybe a ghost? A leprechaun?
As we neared Killorglin that night, the roadside was packed with cars and caravans, and the tiny town had swelled to thousands of people. Traditional music filled the air, and as we approached the first pub on foot, its door flew open and three red-haired young men shot out horizontally, head-over-heels, tangled in a wrestling match on the ground, muddy with beer. In the center of town, a huge throng sang and drank beneath a makeshift three-story pedestal. On top was a goat, with a feedbag under his mouth and a crown on his head. We had stumbled into Puck Fair, held every August since 1613, when, according to legend, approaching armies disturbed a herd of goats. One made it, exhausted, to Killorglin, where the townsfolk declared it an omen and prepared for battle. Every year, Killorglin crowns a he-goat "King Puck," and a mighty revelry erupts.
I inserted two fishing lodges into that first trip, Ballynahinch Castle with its stunning trout and salmon river and a smaller bed and breakfast by a lake outside Galway. As we approached the latter, on a basically one-lane road, a series of hand-scrawled signs nailed onto trees warned: "We will never forget you for this!" and "Is it worth the 30 pieces of silver?" In the empty parking lot, the proprietor explained. There was a new tax on fishing rods, and the locals were boycotting it by not fishing. Our host, however, found the tax reasonable and kept his lodge open, incurring his neighbors' wrath. He shook his head and said they'd done something similar 110 years earlier, albeit for different reasons. Back then, an English land agent was driven from his land on the same lake. The man, who ultimately left the country, was named Captain Charles Boycott, and the Irish gave English a new word.
We've started more recent trips flying into Dublin and staying two nights at the Central Hotel. There are fancier places, such as the beautiful Shelbourne or Merrion, but the Central with its famed Library Bar, is an easy place to weather jet lag and immerse yourself in Grafton Street, Trinity College (with its magnificent library) and the many greens and shops. Even for non-beer drinkers, the Guinness Storehouse is worth a few hours for the tour, glass of stout and panoramic view of Dublin. And to understand Ireland's quest for independence and the 1916 Easter Rising, Kilmainham Gaol is a must. But the great charm of Dublin is simply walking the city until a pub calls your name.
The weather helps you hear that call. We've been to the Emerald Isle in August, February and May, and you can tell the seasons more by whether or not there are flowers than by the temperature, which seems always to be in the 40s and 50s (with rain). And that's why Ireland created its greatest gift—the pub. A respite by the fire (summer or winter), the delightful Irish accent, a bite and glass of stout or whiskey—throw in Irish music, and there's little reason to leave.
We've visited many lovely places: Cork, home of Irish rebellion for centuries and tasty Murphy's stout; scenic seaside Kinsale and its culinary offerings; Kenmare with its bustling tourism options; and many others. But every trip, we've driven the craggy, forlorn Connemara loop, stopping recently at Kylemore Abbey's lakeside castle and beautiful gardens. Killarney is magical, walking the gorgeous national park, enjoying live music at the pubs and staying at the elegant Malton. And on our last trip, I broke down and booked the Medieval Banquet at Bunratty Castle, expecting an evening of schmaltz. However, the troubadors, décor and meal delighted us, and our son was taken to a dungeon as part of the spiel, and escaped execution by singing a ballad, which drew an ovation from the tipsy crowd.
Much has changed since our first visit in 1988. Eastern Europeans staff many venues. The roads and highways are much better—sheep delays are rare—and a GPS means no more squinting at road signs and delaying other drivers as you enter roundabouts. But if you do get lost, the famously friendly Irish always stop to give you directions. But they've clearly kissed the Blarney Stone too, and there's a short story to be written about conversations that began with, "Excuse me, do you know how to get to…" Finally, before you go, watch some great Irish movies—"The Guard" and "Calvary" directed by John Michael McDonagh and John Huston's beautiful adaptation of James Joyce's "The Dead." And get some great Irish music for the drive.