Take Five
How does a western Pennsylvania resort earn that coveted five-diamond status?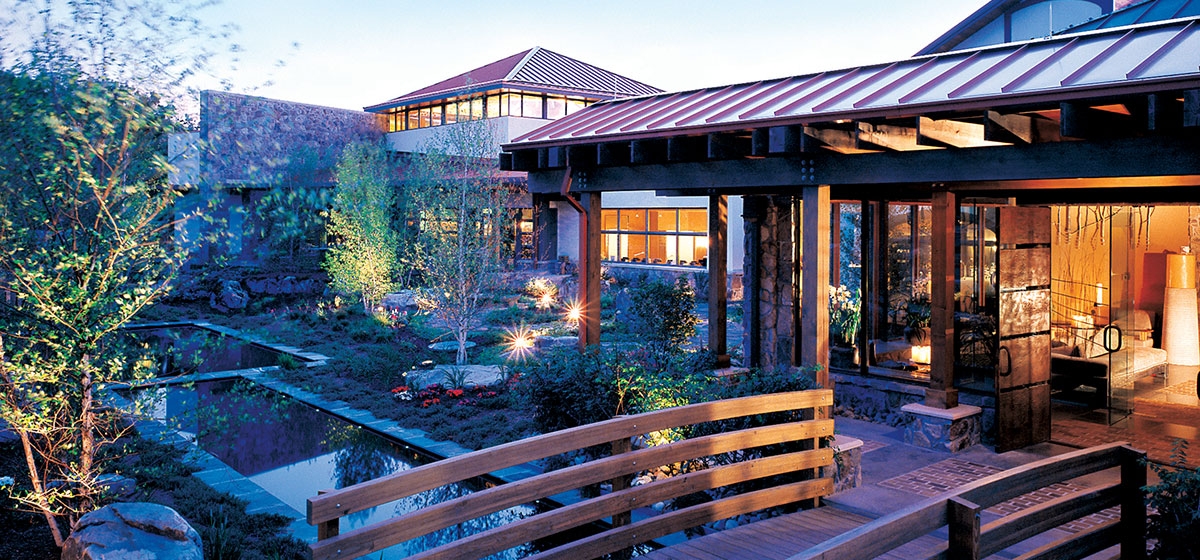 February 20, 2008
A recent Gallup poll revealed that up to 44 percent of us are frequently stressed, and 55 percent of us feel we do not have enough time to do the things we want. That's 130 million anxious people, give or take a few basket cases. A little over an hour from Downtown lies an antidote.

It sits in the middle of nowhere in the southwestern corner of the state, on top of an Appalachian ridge that the Delaware Indians once controlled before the British and French elbowed their way in and fought for jurisdiction of the continent 250 years ago.
It's called Falling Rock, and it stands as a landmark in the hospitality industry of Western Pennsylvania. While the region is known for its excellence in private clubs, such as the Duquesne Club, it has long been notable for having zero Five-Star or Five-Diamond hotels or restaurants open to the public. But that's all changed now that this resort-within-a-resort at Nemacolin Woodlands has won AAA's top rating. The point of Falling Rock is to deliver escape from the inexorable demands of the multi-tasking life. "People come here to get away," says Dan Gorajczyk (go-rye-uh-check), Falling Rock's manager. The hotel is designed to be as different from day-to-day existence as possible — bereft of stress, absent of aggravation, brimming with novelty, steeped in personal attention.
According to AAA, it must "reflect the characteristics of the ultimate in luxury and sophistication. The physical attributes must be extraordinary … The fundamental hallmarks … are providing meticulous service, exceeding guest expectations, and maintaining impeccable standards of excellence. Many personalized services and amenities provide an unmatched level of comfort." Of the 30,000 hotels the association rated last year in the U.S., less than one third of one percent — a mere 93 — warranted the Olympian rank accorded by five diamonds. The other three in Pennsylvania are in the Philadelphia area. Washington, D.C. has three, Ohio, one, and Maryland, none.
Hotels have no way of knowing when the AAA connoisseurs will put them to the test. Inspectors check in at least twice a year, never tipping their white gloved hands, and then go about filleting the places they investigate, looking for soot on the tops of picture frames, dust bunnies under the beds, hotel associates (the hotelier's term for employees) who show even an ounce of surliness, thin walls, leaky faucets, imperfect beds — anything less than "meticulous" and "extraordinary."
The arrival
To receive a Four-Diamond rating, a hotel must have what AAA calls "excellent curb appeal," but to get up to five, the property's "exterior elements" must be nothing less than "stunning." My traveling companion and I swung into the entrance of Falling Rock and beyond, up the small tree-lined boulevard that frames the hotel in your eye. The architectural concept of Falling Rock recalls the work of Frank Lloyd Wright and his masterpieces Fallingwater and Kentuck Knob, both within a 20-minute drive of the resort. But the copper-colored minarets, rock columns and triangular shapes of the exterior not only recall Wright, they bring to mind a Pasha's palace somewhere outside the Hindu Kush. You get the idea that pleasures await.
The bellman and valet were on our car before I could kill the engine. A few seconds later, our bags were out, the car gone, "It's pretty nerveracking," Trey Matheu, general manager, says with a slightly mad laugh.
At your service
We were ushered through the hotel's coppery doors. Falling Rock doesn't have a front desk or a registration desk, or anything like that. It has an "Indulgence Desk." You don't stand, and you don't wait. You sit, and in our case, garner the undivided attention of a young man in dark slacks, a sports coat and tie who beams and says how thrilled he is that you have arrived. He seems to mean it. Then he adds, "Let me call Anthony, your butler."
Anthony arrives within 60 seconds. You might have expected him to be an aloof Brit, dressed as he was in striped pants, white gloves and a black wool jacket with a Nehru collar and Eisenhower waist. But this wasn't John Gielgud, and rather than glide in, nose up, tray in hand, he walked to us smiling, open and all-American.
"We work hard to hire people who have a genuine propensity to please," Matheu would tell me later in the Amber Lounge, the hotel's bar. Was that a problem in this part of the world? He wasn't drawing from experienced staff that had plied their trade in hotels in New York or D.C., after all. Not only not a problem, he answered, but "I think it's a strength." The people in this area don't have big egos, they're happy to help and they work hard. "Maybe it's the family values or the work ethic in this part of the country." People are down to earth.
Manservants, according to Tommy Dewitt, Falling Rock's lead butler, are the new, hot thing in the hospitality business, at the high end at least. When Maggie Hardy Magerko, who created Nemacolin with her billionaire father, lumber magnate Joe Hardy, recognized that trend, butlers became a top priority. The reason they are so successful, says Charles MacPherson, vice chairman of the International Guild of Professional Butlers (see: https://www.butlersguild.com/) is because of the worldwide rise in millionaires and billionaires. "If we doubled the number of butlers," he told the London Telegraph, "they wouldn't be without work."
And who wouldn't want a butler to shuttle them anywhere at a moment's notice, arrange appointments, iron clothes and lay them out (in the order in which they are put on), make reservations, draw baths and uncork wine, all without so much as a crooked eyebrow?
"We try to take out the middle man," says Dewitt. "Anticipate what the guest wants almost before even he knows he wants it." Dewitt admits some people feel discomfort at being taken care of so thoroughly. So you have to back off; coddling differs from person to person. To some it may mean pleasing them simply by helping them get used to the idea of being pleased.
And what of the demanding guests Dewitt runs into, those who really push the limits?
Dewitt pauses. "You take the good with the bad … But my motto is there's no such thing as a high-maintenance guest. Just someone who needs a little more attention."
To guarantee they can handle any guest, no matter how prickly, the hotel's butlers have been certified by the International Guild of Professional Butlers. The Hardys flew in a special Guild instructor from London in 2004 when they decided to make butlers a top priority, and volunteers underwent six weeks of training until the final staff was chosen. Butlers take an 80-hour refresher course every year to keep them on their well-polished toes.
Dewitt demurs on sharing the most outrageous services he's been asked to provide, proving the adage that discretion is the better part of being a butler. What happens behind the closed doors at the hotel, he says, is between the butler and the people he or she is serving. Although later he does allow that there was a time when they had to plan a private flight to Las Vegas, and a marriage, for a couple. It wasn't cheap, and eventually the almost-newlyweds passed, but every detail was arranged because, says Dewitt, that's what they wanted.
Welcome to Hardyville
There is a whimsy about the way Nemacolin has expanded during its 20-year existence. "If you had told me 12 months ago that we would have a wildlife park here and I'd be hiring veterinarians and animal experts, I'd have told you you were crazy," Matheu said. "But that's what we have." The new Wildlife Academy features bear, African hyenas and a Bengal tiger named Tig, but that's just the latest in a long string of additions the Hardys have made since purchasing the Rockwell family's 20-room lodge out of bankruptcy in 1987. Since then they have added two golf courses, three hotels, a spa, zip lines, climbing walls, fly fishing, an art gallery, 14 specialty shops, a ski slope, and an Off-Road Driving Academy with Hummers.
Some locals grouse that Joe and Maggie are turning the mountain into Hardyland. You could make an argument for that, what with all of the fanciful additions. But then one of the differences between Nemacolin and its high-end competitors is that it offers something for everyone, no matter what their age or tastes — luxurious or rough and tumble. It's also the biggest employer in Fayette County — on average employing around 1,000 people a year. And the family is well known for its generosity, especially to local causes.
Falling Rock was, itself, a kind of fanciful afterthought. Joe Hardy, an inveterate golfer, wanted a PGA tour event at his new resort back in the early '90s. He hired golf course design guru Pete Dye to create the Mystic Rock Golf Course, the property's second, and then got his 84 Lumber Classic on the PGA tour. Problem was the resort didn't have a locker room for the golfers so one had to built. That locker room became Falling Rock.
Hardy tapped architect David Merritt to design the hotel and gave him carte blanche. He used it, too. "Falling Rock cost $68 million," Anthony tells us as we walk to the elevator. Some might see that as overkill, but not the Hardys. "Falling Rock has 42 rooms, which makes it room-forroom one of the most expensive hotels in the world," says Anthony. It looks it. As you pass through the lobby, three 27-foot-high statues of Delaware Indian Chief Nemacolin — his palms open in greeting — rise on stone pedestals to a ceiling of copper and gold leaf. The ceiling alone must have cost $1 million.
The lobby's stone columns are dead ringers for the supports that buttress the cantilevered balconies of Fallingwater. Every detail in the hotel pays subtle, but unremitting homage to the cantankerous old genius of Taliesin — the triangular benches and patterns, the cherry woodwork, cornices and frames. The slate floors, the use of glass and open spaces, the design of the furniture and trapezoidal lamp shades, and the water everywhere, always falling — down the walls, in the fountains beyond the bar, inside the four-star restaurant which is, aptly enough, named Aqueous. Even the artwork on the walls shimmers and seems to fall with copper or triangular patterns.
The same holds for the rooms. The ceilings are 16 feet high. This is not a Wright trait; his ceilings are as notoriously low as their maker was short, but the rooms feel neither grand nor small, just inviting.
Anthony leads us through the cherrywood entry and around the closet into the sleeping area. The large bed is plush, triple sheeted. He shares the "pillow menu" with us in case the pillows on the bed aren't satisfactory or we're allergic to down. There are 10 varieties to choose from. Lamps on either side hearken again to Fallingwater with their rippling, Cherokee-red bases and tan paper shades. The room feels more like the guest room at a home than another squared out hotel space. The desks and chairs, like every chair in the hotel, emulate some Wright design. Yet, somehow nothing feels mass produced, another hallmark of the Five-Diamond world.
Beyond the room's desk and the chair with its triangular ottoman is a wall of glass that opens to a balcony in the shape of — what else — a triangle. Outside, spread out before us is the final fairway at Mystic Rock. The fountains below and the water gurgling in the triangular infinity pool off to the left (always 82 degrees) begin recalibrating the alpha waves in your head.
Next we get the bath tour. Bathrooms don't usually rate touring, but Anthony says we have to make an exception. The shower features four ways to get wet — side nozzles that will pulse or rock back and forth like sprinklers. A primary nozzle with buttoned settings, and, best of all, a waterfall head that spills down as if you were standing in a tropical lagoon. The bathtub holds 250 gallons of water. If you're romantically inclined, you can have a bath drawn while you're having dinner and return to candlelight, piped-in music, champagne, strawberries and warm chocolate sauce to dip them in. The butler handles it all.
For dinner at Aqueous, the attire calls for "resort casual" — jeans and shorts are disallowed. Warm and mellow, it has a FourDiamond rating, not yet five. The views of the highlands and golf course are spectacular, no matter where you sit.
Except for the seafood, all fare comes from local farmers, who abide by the Pennsylvania Association for Sustainable Agriculture's guidelines. We order pecan crusted lamb and filet mignon and lobster tail. It's all perfectly prepared with fresh local vegetables. Ice cream for dessert, made that day in-house. "They'll make almost anything into ice cream," the host, Kory, tells us, including goat cheese and avocados. Tonight: butter pecan, pumpkin, cherry and espresso.
The 7 a.m. wake up call comes at 6:59. A woman informs me it is 50 degrees outside with a predicted high of 71 degrees and a 30 percent chance of showers. Would I please have a wonderful day? Thirty minutes later, the morning butler arrives with fresh fruit, hot coffee, juice — everything we asked for. Is there anything else she can do? Your Off-Road Driving Academy instructor will meet you in the lobby at 10 a.m.
The morning is spent learning the remarkable abilities of the Hummer H-1 while driving over treacherous inclines, ruts, boulders and deep ponds. The afternoon includes a light lunch, workout and a variety of treatments at the Woodlands Spa. Next comes a wine presentation by the resort's young sommelier, Brian Henderson, an ex history major who has an amusing attitude about wines without the snootiness to which some experts fall victim.
Dinner is at Lautrec, inside the main Nemacolin complex. It won its fifth diamond in November, the only restaurant in the region and one of only 62 nationally to attain that stature. Anthony will pick us up after drawing a bath and putting out a chilled bottle of wine. "Just have the waiter call when you get to the last course."
We pull up to the hotel entrance and are temporarily transported to the Paris Ritz, except the attendants don't have French accents. At the table, I've forgotten my reading glasses, and an opened wooden box filled with a variety of reading glasses appears. The personalized menu says "A very warm welcome to the Walter party." We try the special, a 15-course meal made up of morsels of duck, roasted scallop, frozen mango, beef striploin and a parade of other tiny dishes. Favorites include the Kurobuta Ham, Carmelized Langoustine and Cayuga Duck with cherry puree. It's hard to imagine that such miniscule dishes could possibly satisfy, but by the eighth course you learn otherwise. The meal gives the chef, Dave Racicot, complete control over your palate. Each course arrives one after the other on a well-timed march from the kitchen. Four of the courses alone are desserts, three winners — green apple custard, coconut tapioca and banana ice cream with chocolate mousse and peanut brittle.
As we finish up, the bath back in our room has been drawn, rose petals are on the floor, the wine out, and the lights (which have eight different settings) have been dimmed.
On our final day, we have a light breakfast and head off to the shooting academy on a 140-acre tract less than 5 miles away. After firing 50 rounds with a 12-gauge Beretta, it's clear that my marksmanship guarantees that the clay pigeons are safe, at least until they hit the ground.
Back in the hotel lobby, the waters continue to fall. And the staff smiles, encouraging us to return soon. Then our car appears. On the ride back down the mountain into Hopwood and onto the highways that will carry us to Pittsburgh, I wonder if Falling Rock was actually Five-Diamond perfect. In the end I decided it depends on the definition you use. The American Heritage Dictionary describes perfection as "being without defect or blemish; excellent and delightful in all respects."
It wasn't "without defect." Life is flawed, after all, even at resorts. Communications falter, oversights happen, an accent slips off the tongue. Trey Matheu admitted, "We've made a lot of mistakes here, but we try to learn from them and keep improving." But was the visit "excellent and delightful?" Absolutely. There was more than enough escape and quiet; enough plush amenities and novelty to satisfy the demands of even the most demanding. We got "away." Stress was down and pleasures were up. And never once was there a rude or curt word. No white glove can measure that.