Survival of the Fittest
For malls, a box full of stores isn't enough anymore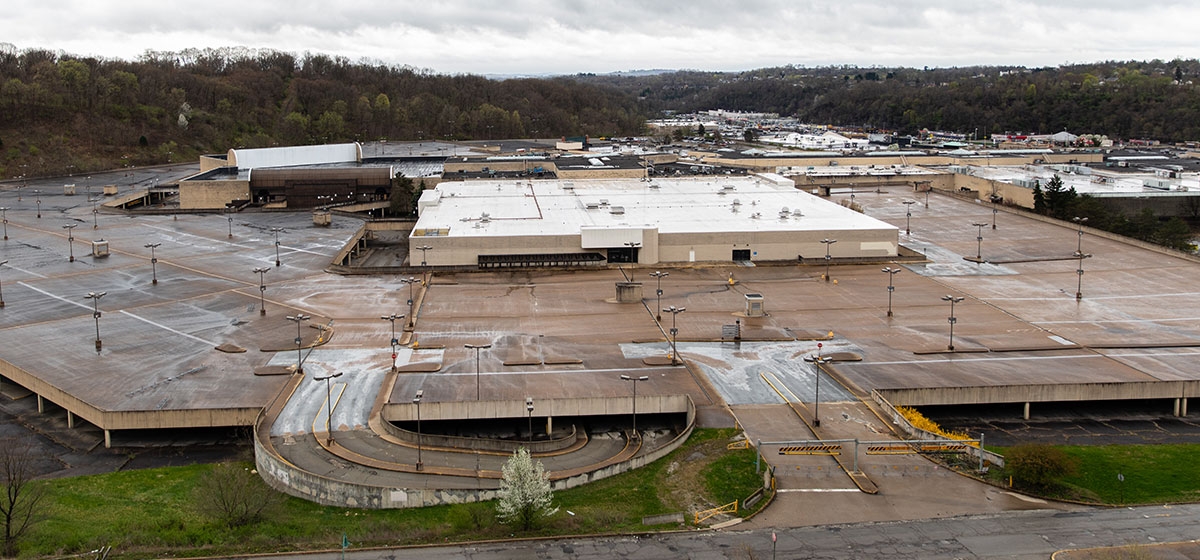 May 20, 2019
Fran and Steve are hiding in the Monroeville Mall, spying on its creepy patrons—gray-skinned zombies who'd once been suburbanites, judging from their apparel. One of the walking dead, a woman, staggers from an appliance store mindlessly dragging a new toaster by the cord. "What are they doing? Why do they come here?" Fran says. "Some kind of instinct," Steve replies. "Memory … of what they used to do. This was an important place in their lives."
---
---
George Romero's 1978 horror film, "Dawn of the Dead," was a keen, if campy, observation of its era, a time when malls were an undisputed American retail and cultural phenomenon; a time that has become a distant memory. Earning such a place in the hearts and minds of consumers is much tougher these days. Hundreds of malls have been shuttered around the country, including a few in southwestern Pennsylvania, where a few others linger on the brink. Several local malls have changed hands. There hasn't been a new one built in more than 10 years. They're particularly vulnerable to an economic slowdown. And survival of even the strongest hinges on whether they can adapt to the profound changes in how people shop that are roiling the retail industry.
The American mall, which has encountered turbulence before, lives on. The majority of malls still open their doors at 10 every morning across the region and nation. And some are quite healthy, contrary to published reports that cast them as an endangered species.
But it's a disruptive period in retail history. Department stores, traditional anchors counted on to draw shoppers to the mall, are in trouble. JCPenney, Macy's and Sears recently announced the closing of hundreds of stores nationwide, as have several mall staples, such as Gap, Bon Ton, Victoria's Secret and Abercrombie & Fitch. Online shopping is emerging as a fierce competitor for the consumer dollar and is getting stronger every day.
"It's the evolution of our industry and the retail world, but not an apocalypse," said Jason Cannon, vice president of CBRE in Pittsburgh, a commercial real estate services firm. "And it will come down to who is the most creative, who has the best ideas and who is willing to take some risks."
Still spending
Retailers took a hit in December, when sales and consumer spending dropped sharply from the previous year. But consumers have mostly been spending more since the 2007–2009 recession. The U.S. economy is still expanding. Jobs were added and wages rose in southwestern Pennsylvania and the U.S. during the past two years. Consumer confidence remains healthy.
But shifts in consumer preferences and behavior are changing where they spend those dollars. Today, brick-and-mortar retailers face the reality that someone sitting at the stoplight in front of their store can buy almost anything online with a phone and an app and have it delivered to their doorstep for free.
E-commerce is taking a larger bite out of the U.S. consumer dollar. Its share of retail sales has doubled since 2013 and continues to trend upward. Still, forecasts suggest e-commerce will account for only 11 percent of U.S. retail sales this year, according to Statista, a market research and business analytics firm.
Such trends raise the stakes for stores to successfully marry the convenience of shopping online at their websites with the personal service and experience of shopping at their stores. "Retail is very fluid. You can be up the first six months of the year, but down the last half with a few trip ups," said Jeff Burd, president of Tall Timber Group, a Pittsburgh research firm that tracks the commercial retail industry. "A great website with lousy stores doesn't win. A great store with a lousy website experience doesn't win."
But brick-and-mortar retail's chief competitor remains brick-and-mortar retail. Even online retailers are going brick-and-mortar. Want a shirt tailored to wear untucked? At Ross Park Mall you'll find one at UNTUCKit, the online clothier that's leasing storefronts in malls across the country.
Crowded field
Americans are awash in places to shop. There are 23.5 square feet of retail space for every person in the U.S., the most in the world, according to commercial retail data. Canada is second with 16.8. Elsewhere, the disparity is striking. The United Kingdom, Japan, France, Spain and Italy have less than five square feet of retail per person. Germany and China have less than three.
When shoppers have more options, reading their preferences becomes critical for mall survival. Being new and different counts for a lot. Location, demographics and retail mix take on greater importance. There have been casualties all along the way that warn of the peril that awaits malls that ignore the shifting trends or find themselves in the wrong place at the wrong time.
In 1960, the East Hills Shopping Center that straddled the city and suburban Penn Hills opened as the future of retail, a large outdoor mall boasting the most popular department stores and other merchants, all within a casual walk about the plaza. By 1980, it was a ghost town, much of its business drawn to the new and different experience and culture at Monroeville Mall, an indoor retail mecca on the highway linking Pittsburgh to growing bedroom communities in the east.
The Galleria at Pittsburgh Mills was sold again last year, having struggled to find its footing for much of its life. The 1.1 million square foot mall, one of the largest in Pennsylvania, was opened 14 years ago in Frazer Township, a sparsely populated municipality in a section of Allegheny County where discretionary household income is tight.
Century III Mall filed for bankruptcy last year. The West Mifflin mall has plenty of households nearby. But it's also close to plenty of retail options, and it mostly offered stores that could be found elsewhere. It closed in February when its sprinkler system was damaged and remaining stores began leaving the mall. Its future is uncertain.
No one has rescued the abandoned footprint of East Hills Shopping Center, which blights the neighborhood around it. But that's the exception rather than the rule when malls die. "Malls are traditionally well-located properties," said Robert Gold, CBRE vice president for brokerage services. "They're zoned for commercial use. They're near highways, high-traffic areas. When the fundamentals are there—pavement, utilities, access, visibility—you have a good site for something."
That something is often retail. Greengate Mall just west of Greensburg thrived as the first indoor mall built in Westmoreland County, until the arrival of bigger, shinier Westmoreland Mall a few miles to its east and the retail sprawl that crept into the densely populated suburbs to its west. It was razed in 2003 and redeveloped as a "power center," an outdoor shopping complex featuring big box retail, which had a hand in sealing the fate of malls like Greengate.
"The older generation of mall owners didn't necessarily use the entire property. They wouldn't look at non-traditional anchor tenants. It was always a department store," Gold said. "They weren't property owners that had to look at things creatively and figure out other reasons for people to visit the property. That's changing."
Adapt or fold
If "Dawn of the Dead" were shot today, its zombies might be seen spinning at a fitness center, futilely trying to buy a ticket at the self-serve kiosk of a movie theater or staring blankly at the Glamburger they ordered at The Cheesecake Factory. Malls want to be about much more than shopping. They recognize they have to if they're to survive.
Nashville-based CBL Properties has sold 21 low-performing malls since 2013. All stayed open as malls under new owners, while CBL concentrated its resources on shoring up and reinventing its other properties, which include Monroeville Mall and Westmoreland Mall in southwestern Pennsylvania.
At Monroeville, the mall downsized and relocated its JCPenney, brought in popular fast-fashion retailer H&M and added a movie theater. Mall sales were up last year, CBL spokesperson Stacey Keating said. Westmoreland Mall, which lost a key tenant in Bon Ton, is counting on a mini-casino proposed for that space to assume the role of anchor and boost customer traffic.
Some malls are rethinking their architecture. Northway Mall has forsaken the bland giant-box look in favor of outward-facing storefronts offering multiple access points, greater brand exposure and a splash of color. Some malls have a niche and know how to tend it, such as the small-footprint Galleria of Mt. Lebanon, where the mix of popular, but less common retail, a cinema and dining has earned a loyal following in a high-income swath of the region.
It's what the mall offers that is critical. Entertainment, fitness, better dining and services are occupying more square footage as malls imagine themselves more as town centers than shopping centers. The more a mall can differentiate itself from the pack, the better. And if a mall wants to become a destination, there are few better ways to do that than having something others don't.
Luxury stores Louis Vuitton, Tiffany & Co., Burberry, Kate Spade and Omega are found at Ross Park Mall, where Nordstrom is an anchor. Places that Pittsburghers would otherwise have to drive hours to shop.
"I remember 11 years ago when these stores opened," said mall Manager Lisa Earl. "We were doing the ribbon cutting for Tiffany. It was when the stock market fell apart. People didn't believe that kind of high-end store could survive here. But, they've been quite successful and have helped the mall. We didn't really feel the impact of the recession. If you were shopping, you were shopping here."
Such tenants play hard-to-get. Relationships, a trustworthy track record and having deep pockets are required to sign them. Indianapolis-based Simon Properties spends upward of $1 billion a year redeveloping its 200 U.S. properties, which include Ross Park and South Hills Village malls in southwestern Pennsylvania. "For many of the stores in our malls we're their largest landlord," said spokesman Les Morris. "They know us and they know we have the capital and balance sheet to be able to plow money into our properties."
Anchor stores are falling in malls at an alarming rate. But losing a struggling anchor isn't always bad news. That was the case when Simon learned Sears was closing its Ross Park Mall store. Nearly 96 percent of Simon's retail space was leased last year. "It was a coup for us." Earl said. "We have high occupancy. We're at the top of a hill. We're landlocked. We wanted that space."
The mall had plans for replacing Sears in the hands of local municipal officials before Sears had cleared out its store. Rather than find another anchor to fill the empty box, the mall opted to raze it and build anew. Simon plans to add a fitness center, a theater, more restaurants and retail, and put its spin on the recipe that malls are banking on to win customers grown fickle with options and make sure that horror films in the future will have zombies trying on jeans at the mall.