The Googling of Pittsburgh, Threats to Our Liberty
Excess zeal & Google
Illustrations by Ted Crow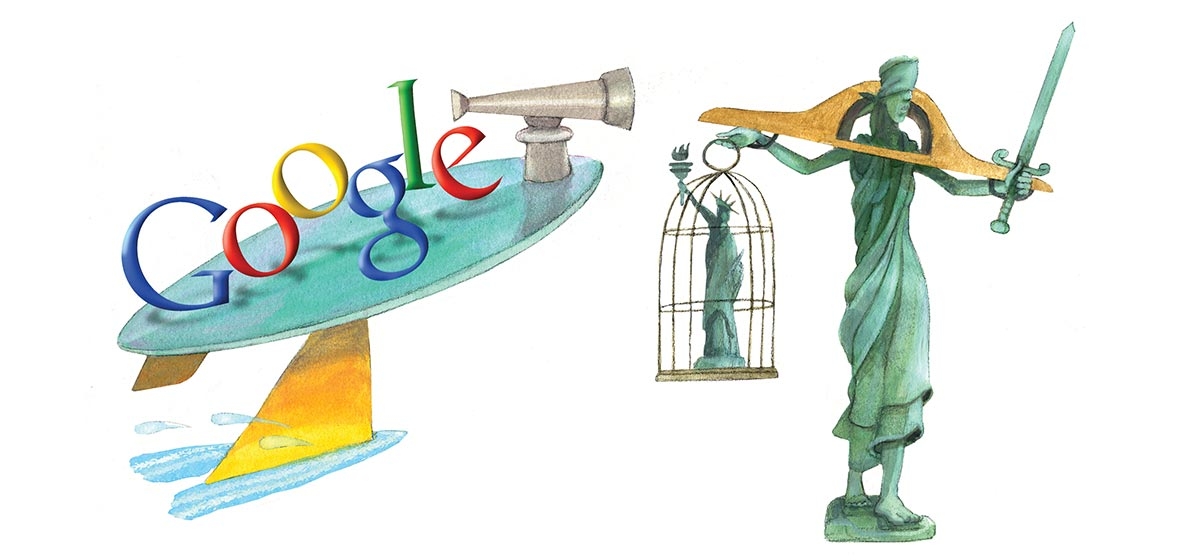 November 20, 2010
In the same day this fall, local headlines described three separate events that, taken together, should give all of us pause:

The state Office of Homeland Security issued security bulletins, warning of threats by various groups, including those planning peaceful protests and demonstrations, such as environmental groups concerned about the Marcellus Shale.
The Justice Department released a report criticizing the Pittsburgh FBI office for misleading testimony and false reports about its 2002 surveillance of an anti-war rally put on by the Thomas Merton Center, a nonviolent peace and justice group. The local FBI sent an agent to the rally to look for people involved in international terrorism. It then massaged its files on the incident, apparently to avoid embarrassment, and later called the assignment "make-work" for a new employee, which had no serious consequences.
The American Civil Liberties Union sued the City of Pittsburgh for alleged violations of the First Amendment rights of 25 people arrested during what the ACLU called a peaceful demonstration at last year's G-20 summit. The arrests at Oakland's Schenley Plaza included 11 Pitt students who were accused of failing to disperse. The charges against the 25 later were withdrawn.
The first two incidents could be written off as bureaucratic bungling, with those responsible receiving stinging rebukes. And with the G-20, as astonishing as it was to witness our friendly city turn into a police state overnight, the event clearly brought invaluable global attention to Pittsburgh that already is paying dividends.
The world is not the same as it was 10 years ago. And undoubtedly, it's easy to be an armchair critic when those assigned to protect us from harm become overzealous. We should remember, however, that dissent is part of what makes us strong, and without it and its guardian angel, the First Amendment, we are no longer Americans.
On a pedestal: The Googling of Pittsburgh
Not long ago, "google" was a comical-sounding term that most resembled the old description of someone with goofy eyes. Now, of course, it's a verb most of us use daily as we tell someone how to find whatever information they need. "Just Google it."
In business, the word means something else. Google represents the current gold standard of high-tech success, a company synonymous with creativity, intelligence, money and power.
And now, Google is growing its presence in Pittsburgh and adding its marquee name to the increasingly bright lights shining on and from this city. The Mountain View, Calif. company came to Pittsburgh in 2006, taking space at Carnegie Mellon University to be close to CMU's world-class research and talent. In July, it moved to the East End's Bakery Square, doubling its space to 40,000 square feet and declaring its intention to expand its workforce of roughly 100 engineers.
Having offices at a university is one thing. Committing to commercial space and expanding jobs is another. And we don't believe it's going too far to say that Google's expansion here signifies Pittsburgh's move to an inner circle of global cities competing to attract and keep the world's brightest minds. For these talented young people, landing a job at Google—whether in San Francisco, Boston, Mumbai, Shanghai or now Pittsburgh—is a great prize, indeed.
Next steps for Pittsburgh? Help Google succeed here and bring a full-fledged Microsoft development office to the city.