Shale Agreement, Pittsburgh Dataworks, Air Quality, Mayor Ravenstahl
On a pedestal:
Shale agreement - a national model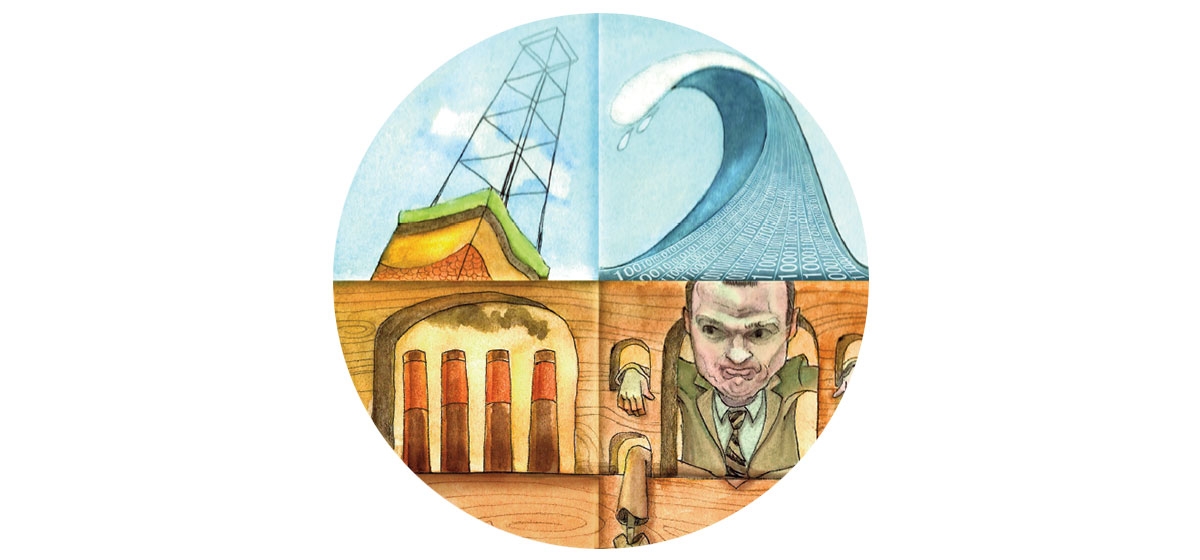 May 20, 2013
We all want abundant domestic energy, and we all want a healthy environment. For years, though, a reasonable middle ground has been absent from the Marcellus Shale debate. Finally, change is at hand, and Pittsburgh can be proud that it started here.

For two years, natural gas companies and environmental groups have put aside their differences and worked to find a better way of developing shale gas. In March, the Center for Sustainable Shale Development unveiled 15 standards for shale extraction that largely exceed current regulations and will be monitored by an independent auditor.
Charter participants include: Chevron, CONSOL Energy, EQT Corp., Shell, Clean Air Task Force, Environmental Defense Fund, Citizens for Pennsylvania's Future, Pennsylvania Environmental Council, Group Against Smog and Pollution, Heinz Endowments, and William Penn Foundation. We salute them for demonstrating the art of compromise and building a bridge to benefit all of us.
Those who say the agreement is imperfect ignore history's lesson about progress—the perfect is the enemy of the good.
On a pedestal:
Pittsburgh Dataworks – betting on big data
In our brave new world, information is being generated so fast that 90 percent of the world's data has been created in the last two years. Gathering, understanding and putting that data to use is a new frontier that promises great things to those who pioneer it.
A new consortium—Pittsburgh DataWorks—has launched to get Pittsburgh into the "big data" game. With members including Carnegie Mellon University, UPMC, the University of Pittsburgh, IBM and Google, the possibilities seem vast.
Big data plays to Pittsburgh's strengths—brainpower and the institutions that harness and hone it. The prospects for Pittsburgh are dramatic: jobs, companies and investments in an industry that could revolutionize human activities.
In the stocks:
Air quality – hold the champagne
The American Lung Association's State of the Air 2013 report noted that Pittsburgh's air quality is the best that's ever been recorded.
Before we throw a party, however, consider that Pittsburgh still ranks as one of the nation's most polluted metro areas, ranking seventh worst in short-term particulate pollution and eighth worst in year-round particulate pollution. (We're 24th worst in ozone pollution.) Aside from causing heart and lung diseases, air pollution is a major negative in the global competition to attract workforce talent.
It's great that we're making progress, but let's not fool ourselves. We're not making enough. We don't want to be on this kind of Top 10 list.
In the stocks:
Mayor Luke Ravenstahl – opportunity lost
Many feel that the best thing that's happened to Pittsburgh lately is the coming end of the Luke Ravenstahl administration. We agree. For years, it's been obvious that he's had more appetite for the office's social benefits than the work of governing.
Ravenstahl got in over his head at the beginning when he became Mayor by accident at the age of 26. We're inclined to be sympathetic toward someone in that situation. But Ravenstahl keeps providing fresh examples of his petulance and self-centered nature. He's had plenty of chances to learn, but he never has. And that's not a matter of youth—it's character.
Good things happened here the past six years, but that's because of the efforts of many others and the economic currents that boosted Pittsburgh over other cities. No city can afford poor leadership, and Pittsburgh will pay a price for the Ravenstahl years. Foundations for progress that might have been were never laid.
Now though, a new era is at hand. The Democratic mayoral candidates in one-party Pittsburgh are very strong, but whoever wins will need to make up for lost time.