Stocks & Pedestal, Summer 2012
On a pedestal: The University of Pittsburgh
handling threats well
Illustrations by Ted Crow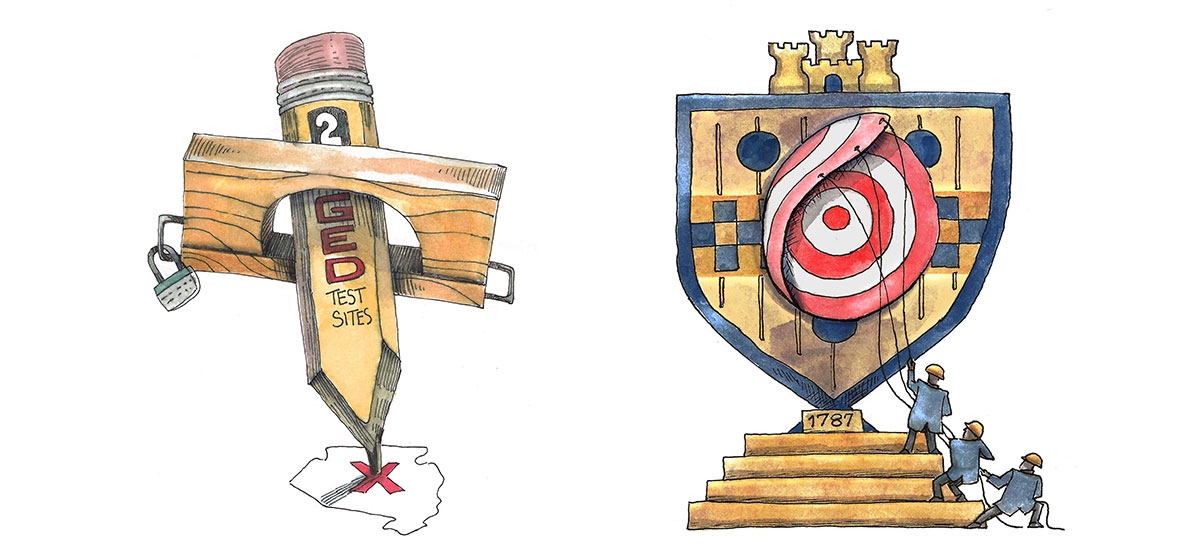 May 20, 2012
Between Feb. 13 and April 21, 46 bomb threats struck the University of Pittsburgh. The anonymous emails closed buildings, forced middle-of-the-night dorm evacuations and cancelled classes. The threats targeted the heart of our city, taking aim at the region's most important institution.

They also bared a still-darker specter: Because of the anonymous nature of global Internet networks and servers, any institution in the U.S. could be similarly threatened. The FBI reacted appropriately, seizing a New York City server used by a European Internet service provider, which was a conduit for some of the threats. The threats apparently ended when a group calling itself "The Threateners" said it would stop after a reward was revoked.
We are putting the University of Pittsburgh on our pedestal for its courage and grace during this ordeal. The entire Pitt community—from the students, staff and faculty to Chancellor Mark Nordenberg—deserve this community's appreciation and admiration for its handling of this crisis.
Pitt's graduation was a triumph for 6,000 graduates, 10,000 spectators and Greater Pittsburgh alike. Nordenberg told graduates they had survived threats of all kinds during their four years: the recession, campus disruption during the G-20 Summit, an attempted city tax on higher education, severe budget cuts from the state, and the bomb situation. "We pulled together and looked for the good that can come from adversity and created stronger bonds. I want to praise this graduating class for your strength and resiliency."
And we want to praise the Pitt community.
It was 70 years ago this June that Winston Churchill delivered his immortal speech about facing the Nazi threat. Times are different now in many ways, but we may have just witnessed Pitt's "finest hour."

In the stocks: Lack of GED testing centers
New sites are needed
From March 2008 through March 2012, Pittsburgh has been the only one of 15 comparable regions to have positive job growth. This news, combined with rafts of other positive information, portends a bright future for Pittsburgh.
However, the biggest challenge to sustaining our relative prosperity and quality of life is likely our ability to develop and attract the workforce necessary to propel our industries. Given this fact, we find it untenable that precisely those people who want to become part of our workforce and burgeoning economy face obstacles rather than encouragement. Specifically, students ready to take their GED test and gain that most basic and necessary credential—the equivalent of a high school diploma—must wait as long as five months because the region's most populous county doesn't have adequate test sites.
Until several months ago, Allegheny County had only one GED testing site, in West Mifflin. At that time, the Greater Pittsburgh Literacy Council, with help from Intermediate Unit 1 in Washington County, opened a second center in downtown Pittsburgh. But it is only open for GED testing a few days a month —not nearly enough to meet demand. In late April, the Community College of Allegheny County opened a third center, but the three together still don't replace the loss in capacity in 2004 when the Pittsburgh Board of Education closed Connelly Technical Institute, which administered the 7.5-hour test to 1,000 people a year.
We're putting this situation in the stocks. The Literacy Council deserves credit for bringing this to light; it cites the fact that more than 1 million Pennsylvanians over 18 don't have a high school diploma. If we want our fellow citizens to become productive members of society—and keep many of them out of jail—we need to make the path easier for them, not harder. We need to extend this basic helping hand to those who are reaching for it.