Stocks & Pedestal, Spring 2009
Four pedestals: The Pittsburgh Steelers; A+ schools; Neighbor aid; Federated investors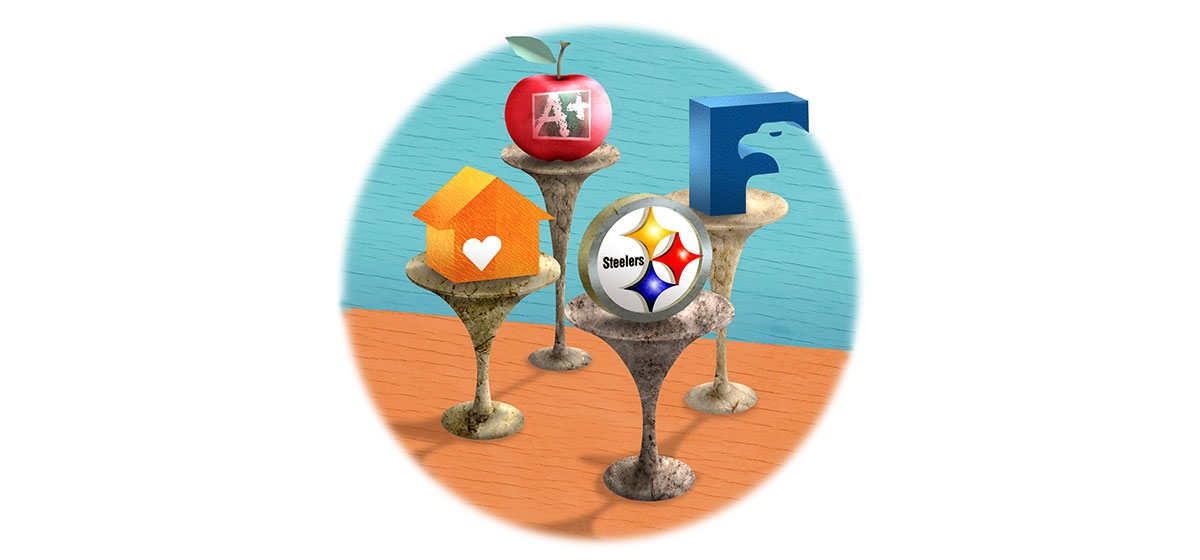 February 23, 2009
The Pittsburgh Steelers: Here we go.
In a season when both the landscape and the economy have been frozen and dreary, life in Pittsburgh has been full of excitement and expectation, thanks to the Steelers. So up on the pedestal they go for lighting a bonfire of Pittsburgh spirit and taking our minds off of the various financial fiascos created by banks beyond our borders. And when the national spotlight turned to Pittsburgh, what did it find? A city where home values have risen, unemployment remains below the national average and quality of life is measured in many ways, not just the value of your stock portfolio. America's Most Livable City indeed!

A+ Schools: Measure-ed
When three dissatisfied foundations withheld funding from the Pittsburgh Public Schools in 2002, Mayor Tom Murphy formed a commission that issued a landmark report. Two years later, one of its recommendations became A+ Schools. Supported by the Heinz Endowments and the RK Mellon, Grable and Pittsburgh foundations, A+ is a beacon of information, reform and excellence. Each year, before parents decide where to send their children, A+ distributes 100,000 copies of a report on the city's public and charter schools, measuring them in reading, writing and math scores, size, principal stability, student attendance, number of incidents and percentage of students eligible for free- or reduced-price lunch. In short, just what parents need to make good decisions. Congratulations to A+ executive director Carey Harris and her staff, and congratulations to the foundations for their stand in 2002 and its result. This may be the best money they've ever spent.
Neighbor Aid: Helping hands
With local nonprofits in distress, The Pittsburgh Foundation launched Neighbor Aid to help the agencies help Pittsburghers. Of 300 local nonprofits surveyed, almost three-quarters have seen increases in requests for help over the past six months from first-time clients. About half reported increases in unemployed and uninsured clients. Pittsburgh Foundation President Grant Oliphant started Neighbor Aid with the help of Elsie Hillman, the United Way of Allegheny County, other foundations and the Allegheny County Department of Human Services. Primed with more than $700,000, of which $350,000 came from The Pittsburgh Foundation, Neighbor Aid targets food, shelter, utilities and transportation needs. Donations may be sent to The Pittsburgh Foundation —Neighbor Aid, Five PPG Place, Pittsburgh, PA 15222.
A rock of stability
While news reports abound about the Bernard Madoff scandal and the shattered New York financial world, is it a surprise that a Pittsburgh company finished the year as the nation's most successful money manager? Among large, publicly traded money managers, only Federated Investors finished 2008 with increases in assets under management (from $301.6 billion to $407.3 billion), increases in revenue (from $1.1 billion to $1.2 billion) and increases in net income (from $217 million to $224 million). Additionally, Federated CEO Chris Donahue was rated No. 1 among 500 S&P CEOs in Chief Executive Magazine's ranking of top wealth creators. With acquisitions last year of money management firms in Rochester, N.Y. and Dallas, Texas, Federated and its 1,100 local employees are well positioned for future growth. And that's great news for Pittsburgh.