Stocks & Pedestal, Fall 2011
On a pedestal: the Pittsburgh Pirates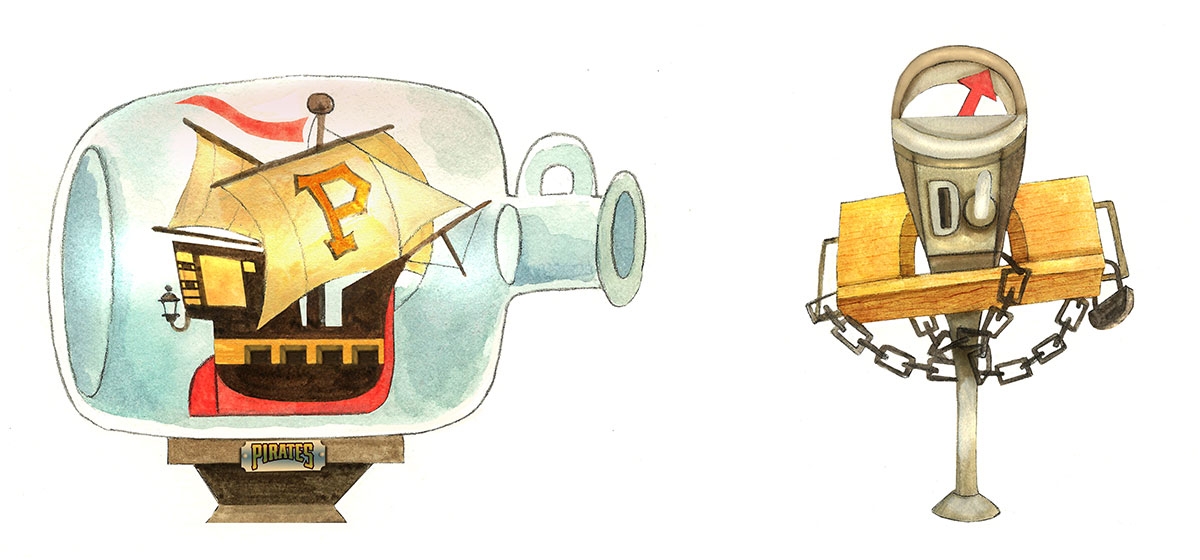 August 20, 2011
When your team's winning, there's nothing like baseball. Nothing like listening to the radio in the late innings of a close game. The pitcher waves off signals and finally goes into his motion.

You hear the crack of the bat, followed by the announcer—"If it's fair, it's outta here—foul ball!" The din of the crowd rises and then falls to a hush for the next pitch. Until this year, exciting baseball had been missing from Pittsburgh for a long time. For 18 straight summers, our Pirates compiled the longest consecutive stretch of losing seasons in North American professional sports history. Countless youngsters grew up in that vast baseball desert. Last season was particularly bad. In the Pirates' 129-year history, last season's 105 losses were only "bottomed" by 113-loss seasons in 1890 and 1952. However, Pirates Owner Bob Nutting, President Frank Coonelly, and General Manager Neal Huntington kept working, bringing in Clint Hurdle to manage this year's team. And finally, baseball has returned to Pittsburgh. Excitement is back. Winning is back. And the fans are back, too. This season has seen a winning record and a fight for the division lead. Over the 4th of July weekend, the team sold out four games in a row—a first in the 11-year history of PNC Park. We don't know how the season will end, but we're putting the Pirates on the pedestal anyway. The team is fun and heading in the right direction. We're happy for the fans, the organization and its players, and the city-state of Pittsburgh. Beat 'em Bucs!
In the stocks: parking meter rates
In June, pittsburgh's city council raised parking meter rates by 50­–100 percent. It's now $3—12 quarters—to park downtown for an hour, with enforcement extended from 6 p.m. to 10 p.m. In Oakland, Shadyside, the South Side, and the Strip District, hourly rates doubled to $1. Given city finances, we understand the increase. But we're concerned that ultimately it will keep visitors away from Downtown and city commercial districts. There's a method to figuring out what meter rates to charge. Rates that are too low create congestion and frustration among drivers who can't find a spot. The ensuing parking shortage caused by too-low rates drives away potential customers and visitors. Conversely, if streets have abundant open meters, then prices are too high, again driving away customers. The right price creates a few open meters, so drivers can find one near their destination and don't mind paying for the short-term convenience. Unfortunately, according to news reports and to the naked eye, empty meters are all over the place. We requested figures from the Pittsburgh Parking Authority under the state's Right to Know Law—the only way the public body will release information. Authority records show that city meter revenues for June of 2011—the first month of the increase—rose to $580,523, up from $411,733 in June of 2010. This doesn't take into account the 10 or more employees the Parking Authority is hiring to write tickets during extended enforcement hours and collect the extra quarters from meters. But the city is getting its revenue increase, albeit a modest one, after costs. Doing the math, though, the 50–100 percent meter rate increase amounted to a 41 percent revenue increase (not including increased labor costs). This seems to indicate that the rate increase caused a decrease in parkers. And given that most parkers are likely doing business that costs more than a handful of quarters, we wonder how much money was lost by establishments downtown and in other commercial districts. The meter increase puts Pittsburgh's downtown hourly rates above those in Boston and Washington, D.C., and in line with New York City, where premium rates are $3 below 96th St. in Manhattan, and $3.75 in Greenwich Village and the Upper East Side (noon–4 p.m.). When policy is based on needing the money rather than what the market will bear, it's not a good recipe. We want the city to succeed, but we don't want policies that make people avoid it.