The Pittsburgh Penguins & WQED
WQED & the Pittsburgh Penguins
Illustrations by Ted Crow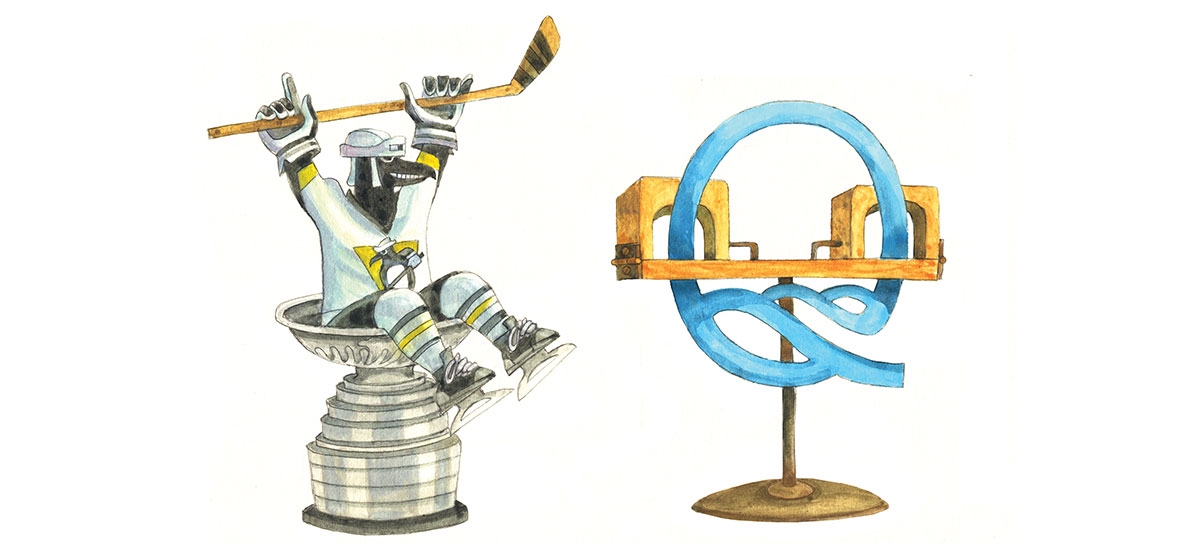 August 20, 2009
As America's first public television station, WQED has a storied history. Unfortunately, it's not living up to that legacy.

We are disappointed that the leadership of this high-profile nonprofit saw fit to sell Pittsburgh Magazine to an out-of-town magazine chain. In recent years, WQED treated the magazine primarily as a revenue generator to support the costs of WQED—and not as a valuable vehicle for excellent journalism about Pittsburgh. The magazine relied on a standard formula found in many city magazines, producing issues based on listings—best doctors, lawyers, dentists, etc.—designed to attract advertising revenue from those sectors. And when that revenue ceased to be enough, WQED sold Pittsburgh magazine. WQED hasn't disclosed the price—surprising for such a public entity—but the "word around town" is it went for $1 million.
WQED exists because of contributions from local residents and foundations, and from government money. In a very real sense, its assets belong to this community. We believe that WQED should have been more aware of its stewardship obligation to the local community. WQED either should have invested in building a great magazine or it should have found a local buyer committed to doing the same.
The future of this nonprofit depends on its ability to remember and recommmit to its main mission—producing top-quality programming for Pittsburgh. If it doesn't and instead continues on the path of selling its assets when times are tough—first WQEX and now Pittsburgh Magazine—it won't be long before the building on Fifth Avenue will be up for sale.
On a pedestal: The Pittsburgh Penguins, top of the world
There is a timeless quality to the Pittsburgh Penguins' performance this past spring. Hockey fans know that the Stanley Cup is the most difficult to win of all the championships in sports. To hoist the cup, the victors have to win not one, but four grueling best-of-seven series.
And this championship was particularly special. After three tough series, the Penguins faced the mighty and dynastic Detroit Red Wings in the finals. Not only were the Wings heavily favored, they had acquired key Penguin Marián Hossa in the offseason, after Hossa said he figured his chances of winning the cup were better with Detroit than Pittsburgh. He appeared prescient after Detroit took a 2-0 series lead.
But the gutsy team led by stars Sidney Crosby and Evgeni Malkin came back, winning four of the next five in an awesome display of determination, poise and will. It marked a changing of the guard in the NHL, with Pittsburgh's team of young stars staking their claim as the new generation of champions.
It also marked a well-deserved reward for the assiduous efforts of owner Mario Lemieux and his team—CEO Ken Sawyer, President David Morehouse, GM Ray Shero and first-year coach Dan Bylsma. They've battled tough financial times, kept the team in town and are building a new arena. And now they're champions.
Whether it's the guys at center ice or those in the front office, their comportment, steadfastness and skill are a credit to hockey and Pittsburgh.