Standing Tall
On a Pedestal, Winter 2018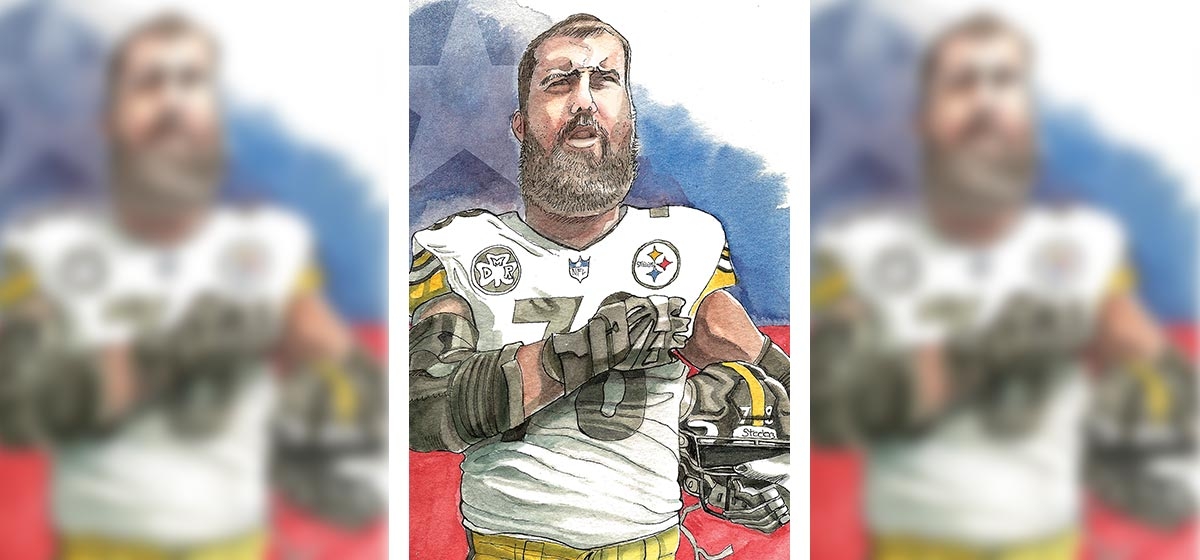 November 27, 2017
This fall's NFL national anthem controversy was an opera whose bloated cast of characters would be hard to match—from President Donald Trump, to NFL Commissioner Roger Goodell, to team owners across the country to rich NFL players professing social concern. And as many problems as the world seems to have, for a solid week, the American mind was focused on whether football teams should respect the American flag.

We couldn't find a sympathetic character in the whole lot, save one—Pittsburgh Steeler Alejandro Villanueva. As the rest of the team attempted to duck the issue, hiding just out of sight, there was the Steeler offensive tackle—a U.S. Army veteran— standing alone on the field, hand over his heart during the national anthem. It was a picture of tremendous power and beauty. And though there have been many comments after—from him and from the team—which indicate that he regretted making his teammates look bad, we salute him for his actions.
Amazonia
We congratulate the team that quickly pulled together the proposal for Amazon to build its second headquarters here, bringing some 50,000 new jobs. Cities across the country scrambled to make their case, but in some ways, it's not a fair fight. Unlike any other American city, Pittsburgh has been preparing for this moment for the last 30 years. No city faced the economic cataclysm Pittsburgh did with the final coup de grace that the harsh 1983 recession delivered to local industry.
Recovering from the loss of some 150,000 manufacturing jobs alone has been this region's peculiar mission ever since. And the fact is that we have succeeded. Pittsburgh is a great place to work and live. It's green, it's growing, it's dynamic, it's smart, it's cheap, and it's loaded with amenities—chief among them for Amazon, the "amenity" of a top-tier university community that will graduate tens of thousands of capable students each year for decades into the future.
Allegheny County Executive Rich Fitzgerald and Pittsburgh Mayor Bill Peduto led the Amazon effort, but the team also included scores of others, including new Allegheny Conference on Community Development CEO Stefani Pashman and leaders from local universities, companies and nonprofits. But the bigger story is that our transition happened because we are a community that has pulled together for decades. This is our character, and unlike many other cities, our social fabric is intact. So, hats off to everyone who has made this transition happen. Many are here. Many have passed away. But they all—we all—have built a city and a region that any company—including Amazon—would be lucky to call home.
A man of the future
When Henry L. Hillman died on April 14 at the age of 98, a remarkable and remarkably important Pittsburgh life came to an end. But unlike the lives of most people, the influence of this man will continue into the future, which always interested him so much when he was alive.
Hillman's interest in his hometown never wavered, from his clarion warning nearly 50 years ago that Pittsburgh needed to diversify its economy to his support in the intervening decades of countless regional initiatives and nonprofits. Shortly after his death came the news of his intentions for Pittsburgh's future. Hillman directed that about $800 million of his fortune be distributed among 14 family philanthropies. Of that, about $700 million goes to the Henry L. Hillman Foundation, which is dedicated to grantmaking in the Pittsburgh region.
Practically, this means the foundation's local grants will jump from about $7 million to $40 million a year. Historically, it means that the Hillmans join the very top echelon of Pittsburgh's storied philanthropic families, alongside the Heinz and Mellon families. But what it means above all is that this city and region are now girded with a major new bulwark against the vagaries of time. Because of Henry Hillman, Pittsburgh can stride confidently into a future, which it will help shape.