Sports town bragging rights
A new index measures who really rules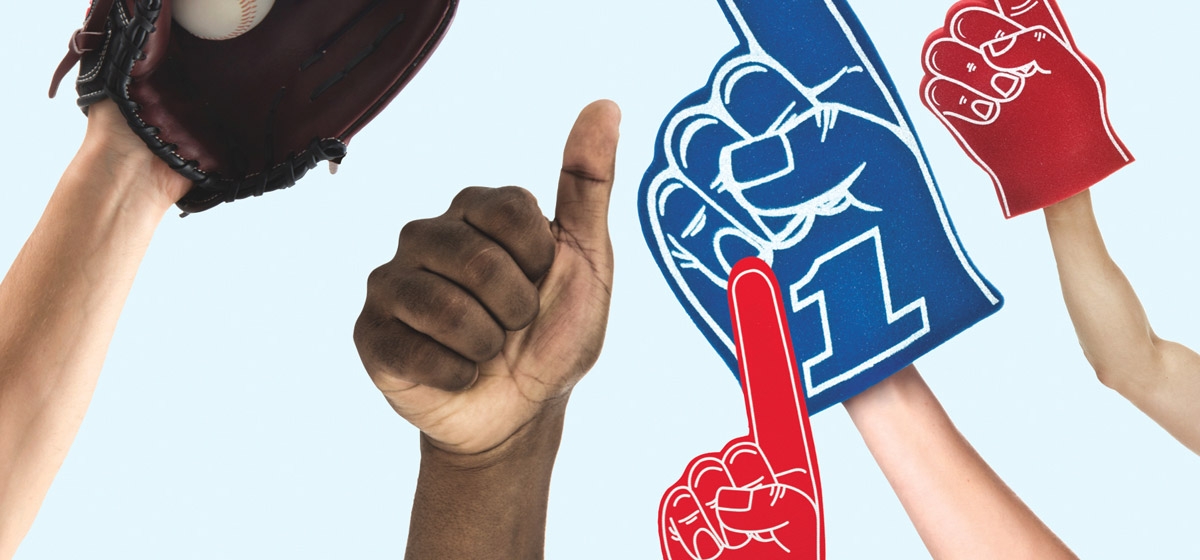 November 21, 2015
Go to any city with a professional baseball, football, basketball or hockey franchise and chances are you'll find at least one guy in a bar who'll argue his is the best sports town in America. It's likely there's even one in Charlotte after a Hornets victory and a few too many beers.

The guy in Pittsburgh can argue the NFL Steelers wear six Super Bowl rings—the most ever. And in 1979, both the Steelers and Pirates were world champs, giving Pittsburgh a moment in the sun as the "City of Champions" while the industrial economy collapsed around it. The guy in St. Louis can argue the Cardinals prevailed in 11 World Series, the most in the National League. In Boston, they can crow about the NBA Celtics' 17 world championships, including eight in a row.
But championship rings alone don't define a city's standing as a sports town, at least not according to the Sports Town Index developed by Pittsburgh Today, which compares the Pittsburgh region with 14 others in hundreds of statistical measures. Franchises must stay in business to win those championships. How successful cities are at sustaining franchises and how many leave for greener pastures are also among the community support measures the index considers to be as important as on-field accomplishments.
When all of the Sports Town Index performance and support measures are tallied, it's the guy in Boston who has bragging rights among fans in the 15 Pittsburgh Today benchmark regions. The flip side of the rankings finds Charlotte, a relative newcomer to professional sports, stranded in the cellar, where it appears it will remain for quite some time.
And Pittsburgh? The former "City of Champions" is ranked a very respectable fourth, only a few more championships or an NBA franchise shy of overtaking Philadelphia.
Sizing up sports towns
The Sports Town Index ranks 15 Pittsburgh Today benchmark cities as sports towns based on measures that reflect the performance of a city's franchises and its support of them over the breadth of its professional sport history, which in seven cities dates back a century or longer.
To whittle down the complexity, the index is limited to National Football League, Major League Baseball, National Basketball Association and National Hockey League franchises. A city must have supported at least one to be included. That means Baltimore, Boston, Charlotte, Cincinnati, Cleveland, Denver, Detroit, Indianapolis, Kansas City, Milwaukee, Minneapolis, Philadelphia, Pittsburgh and St. Louis are in. Only Richmond is out of the running.
Performance data used to calculate a city's overall score include combined winning percentage of all sports, world championships and the total most valuable player awards won in all sports. Measures of community support include the number of current franchises, the total years every franchise has operated in a city and how many have left or gone out of business.
Some people outside of Boston might see the methodology as the perpetrator of a great injustice against their hometown. Why, Cincinnatians might gripe, should their city be penalized for the brief escapades of the football Reds, an early NFL franchise that folded in 1934 after 1½ seasons of historic ineptitude, including the league record of scoring the fewest points ever?
All indices like Pittsburgh Today Sports Town Index are subjective exercises that reflect the perspectives of their authors. Their methods won't survive scientific scrutiny unscathed. And their findings will always be open to debate.
So, let the debate begin.
The big four
Cities with the longest professional sports histories have a leg up on the competition given the historical nature of the Sports Town Index. Longevity translates to more franchise-year points and the opportunity to accumulate more championships and MVPs.
It's not surprising, then, that the top tier of the Sports Town Index is occupied by four legacy cities: Boston, Detroit, Philadelphia and Pittsburgh. Their combination of franchise longevity and on-field success distances them from the rest of the pack by a wide margin.
Boston is the epitome of that combination. Its 35 world championships, 33 MVPs and overall winning percentage top the rankings. It's a four-sport city. Its baseball, basketball and hockey franchises are among the oldest in their sports. Boston baseball alone boasts more franchise years than all sports in six benchmark cities, thanks to the Red Sox and the departed National League Braves, a club that also played as the Bees, Rustlers, Doves and Beaneaters before resolving its identity crisis and finally ending up in Atlanta.
Second place Detroit is another solid four-sport legacy city that has enjoyed consistent success as reflected in a .508 overall winning percentage and 22 championships, 11 of which were delivered by the NHL's 89-year-old Red Wings.
Philadelphia in third place may be tough for Pittsburgh fans to swallow. For one thing, Philadelphia is the only Big Four city with a losing record overall. And it has lost four franchises, including the Quakers, a short-lived hockey club with a name ill suited to the punch-happy NHL and a nearly winless record to match. But its score is bolstered by the fact it is currently a four-sport town, its total franchise years are second only to Boston's, and it has 16 world championships to brag about.
Pittsburgh fans can lament that the city's three-year Pipers/Condors pro basketball experiment never resulted in the team growing up to become an NBA franchise. Pittsburgh is the only Big Four city that doesn't support franchises in all four sports, and that costs it third place. Instead, the city earns its rank with a .508 winning percentage, 14 championships, 20 MVPs and 259 franchise years. It also lost only one franchise—the NHL Pirates, which left in 1930 after five lackluster seasons to reinvent itself in Philadelphia as the pacifist Quakers.
Pittsburgh is the only Big Four city that doesn't support franchises in all four sports, and that costs it third place.
The middle world
Some 35 points separate fourth place from fifth in the Sports Town Index, a gap that won't be closed anytime soon. The six-city middle of the pack, however, is the most competitive of all groups. While it holds some strong on-field performers, the pro sports legacies of each of the cities are flawed in very hurtful ways.
Take St. Louis, for example. It's a great baseball town whose Cardinals have won more World Series than any other National League team. Its 299 franchise years top Pittsburgh's. But it has been a revolving door, having lost eight pro sports franchises, including the National League Browns, NBA Hawks and NFL Cardinals—losses the Sports Town Index does not take lightly.
Minnesota, only a few points behind, currently supports franchises in all four sports and has won seven world championships. But it is held back by a losing record overall and middle age. Its oldest franchise, the NFL Vikings, is only 58. Cleveland has plenty of franchise years and 12 world championships—eight won by the NFL Browns. But it is docked 30 points for losing six franchises. The Barons, the city's only NHL team, is on the list of lost franchises as is the NFL Rams. And the demise of the National League Spiders after drawing only 145 fans per game in 1899 still stings.
A losing record and its youth as a sports town drop four-sport Denver into the lower half of the rankings, despite four football and hockey world championships. Its 143 total franchise years represents a fraction of what is found in legacy cities.
Baseball's 120-year-old Reds does the heavy lifting in Cincinnati, having won all of the city's five world championships and 12 of its 15 MVPs. But the city lost the Royals, its only NBA team, and having only two current teams costs it 20 points. In Baltimore, the football Colts and Ravens and baseball Orioles have won 10 world championships. But Baltimore is only middle-aged by pro sports standards; the NBA Bullets left after a decade; and hockey is played elsewhere.
Cellar dwellers
The Sports Town Index honors tradition and is hard on those cities that don't have it. Those hurt the most are anchored at the bottom of the rankings: Milwaukee, Indianapolis, Kansas City and Charlotte, the infant among them.
None supports more than two pro franchises. All are young sports towns. Kansas City has the highest total franchise years among them with 130, less than a third of Boston's total. And their youth isn't the only problem. While Milwaukee and Indianapolis have won world championships, neither has won more than two and Charlotte has nothing to raise a glass to.
But fans in those and other cities disappointed by their rankings in the Sports Town Index can take heart in the fact that much of the appeal of sports is the excitement of the here and now. When, for example, a Royals home playoff crowd roars as a sea of blue with every pitch, it's hard not to see World Series-winning Kansas City as a great sports town, at least for a moment.