Song of Canonsburg
Home of Perry Como and chocolate
Photos by David Aschkenas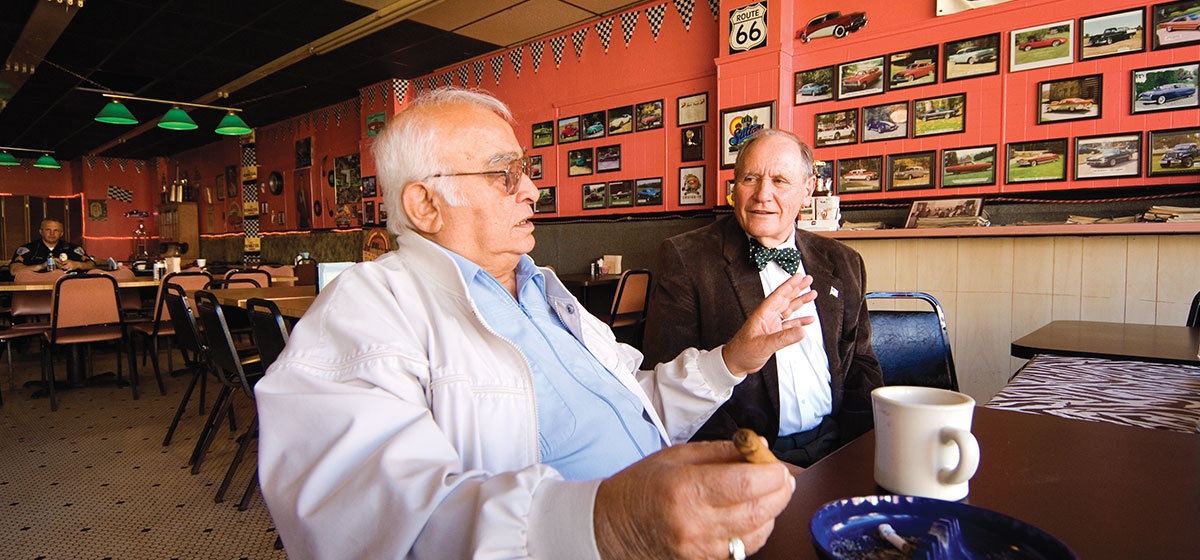 May 6, 2007
The bustling borough of Canonsburg, 20 miles due south of Pittsburgh, was incorporated Feb. 22, 1802, on what Mother always called George Birthington's Washday. Yes, it was a bit disrespectful. But so was Mother. And so, for that matter, was George.

---
---
The Father of Our Country spent a lot of time in those parts during his military heyday and owned property in the area. During a 1784 visit, while staying with his friend Col. John Canon (The Father of Our Canonsburg), he met with squatters occupying his lands. When they refused to vacate, Washington reportedly took the eviction matter to a justice of the peace, who ruled in favor of the squatters — and, insult to injury, fined the Founding Father for swearing in court!
The facts are hazy, says Canonsburg historian James T. Herron, who isn't certain if Washington was there long enough to appear in court, beyond a weekend. One thing for sure: "He didn't go out to meet them on a Sunday," says Herron, "because the locals were said to keep the Sabbath and anything else they could get their hands on."
Located in one of Pennsylvania's richest coal districts, Canonsburg history is like its topography, with ups and downs—from mills to malls, mines and metals to Mecca of antiques — over two centuries. But a certain celebrity belies its size.
The "Song of Canonsburg" should really be plural, and taken literally. This community of 9,000 calls itself the Small-Town Music Capital of the World: birthplace of singers Perry Como, Bobby Vinton and (at least 75-cents worth of) the Four Coins. Collectively, they've produced 192 charted tunes to date —15 of which went all the way to No. 1 on the charts. More on those guys later.
Chronology before croonology:
A way station on the stage road halfway between Washington, Pa., and Pittsburgh, Canonsburg evolved from a market town. Its founder-proprietor John Canon had a flour and saw mill at the foot of a steep hill from which an embryonic "main street" with artisans' shops and taverns climbed upward.
But, Toto — I have a feeling we're not in Pennsylvania yet. Col. Canon's land around Chartiers Creek was purchased in 1780 from the Commonwealth of Virginia, which then claimed the area that is now southwestern Pennsylvania. The boundary dispute wasn't finally settled until 1781, when Pennsylvania carved Washington County out of Westmoreland and the first road from Canon's mill to Pittsburgh was constructed.
"Canonsburg was John Canon's real-estate development," says Dr. Herron. "He first patented the land with Virginia, then had to get Pennsylvania patents when the Mason-Dixon Line was run and the property found to be in Pennsylvania."
During the Whiskey Rebellion of 1794, Canon gathered with others at the town's famous Black Horse Tavern (now the American Legion post) and illegally called out the militia to march on Pittsburgh. That was treasonous, but the politically well-connected Canon was not among the miscreants later rounded up and charged.
Things calmed down in C-burg with the arrival of the 19th century and the turning of attention from military to educational prowess. The first institution of higher learning west of the Allegheny Mountains was Canonsburg's Jefferson College — only the 11th such animal in the country — which by 1840 had become the economic base of the town. Before the Civil War, some 10 percent of the students were Southern planters' sons, but the war and financial woes drove Jefferson to merge and become Washington & Jefferson College, moving to nearby Washington, Pa. in 1869.
The Pennsylvania Railroad's construction of a branch line between Pittsburgh and Washington put Canonsburg in an advantageous commercial position. By its 1902 centennial, the town's industrial production was expanding dynamically. Sewer, water, gas and electric lines were put in. A trolley line was constructed between Washington and Canonsburg, then extended to Pittsburgh. New plants were built, and new residents with Russian, Slovenian, Hungarian, Greek and Polish accents came to work in them.
One of those plants was located on a large hill at the western edge of Canonsburg that is now enclosed by a Cyclone fence with warning signs attached. Why did Marie Curie — the first woman to win a Nobel Prize — visit it? And what was its role in giving Canonsburg the dubious title of "most radioactive town in America"?
Historian and health physicist Joel O. Lubenau provides the answer: It starts with the industrial entrepreneur Joseph M. Flannery, who established the American Vanadium Co. in Bridgeville to develop alloy steel. In 1909, Flannery learned that his sister had a cancer that might be treatable with radium, a tough substance to come by. He founded Standard Chemical Co. in Paradox Valley, Colo., where the mineral carnotite (containing vanadium, uranium and radium) was mined. For every ton of useful ore, five tons of rock had to be unearthed. The uranium portion was pressed into a filter cake and shipped to Standard Chemical in Canonsburg, whose milling chemistry was patterned after Curie's extraction of radium from pitchblende.
Radium's primary use was in medicine, but luminous paints and radium fertilizers were also developed as major products. By 1921, of the 130 grams of radium produced worldwide, Standard Chemical made about 80 — well over half. At $100,000 per gram, radium was then more costly by weight than the Hope Diamond. Marie Curie, its Polish-born discoverer, had but a single gram of it to work with in her Paris lab, which prompted a unique fund-raising campaign by American women to purchase another gram for her.
Curie came to accept the gift from President Warren G. Harding at the White House on May 20, 1921 and visited the Canonsburg plants that produced it. By World War II, when President Roosevelt approved the development of an atomic bomb, Vitro Chemical Co had acquired Standard Chemical and was secretly making uranium for the Manhattan Project, culminating in the atomic bombs dropped on Hiroshima and Nagasaki in August, 1945.
The epilogue is an unhappy one: Radioactive waste from the metallurgical processes accumulated during the site's long history was left uncovered, threatening many residents downwind of it. Contamination of buildings and soil gradually came to the attention of health physicists, state and federal agencies who, in 1978, authorized money for remediation. Contaminated rubble and wastes were removed from 163 sites in the Canonsburg area and buried at the 19-acre site, now enclosed by a fence posted with radiation-hazard warning signs.
After Vitro closed, the site was used by a clay plant. Humans aren't threatened any more, but they say Canonsburg pottery can be still detected by Geiger counters.
Perry Como (1912-2001) was born Pierino Ronald Como in Canonsburg. As far as our Song(s) of Canonsburg are concerned, Perry had 141 of them — 11 hitting No. 1: "Til the End of Time," "Prisoner of Love," "Surrender," "Chi-Baba," "Some Enchanted Evening," "If," "Don't Let The Stars Get In Your Eyes," "Wanted," "Hot Diggity (Dog Ziggity!)," "Round and Round" and "Catch a Falling Star."
America's foremost crooner after Bing Crosby was the middle child of 13 — count 'em, THIRTEEN! — kids. His first ambition was to be the best barber in Canonsburg. Indeed, he worked in a barber shop there for awhile and in 1922 married his teenage sweetheart, Roselle Belline. (Wonderfully and amazingly by show-biz standards, they stayed together until her death in 1998 at age 84.)
Fortunately for music, if not for men's hair, Como left barbering for singing in various bands, and later, on NBC's Chesterfield Supper Club radio program. His subsequent performing and recording success was unmatched by any other artist of the time. He would become the highest-paid performer in TV history (narrowly beating out Jackie Gleason), his weekly shows broadcast throughout the world.
Bobby Vinton, the Canonsburg-born "Polish Prince," came along a few years after Como and ended up with 44 hits of his own — four of them reaching No. 1: "Roses are Red," "Blue Velvet," "There I've Said It Again" and "Mr. Lonely." Only child of local bandleader Stan Vinton, Bobby formed his own first band at 16, playing clubs in the Pittsburgh area and thereby financing his education at Duquesne University. He graduated with a degree in music composition — not just a singer but proficient on piano, clarinet, sax, trumpet, drums and oboe.
Perry and Bobby were both "very low key," says Herron, and "would come home and visit family with little fuss." But Como always said he was from Canonsburg, while Vinton said he was from Pittsburgh, which may explain why there's a life-sized statue of Perry on Pike Street (erected in 1999) in front of the municipal building but not one of Bobby. Actually, Canonsburg had plans to erect a Vinton statue, too, but Bobby vetoed the idea (saying its $100,000 cost could be put to more important uses).
By way of consolation, he has Bobby Vinton Drive named in his honor — and the fact that he, unlike Perry, is still touring.
Canonsburg is home to an annual Fourth of July extravaganza touted as the biggest in western Pennsylvania. In the weeks leading up to it, townsfolk are known to set up folding chairs along the main street to lay claim to prime viewing. There's also the summerlong Concerts in the Park series of free Saturday and Sunday evening shows downtown and in Canonsburg's Town Park.
"Doowopalooza" is a celebration of classic music and classic cars, July 1-2, with food, crafts and performances from noon on. A special performance of "The Perry Como Show" by Jude Pohl Productions is set for July 13. On Aug. 5 it's Bo Wagner's "Let's be Frank"-with this Frank Sinatra impressionist. Aug 12 is the Big Band Memories Concert.
Nowadays, both the passenger train and trolley service to Pittsburgh have disappeared, the victims of progress in the form of automobiles and Interstate 79. Malls have replaced mills. The half-dozen movie theaters that once dotted Pike Street have given way to TV and antique shops — of which Canonsburg is a treasure trove. The town is headquarters for Centimark, Mylan Laboratories, All-Clad Metalcrafters, the Black Box Corp., and (my favorite) Sarris Candies on Adams Avenue, the great family-owned chocolate factory with an old-time soda fountain.
If Sarris is the most delicious, Mylan is the most dynamic industry in present-day Canonsburg. Over recent decades, it has become one of the country's biggest generic drug makers — and getting bigger. Mylan announced in May it was buying the generics arm of Germany's Merck KGaA for $6.6 billion — a blockbuster merger tripling Mylan's size.
A $221,000 grant from the Department of Conservation and Natural Resources is developing a riverwalk along the new Fort Pitt Business Park. Steve Lucas, Canonsburg Councilman and Redevelopment Chairman expects that, plus a proposed connector-road link to Southpointe, to revitalize Canonsburg's economy.
More power to 'em. All the fancy new stuff is fine. Me, I'll take the annual cabbage roll and spaghetti dinner at St. Michael's Byzantine Catholic Church on College Street and the memories of a mill town where the men walked home covered with grease at the end of the day. The past "Song of Canonsburg" dovetails with the present to give Perry's ghost something new to croon about in the future.