Snavely, Smyth, Specter, Cloud, Marous, Klett, Pastorius, Cook
Noting the passing of prominent Pittsburghers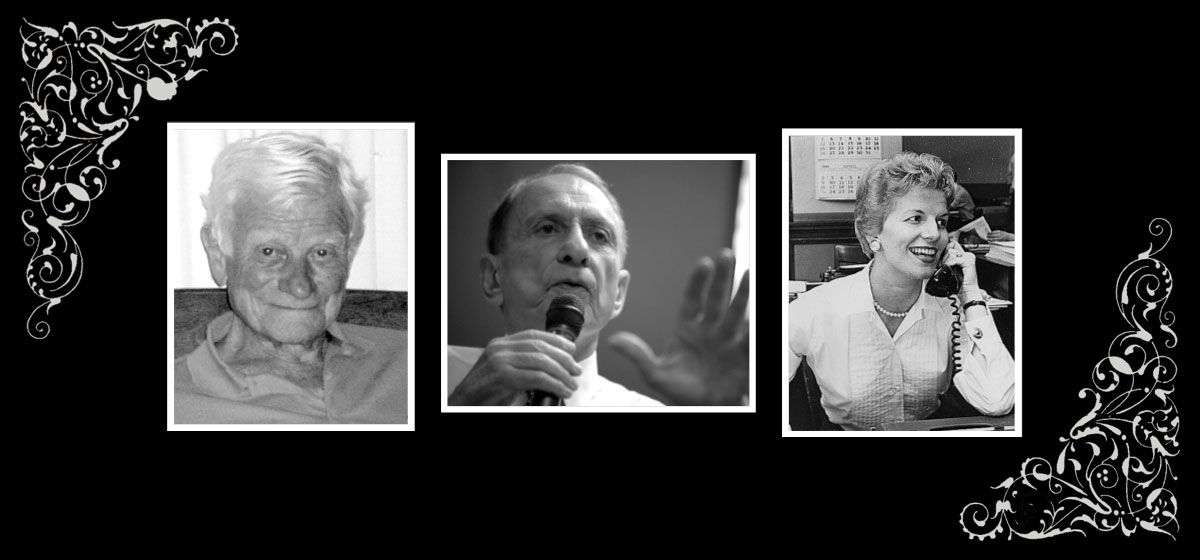 November 20, 2012
Chris Snavely, 88
In 1958, Chris Snavely purchased the Germain Lumber Corp. and ultimately turned the company, founded in 1902, into Snavely Forest Products, a major national lumber wholesaler. In World War II, he fought in the Battle of the Bulge, where he was captured and remained a POW until 1945. Snavely's philanthropic efforts included founding the Haiti Tree Reintroduction Program. To see that the now-successful reforestation program was started correctly, he made the grueling trips to Haiti in his early 80s. Snavely had great energy and humor; he loved parties, telling stories and helping people.

Barbara Cloud, 82
Uniontown native Barbara Cloud covered fashion for The Pittsburgh Press for 35 years, until the newspaper's demise in 1992. A stylish anomaly amid rumpled newsroom denizens, she covered and rubbed elbows with the biggest names in fashion. She had a broad reputation as a warm person who helped people in the fashion industry, including competing journalists.
Grahame Smyth, 89
A long-time Gulf Oil executive, Grahame Smyth was a man of broad understanding. A World War II Navy veteran, he earned a law degree and MBA from Harvard. He was a world traveler, an avid reader, an accomplished pianist, a dedicated rower and a noted raconteur who delivered tight, 30-minute speeches without notes. Above all, Smyth was an extraordinarily kind and thoughtful man.
John Marous Jr., 87
Marous was the former chairman and CEO of Westinghouse Electric when it was Pittsburgh's largest employer. A Pitt graduate following service in World War II, he later served from 1987–92 as chairman of the Pitt trustees. He was also co-founder of the Extra Mile Foundation, and helped raise $44 million to help subsidize tuition for low-income, urban students.
Edwin Klett, 76
Klett was a well-known lawyer who founded the Pittsburgh law firm Klett, Rooney, Lieber & Schorling. The firm grew to 165 employees and six offices before merging in 2006 with Buchanan Ingersoll. A successful litigator and legal strategist, his interest in law passed on to his five children, each of whom also graduated from law school.
Arlen Specter, 82
Arlen Specter was among the greatest political leaders in Pennsylvania's history. His five U.S. Senate terms are the most ever in the state. A moderate Republican who changed parties in his final term to help pass "Obama Care," Specter's intelligence allowed him to navigate a path of independence in the Senate. The former chairman of the Senate Judiciary Committee played a prominent role in shaping the Supreme Court, including high-profile hearings for nominee Robert Bork and Justice Clarence Thomas. On the Appropriations Committee, he oversaw dramatic medical research funding increases at the National Institutes of Health, and he fought for economic development in Pennsylvania. The former Philadelphia District Attorney was tough, politically and personally, fighting a variety of cancers and undergoing open-heart surgery while maintaining his rigorous schedule. With dry humor, he told audiences waiting to hear him speak, "Let's do Q and A instead. When I'm the only one talking, I don't learn anything, and neither do you."
Thomas Pastorius, 67
After spending many years in Germany, Tom Pastorius wanted to bring German craft brewing to Pittsburgh and did so with his creation in the late 1980s of Penn Brewery on Pittsburgh's North Side—Pennsylvania's first microbrewery. As he told his wife, "We're not selling beer, we're selling fun."
Carroll "Beano" Cook, 81
Cook was a nationally known college football expert and commentator. A college football historian, Cook's passion for the game and sense of humor kept him in demand on ABC and ESPN for decades. The nickname "Beano" arose after he moved to Pittsburgh at age 7 from Boston—"Beantown." A Pitt graduate, his first job was as the sports information director at the University of Pittsburgh.