Sit, Stay, Play
Misty Pines Dog Park Company in Wexford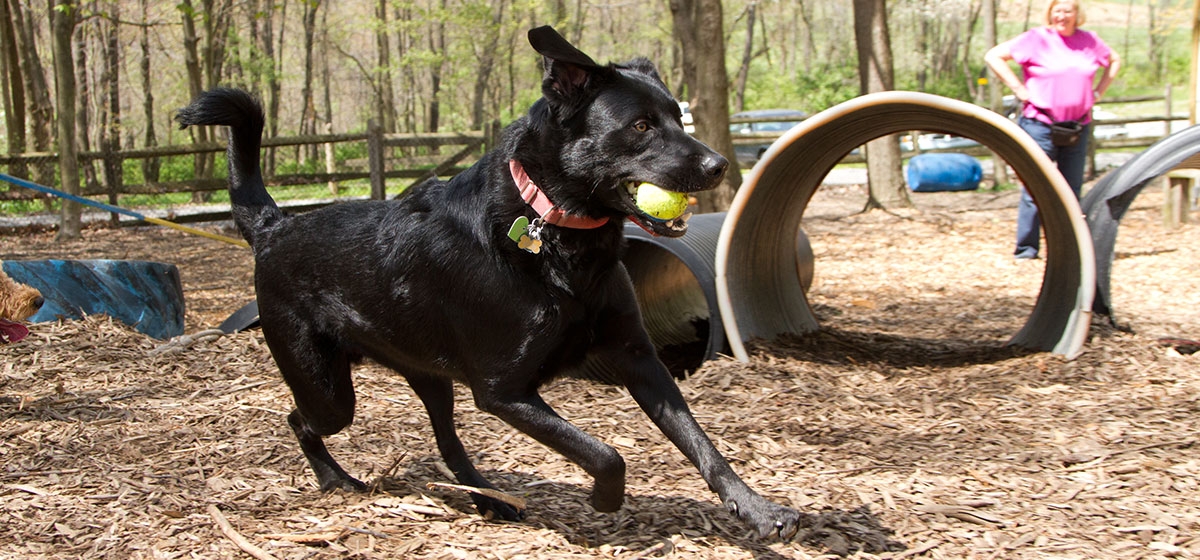 May 20, 2012
The "dog days of summer" means exceptionally steamy temperatures for us, but for our canine friends, every day is a "dog day." Now, however, pet owners can give that phrase new meaning by paying a visit to Misty Pines Dog Park Company in Franklin Park.


The son of a veterinarian, owner Jeff Woods made his first foray into the dog-training business 35 years ago when a paraplegic college friend asked for his help in training a Doberman Pinscher. In 1987, Woods founded Misty Pines and has turned it into a utopia for dogs.
It's a complete pet service facility catering to all sorts of needs: training, boarding, grooming, entertainment and supplies. The 25-acre property features gently rolling hills, a mile of trails and a half-acre pond with a diving dock. The main building has a 5,000-square-foot training arena with SAF DEK flooring, kennels, a fireplace, snack bar, grooming facility and retail areas. Inside and out, the emphasis is on providing a high-quality, clean, safe environment for pets.
The dog park is a popular destination for owners wanting to give their pets an opportunity to exercise, explore and socialize. Dogs can run off-leash on the trails, climb on agility equipment in two fenced-in yards, or swim in the lake.
Classes include basic puppy and dog training, obedience, agility, gun dog, behavioral issues and Doggie Boot Camp. Lessons are available for groups—privately and in-home. Breaks are provided so that the dogs can run outside or play on the obstacle equipment, building their agility and confidence. It's impressive to see a group of dogs of various levels sitting patiently and waiting as their owners walk out of sight and then return. Woods says the goal is to have words become the leash and collar when controlling the dogs.
Especially interesting is Misty Pines's specialty training. For example, staff train service dogs for clients who are blind or suffer from autism or post-traumatic stress syndrome, sometimes incorporating the use of iPads. They teach dogs dock-diving skills for competition.
Misty Pines offers both day-care and overnight boarding for dogs, as well as an area for small pets such as cats, hamsters and even turtles. The kennels are spotless and have no pet odors. They feature heated floors, automatic water bowls, and swing doors that allow dogs access to their own protected outdoor kennel. Dogs even sleep on Karunda beds, sort of the Westin Heavenly Bed for canines!
Retail items include several varieties of premium, natural dog food, including Nature's Variety (Instinct, Prairie and Raw), Back to Basics and "Chicken Soup for the Dog Lover's Soul." There are also lots of toys, books, collars, leashes, treats and a wonderful line of pet odor-masking candles.
In addition to all of the exercise, boarding and training options, Misty Pines also has experienced groomers who can have "Sparky" looking and smelling great in no time. So, whether you want a quick puppy primp, a run through the woods, a well-behaved pet, a reliable kennel, or a rugged outfit for yourself, Misty Pines is a great bet, paws down!
Misty Pines Dog Park Company, 2523 Wexford Bayne Rd., Franklin Park, PA 15143. Visit mistypinesdogpark.com for additional information, or call 412-364-4122.