Shouf's Café
Mediterranean flavor in Bridgeville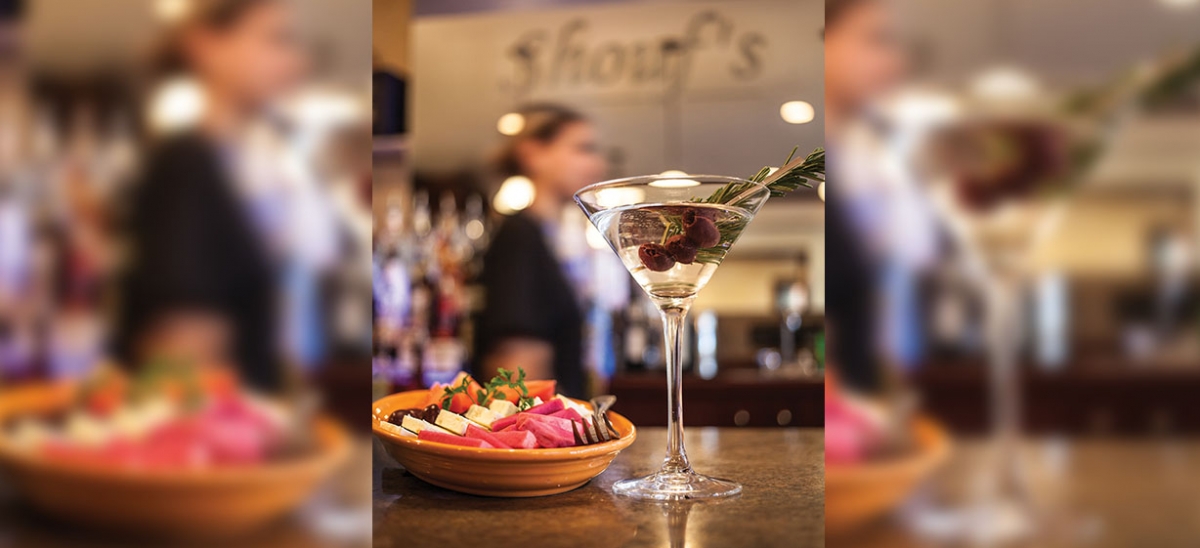 November 21, 2013
Sometimes, when Rabih Fahed pauses during a hectic night at Shouf's Cafe, the room filled with love and laughter, families and friends hugging hello and crowding in close, and exotic aromas teasing the air, he can close his eyes and be back in the Lebanon of his youth.
As a boy, he roamed the souks and khans of the old cities and took Sunday strolls along the Mediterranean beach with his family, watching the sunset while savoring a sweet from one of the vendors lining the way. And he loved that—every moment—while it lasted.
In 2000, Rabih came to Pittsburgh with his parents and brother and sister to comfort his grandmother after his grandfather died, staying on Mount Washington, where the grandparents had settled a decade earlier. Later, all but Rabih returned to a changed Lebanon, no longer a safe place for a boy of 14, who was old enough to be forced to settle other people's grudges.
He enrolled at Seton-La Salle High School in the South Hills, gesturing his way from one class to another, since he spoke no English in the beginning, and held down two jobs. He graduated in 2003, wondering what was next.
And then Rabih learned the meaning of the words of the Lebanese poet Khalil Gibran, who said, "Faith is an oasis in the heart which will never be reached by the caravan of thinking."
Tony Moses, the original owner of Shouf's, placed his faith in the 19-year-old, putting him in charge of his kitchen. The kid could cook, but this was a big break, a chance at a future. Then, after years of hard work, Rabih was twice-blessed, when Tony sold him the cafe in April of this year.
Now, his entire family safe in America and working with him and his wife, Alexia, at the cafe, Rabih relishes his new life, the mix of the old and new, different cultures and cuisine, the best of his worlds. And the menu says it all.
Lebanese trademark appetizers include hummus, baba ghannouj, sleek, loobyeh, grape leaves and mujaddara. Entrées include lamb kabob and chicken tawook, served on a bed of Lebanese rice, with Shouf's salad and hot pita. When in season, there is a lamb shank, in a red sauce, with a touch of cinnamon.
From Alexia's Greek heritage, there is moussaka, served as a starter or an entrée. The gyro platter is the traditional lamb and beef mix, which is also available as a sandwich, in addition to a chicken gyro.
America gets its due with a filet mignon dinner entrée and Shouf's burgers and Shouf's dogs (Smith's famous footlongs) at lunch. There's even a fried bologna sandwich with melted cheese and optional egg, a relic from Rabih's childhood that his mother served for years, convincing him it was a filet sandwich.
On Saturdays and Sundays, there is a classic American breakfast, starting at 8:30 a.m., that includes bacon, ham, sausage, pancakes, French toast, eggs any way you like, potatoes and oatmeal. Of course, a plate of "Uncle Joe's Olives & Feta" adds that special touch. And Pittsburgh's La Prima coffee, Breadworks bread, and Parma meats will keep you grounded.
One Friday a month, a traditional belly dancer performs, and the place is packed with aficionados and newcomers, parents and grandparents, the young children dancing along, everyone smiling. Somehow, all these cultures come together; all these flavors work.
"Shouf" means "look!" in Arabic, something a weary traveler would exclaim after hours crossing a hot desert, finally spotting an oasis shimmering just above the sand. Here, in Bridgeville, Rabih Fahed found his. Shouf's Cafe, 200 Washington Ave., Bridgeville.