Serious Threads
High fashion comes to the Carnegie Museum of Art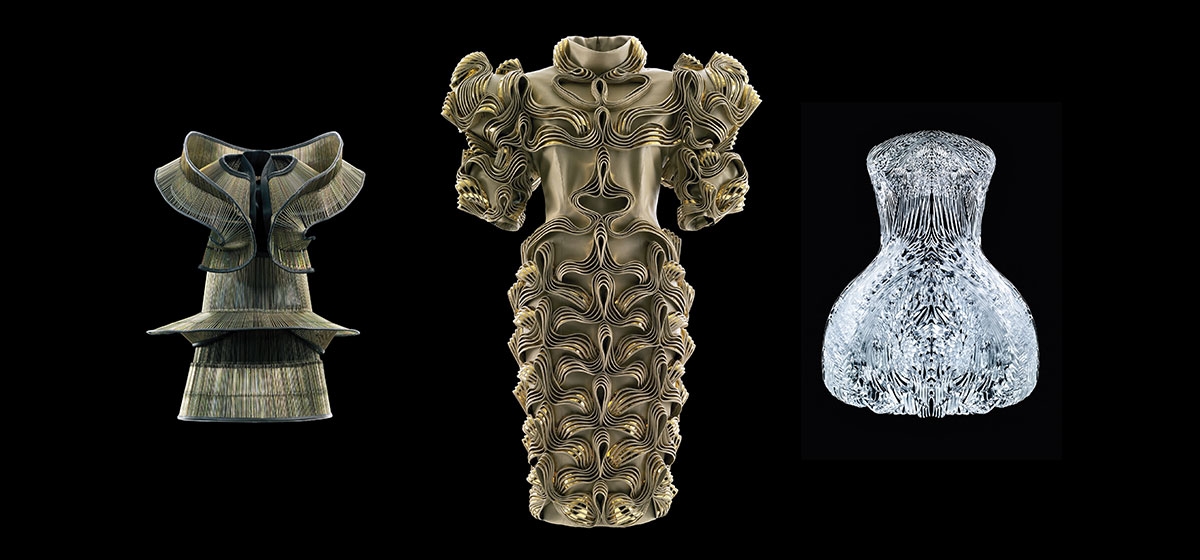 February 20, 2017
First the Frick announced a new programming initiative in fashion and brought "Killer Heels" to Pittsburgh. The impossibly impractical yet stunningly gorgeous shoes might have made more sense at the Warhol where Andy's advertising and shoe portrait drawings would have cheekily made the connection between costume, eroticism, design, and identity while contextualizing the to-die-for heels.


Now the Carnegie Museum of Art sticks its toe in the water with a visionary avant-garde designer. "Iris van Herpen: Transforming Fashion" (February 4–May 1, 2017) is a mini retrospective featuring three outfits from each of the 15 collections she has already presented in her young career. With a plan to install outfits on mannequins facing each other across a central "runway," the museum hopes to amp up the sense of the drama and spectacle they inspire.
An Amsterdam-based fashion designer, van Herpen, only 34, channels a background in movement and dance as well as wideranging interests in science and technology, art and music into couture that suggests the future with bold shapes made with newly invented materials. Part alchemist forcing materials to do unconventional things, part extraordinary seamstress in love with the act of making, and part aesthetic storyteller, the artist takes us on a journey to a new fantasyland.
Van Herpen relies on her intuition during the process of creating her clothes, as she experiments with new methods and materials until she gets the results she envisions. For a collection entitled "Embodied Wilderness" (2013), she reached out to Dutch designer Jólan van der Wiel who was working with magnetic fields. Manipulating iron filings, they came up with topographical maps that bear a resemblance to medical imagery used to map bodies. She extended their efforts into 3-D textiles based on a visit to the European Organization for Nuclear Research in "Magnetic Motion" (2014).
In other work, she found a way to suggest elements such as air and water in her designs. Examples from "Refinery Smoke" (2008) open the show because the designer's capturing of the ephemerality of colored air makes a connection with Pittsburgh's industrial history and its smoky pollution. "Crystallization" (2010) concentrated on the various states of water with strips of leather made to look like ripples of water and a spurt of water becoming a halo surrounding the model. That oversized arc, adding both movement and a sense of a larger scale, appears in many of the pieces, unifying the various collections. This grand gesture moves beyond the body, enhancing and extending the armor-like protective layer that lends a dose of the super-heroine to many of the looks.
That power plays well with the overtones of science fiction that course through her collections, and her themes often reflect larger world topics that are similar to ideas explored in previous Carnegie Internationals, especially the idea of the unknowable in 2004 and the question of what it means to be human in "Life on Mars" in 2008. "Hybrid Holism" (2012) refers to animism, or the belief that everything in our world is alive, "Hacking Infinity" (2015) revolves around the possibility of life on other planets, and "Biopiracy" (2014) addresses the ownership of our bodies. Marry these outof- this-world themes with her unconventional materials—the list reads like indecipherable ingredients for a post-apocalyptic stew—and you have a bold step into the future.
But van Herpen's experiments and innovations, her trompe l'oeil tricks, her over-the-top embellishments, and her serious conceptual themes are not just showy embellishments. As she plays with all the moving parts, she is actually reconciling opposites as she constantly shifts between the handmade and the machine made, chaos/serendipity and control. One collection, "Synesthesia" (2010), is named for the unusual condition where senses are combined as when someone tastes colors or sees sounds. It is that reconciliation of contradictions, the resolution of the impossible, that characterizes her work. That balance is what grounds the work even as exaggeration, drama, and surprise animate the collections.
The artist-designer's first American exhibition, with 45 outfits from 15 collections and shoes from her work with United Nude, runs at the Carnegie Museum of Art until May 1.