Savoring Digestifs
A fine finish to a special meal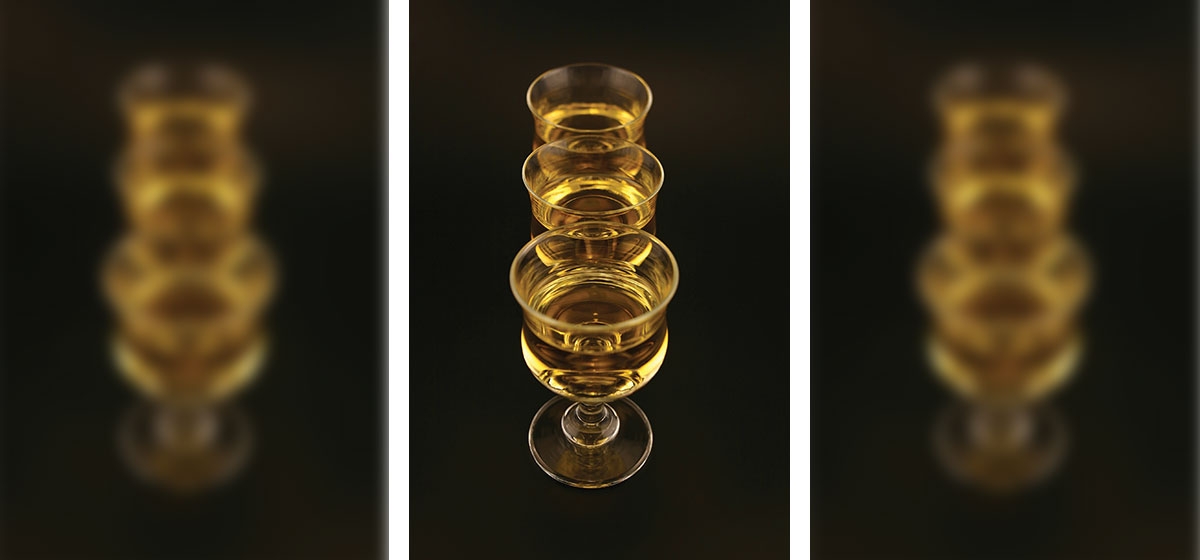 May 20, 2010
Is it wrong that one of my favorite childhood chores was running to the A&P for my grandmother and buying her a bottle of Fernet-Branca and a box of snuff? It's probably not the kind of wholesome memory most people hope to create for their kids, but I can't help but look back fondly on those errands, with my repeated pledges to the cashier that neither the drink nor the tobacco was for me.

As for the snuff, probably the less said the better. But my grandmother was definitely on to something when she sipped the Fernet-Branca, a bitter Italian digestivo, after a big, rich meal and my grandfather's homemade red wine. With the right after-dinner drink, you can wrap up your evening with one last, delicious flavor and help settle your stomach—just in case you've overindulged. Some of my favorites are based on centuries-old medicinal formulas, created expressly to cure gastrointestinal ills; some are traditional ethnic liqueurs; some are just tasty. I like them all at room temperature, which gives the drinks' complex aromas a chance to open up. I anticipate some snickering from those guys who drink single-malt whiskey or maybe grappa, the Italian firewater. That's fine, if you want to finish a meal with a big jolt of alcohol. But most people I know find that overpowering. A glass of añejo tequila, say, after a three- or four-course meal wouldn't just settle my stomach. It would settle my whole body… into a horizontal position.
Fernet-Branca. First launched in Italy in 1854 as a health tonic and now an 80-proof liqueur (I'm guessing I bought a low-alcohol version at the grocery store long ago), Fernet-Branca is an amaro, or bitter, drink. It's made from chamomile, saffron and other herbs and spices known for relaxing the tummy. But this is no cup of herbal tea—its dark color and spicy aroma will be familiar to fans of Jagermeister and other European bitters, which work wonders after a big meal. ($24.99 at PA Wine & Spirits Stores.) Grandmother's Fernet-Branca is now a chic beverage in New York and Los Angeles. Chartreuse. Here's another ancient formula originally crafted as an herbal elixir—this one invented by French monks, who found the medicine so yummy that they re-tooled the recipe into the bright green liqueur widely available today. It's one of the most enjoyable after-dinner drinks I know, with a sweet but distinctly vegetal flavor. Plants and flowers provide its naturally vivid green hue. ($28.39)
Crème de menthe. You want green? After many years, we've recently resumed serving crème de menthe parfaits in my restaurant. The dessert was a staple of fancy dining from the 1950s through the '70s. Only recently did it occur to me, it must have been popular for more than its fun color and refreshing flavor—mint has always been used as an aid to digestion. (Jacquin's Green Crème de Menthe, $10.99).
Benedictine. Here's another herbal formula created by monks—apparently they really knew how to cap a delicious meal with something good for the stomach. The golden liqueur has aromas of citrus and spices ($19.99). For a drier, slightly stronger version, try B&B, a pre-mixed Benedictine-and-brandy liqueur ($19.99).
Metaxa. This is a delicious brandy that's not trendy at the moment but has a loyal following among those who love Greek culture and cuisine. I recently discovered a bottle on my bar, dusted it off and was delighted by its flavors of wine and fruit. Smooth and luscious, it lacks the heat and harsh edge of lesser brandies ($19.99).
Anise-flavored spirits. I recently recommended these to readers as great before-dinner drinks—but they can be beneficial after a meal as well. Liqueurs such as Sambuca Romana ($21.99) or Metaxa Ouzo ($15.99) are straight shots of licorice flavor. More sophisticated spirits, like the bright yellow Italian liqueur Galliano ($28.99), blend anise alongside other herbs and spices, such as juniper, lavender and mint. You could have many of those same soothing ingredients in a warm mug Q of tea, but I like my way better.