Sail Away to Annapolis
Escapes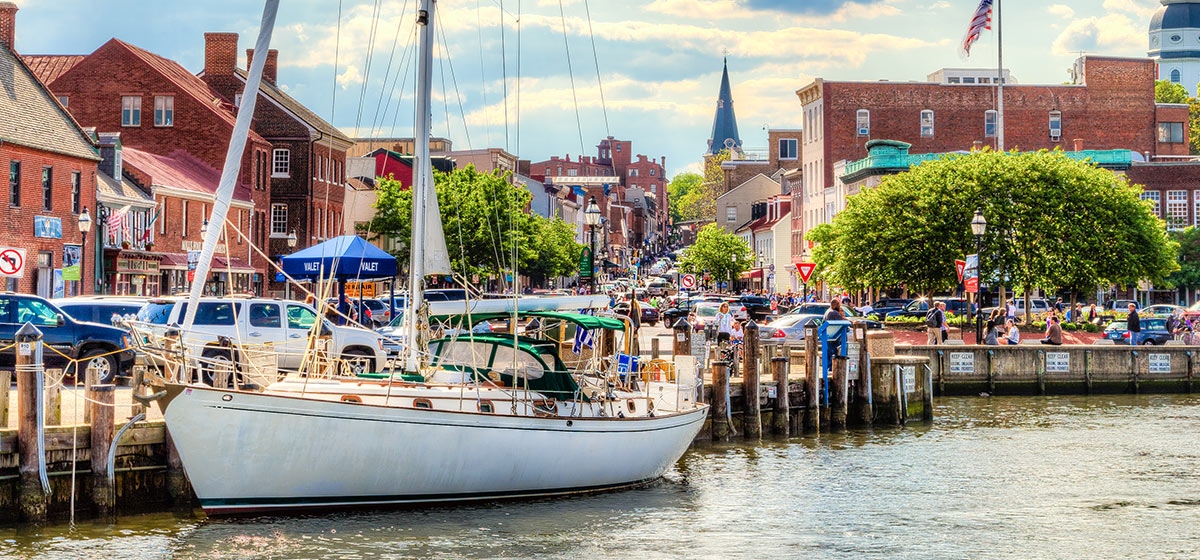 August 20, 2016
Just about every place in Annapolis will tell you it has the best crab cakes in town, and they're all right. The Chesapeake is famous for its blue crabs, plucked daily from the bay and served any number of ways, but always with abundance. There is so much crab in Annapolis, a visitor can get downright crabby trying to decide how to ingest it.
The sublime Cream of Crab soup at historic Reynolds Tavern (the oldest in Annapolis, dating back to 1747) is at the top of the list, though the crab cakes at Carrol's Creek Cafe, an elegant waterfront restaurant and a popular spot to watch the Wednesday sailboat races, are not to be missed.
Can't wait for dinner? Miss Shirley's Café has Crab Cake and Fried Green Tomato Eggs Benedict or Soft Shell Crab and Succotash Eggs Benedict for breakfast. Chick & Ruth's Delly is crab cake central any time of day, but wait. Are those glasses towering close to a yard tall for milkshakes? Yep, this is the home of the 6-pound Colossal Shake, but it's even more renowned as a hub of patriotism to rival the nearby United States Naval Academy.
Ted Levitt is the owner extraordinaire of Chick & Ruth's Delly, a 50- year-old institution started by his parents. In a way, he's Annapolis in human form: charming, friendly, filled with historical lore and love for his country (he and diners recite the Pledge of Allegiance every morning at 8:30), artistic, quirky and really, really interesting. A conversation with Levitt is not to be forgotten, and neither is a visit to the Sailing Capital of America.
It's surprisingly easy to get to Annapolis from Pittsburgh—a pleasant 4.5-hour drive that takes you north of Washington and safely away from the dreaded Beltway congestion. Once you arrive, you can park your car and leave it. A walk from the upscale, beautifully renovated Westin Annapolis at the edge of the city's arts district, through the historic district to the waterfront is all of one mile. And walking is the best way to see the sights, including more 18th-century brick buildings than any other city in the country.
That's because Annapolis, which was settled in 1650 and named after Princess Anne (later Queen of England), became the colonial capital in the late 1600s. The city had some 25,000 residents then and was designed in the baroque tradition of town circles with spokes of streets leading to them. By the third quarter of the 18th century, Annapolis was the center of political, cultural and economic life in the colony.
But as Baltimore began to dominate because of its deeper harbor, things slowed down in Annapolis. The somewhat dwindling prosperity turned out to be a good thing—there wasn't the money to "modernize," and so the city boasts a robust crop of historic buildings. Today, as the state capital, many are still used by the government including the Maryland State House, built in 1772.
Strolling along, one notices a distinctly human scale to the city because of the picturesque old homes and churches lining the streets. Here and there are pockets of commercial activity, such as West Street in the arts district, with its many art galleries and Rams Head concert venue. Maryland Avenue boasts a selection of offbeat boutiques such as Ekaa (colorful Indian tunics), Blue Crab Antiques, Paws (a large assortment of pet wares) and Be Home for furnishings and gifts.
If you're lucky and it's time for a drink, Galway Bay on Maryland offers an impressive selection of Irish whiskies along with hearty traditional pub fare including fabulous slabs of corned beef and a Guinness cake worth every calorie. But Galway Bay is most famous for its Irish Egg Nog, a handcrafted blend of Irish whiskey, spices and Irish cream, and the many cocktails it crafts around it (try the Goodnight Nog— Powers Irish Whiskey, Van Gogh Dutch Caramel Vodka, Godiva Chocolate and Egg Nog on the rocks).
As the name proclaims, Main Street is the primary shopping thoroughfare, and it stretches uphill from the harbor. Very few chain stores testify to the success of the independent retailer in Annapolis, and a nice assortment of shops range from highend clothiers like Helly Hansen and Tyler Boe to jewelers, souvenir and beachwear shops, and eateries—the Annapolis Ice Cream Company makes its delicious ice cream by hand in the store.
When you get to the harbor you have two choices: go right, and you can sail on one of two replicas of early 19th-century wooden schooners. Woodwind and Woodwind II are captained by a fatherdaughter team, Ken and Jennifer Kaye, who have owned the boats for more than 20 years and head them into the bay for relaxing two-hour cruises or special charters.
Go left, and you can enter the Barry gate of the U.S. Naval Academy, a sprawling 338-acre campus (or "yard") that is open to the public and offers guided tours. Founded in 1845, it is home to more than 4,000 midshipmen. A special treat (though probably not for them!) is watching the Noon Formation, during which the midshipmen gather and march to the beat of a drum into lunch. John Paul Jones, the naval hero of the American Revolution ("We have not yet begun to fight"), is buried here in the crypt, and both the museum and chapel are worth a visit.
Not everything in Annapolis is sea worthy. Sally Boyett runs the Annapolis Shakespeare Company, which presents entertaining interpretations of classical and contemporary plays outside in the Courtyard of Reynolds Tavern. Numerous festivals such as the Chocolate Binge Festival (this year on Dec. 4) or the First Sunday Arts Festival (first Sunday of every month, May–Oct.) join many art and music happenings.
Minutes outside of town is the Great Frogs Winery, an artisanal vineyard and farm owned by a young couple, Andrea and Nate O'Shea. A former tobacco barn has been turned into a warm, rustic place for wine tastings, with seven varieties available for purchase including an outstanding, lightly oaked Chardonnay. In continuous use as a farm since 1691, Great Frogs Winery is a bucolic aside perfect for an afternoon detour.
After that, mosey back to the harbor and take a water taxi ($3) over to Eastport, which "seceded" from Annapolis and even has its own flag. Stop in the sailor's favorite Boatyard Bar & Grill for the crab cakes, of course, but even better, a piece of Maryland's famous Smith Cake. Multiple tiny layers of yellow cake are interspersed by fudge frosting… maybe hold one of those crab cakes!
For more information, go to visitannapolis.org.