Roderick, Pepe, Goldstein, Powell, Carter, Xu, Tonkinwise
Professionals new to Pittsburgh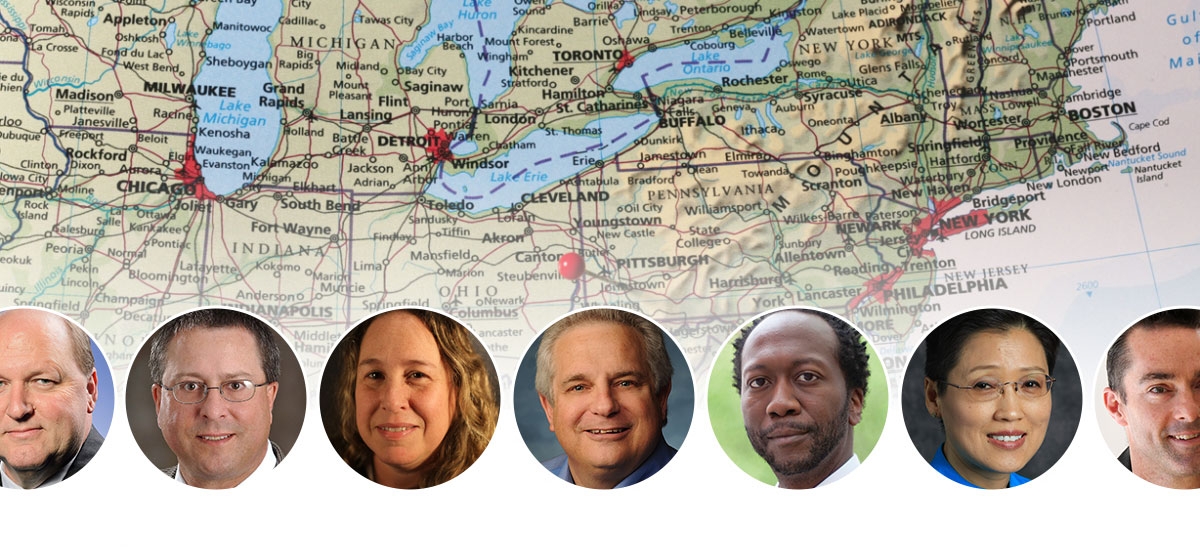 November 21, 2012
Danny Roderick is CEO of Westinghouse Electric Co. He is a 30-year veteran of the nuclear and utility industry, most recently as senior vice president of nuclear plant projects at GE-Hitachi Nuclear Energy in Wilmington, N.C. He replaces interim CEO Shigenori Shiga, who will remain as board chairman. Roderick is a native of Houston, Mo. He has a bachelor's degree from Lake Erie College and a master's in operations management from the University of Arkansas. Roderick and his wife, Rosemary, are relocating to Pittsburgh.

Joseph Pepe is president of the Pittsburgh Post-Gazette. He comes to Pittsburgh from Memphis, Tenn., where he was president and publisher of The Commercial Appeal newspaper. A native of Valley Forge, Pa., he has a bachelor of arts degree in journalism from the University of Oklahoma and has worked for over three decades in the media industry as an executive at several large media companies, including Gannett and the E.W. Scripps Company. He succeeds president David Beihoff, who has served as interim president of the Post-Gazette for the past three months, after former President Christopher Chamberlain left to become CEO of Novum Pharmaceutical Research Services.
Abby Goldstein is the general manager of WYEP 91.3 FM. She comes to Pittsburgh from New Hampshire, where she was vice president of programming at New Hampshire Public Radio. She is a native of Rockaway County, N.J. A graduate of Lamar University, she started her public radio career in 1986 at KVLU in Beaumont, Texas. She has worked in television and advertising as well as public radio. At New Hampshire Public Radio, she managed a programming division that included two locally produced talk shows and a Sunday night folk music show. She and her husband, Jason Kumpel, are currently living in Friendship.
Jim Powell is executive director of the Air & Waste Management Association, a nonprofit, nonpartisan organization that provides a neutral forum for information exchange, professional development, networking opportunities, public education and outreach to more than 6,000 environmental professionals in 65 countries. He comes to Pittsburgh from Chicago, where he was senior associate/office manager for AMEC Environment & Infrastructure. A native of St. Charles, Ill., he has a bachelor of science degree from the University of Iowa and a master of science in environmental engineering from the University of Florida. Powell is living in Squirrel Hill with his wife, Cheri.
William M. Carter Jr. is dean of the University of Pittsburgh School of Law. Known for his scholarship in constitutional law, international human rights law, and issues of social justice, he comes to Pittsburgh from Philadelphia, where he was a professor of law at the Temple University Beasley School of Law. A native of Cleveland, Carter has a bachelor's degree from Bowling Green State University and a law degree from Case Western Reserve University School of Law. He and his wife, Abby, live in Squirrel Hill with their two daughters.
Wenying Xu is vice president of academic affairs at Chatham University. She comes to Pittsburgh from Boca Raton, Fla., where she was chair of the English department and interim associate dean of the Dorothy F. Schmidt College of Arts and Letters at Florida Atlantic University. Born and raised in China, Xu received her bachelor's degree in English from Hebei University. She has an M.A. in English from West Virginia University and a doctorate in English from the University of Pittsburgh. Xu relocated to Pittsburgh with her husband, Henry Ruf, a retired professor of philosophy, and their 19-year-old son.
Cameron Tonkinwise is director of design studies at the Carnegie Mellon University School of Design. He comes to Pittsburgh from New York City, where he was chair of design thinking and sustainability for the School of Design Strategies at Parsons The New School for Design. His primary area of research is dematerialization design, which attempts to improve societal sustainability by lowering its materials intensity. A native of Australia, Tonkinwise has a bachelor's degree in design theory and a doctorate in continental philosophy from the University of Sydney. He lives with his wife and two daughters in Friendship.