Region Prepares for Coronavirus
No confirmed cases, but counties on alert
NIAID Rocky Mountain Laboratories (RML), U.S. NIH, Wikimedia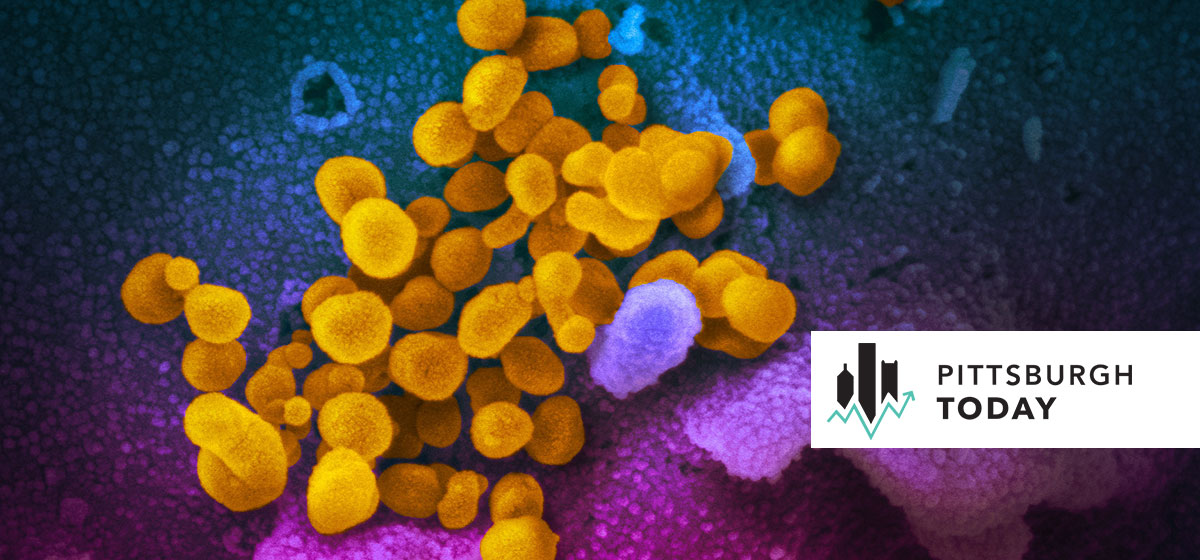 February 26, 2020
County officials across southwestern Pennsylvania are on alert for signs of the coronavirus in their communities as they review emergency response plans following a warning from the U.S. Centers for Disease Control that the United States will likely experience a "community spread" of the virus that has so far has infected 81,000 people worldwide and is blamed for 3,000 deaths.

No cases of the virus have been confirmed in Pennsylvania. The CDC reports there are 60 confirmed cases of coronavirus in the United States, including 42 Americans repatriated from the Diamond Princess cruise ship earlier this month.
No vaccine or treatment is available to use against the virus, also known as COVID-19.
Pennsylvania Health Department officials yesterday outlined steps being taken statewide to prepare for the possibility of an outbreak. They include activating the department's emergency operations center, reviewing and adapting current pandemic flu strategies for a coronavirus outbreak, and providing information about the virus and response to health care professionals, businesses and schools.
In Allegheny County, Health Department strategies for dealing with public health emergencies, such as pandemics, are being reviewed and adapted to respond to the specific threats posed by the coronavirus, said health department epidemiologist Kristen Mertz.
"While there are no confirmed cases in Pennsylvania and the threat level remains low at this time, it's important to prepare for potential community spread," she said. "We are working with key sectors, including local health care systems, on potential responses and countermeasures in the event the virus is introduced to Allegheny County."
Any local plan would be coordinated with state and federal health agencies, which the county Health Department is in daily contact with, Mertz said. And the plan could call for aggressive measures if the threat is severe.
"If there is community spread locally, tactics such as social distancing—including potential school closures, postponing large gatherings, and business and workplace changes—could be implemented to help stop the spread," Mertz said.
Preparing for a possible outbreak of the virus is complicated by the fact that COVID-19 is a new virus, vital information needed to refine a community response is developing, and there isn't an immunization or an approved treatment in hand. Moreover, only a few laboratories are approved for testing, Mertz said. "We are updating our measures as we learn more about the virus. This is an evolving situation that we are constantly monitoring."
Several other southwestern Pennsylvania counties are reviewing emergency plans previously developed to respond to an influenza outbreak in the wake of the growing coronavirus threat.
Washington County Commissioner Diana Irey Vaughan said the county began reviewing and updating of its emergency plans and procedures last week, which include strategies for dealing with an infectious disease outbreak.
When the H1N1 virus spread to the region in 2010, she said, the county worked with national and state health agencies and others to set up a free clinic at a local fairground to provide vaccinations. She said the response to the coronavirus could be similar, "but we will be improving on that plan as additional information becomes available."
In Butler County, the local response to an outbreak would be guided by emergency procedures and coordinated by the county director of emergency management and the director of homeland security, said Leslie Osche, chairwoman of the board of commissioners. "If we had to set up emergency vaccinations for any reason, or anything like that, the plans are already in place. I feel confident that if we need to do that, we could do it quickly."
The Pennsylvania Department of Health's Uniontown office would lead the response to a coronavirus outbreak in Fayette County, a spokesman for county commissioner Vincent Vicites said. Officials in Armstrong and Beaver counties could not be reached for comment.
Westmoreland County, at the moment, is largely relying on standing emergency protocols for preventing the spread of seasonal flu but has increased communication between the county government and local hospitals, 911 centers and ambulances to share information about the coronavirus, as it is updated.
The county is also encouraging residents to learn about the virus and is urging businesses to develop plans for possible disruptions in their operations, said Bud Mertz, Westmoreland County's director of public safety. "The CDC is saying it's very slim chances, but possible. It's also slim, but possible, that we're going to have three businesses wiped out by a tornado or a flood."