From the Publisher, Winter 2007
Winter is upon us
Illustration by George Schill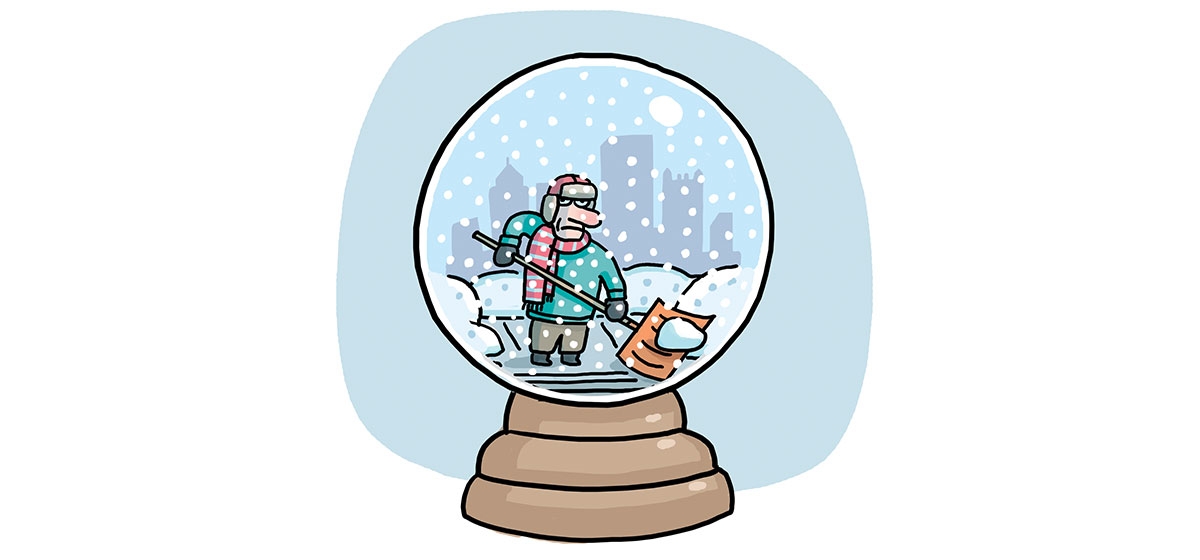 November 20, 2006
Eight years ago, working at the Pittsburgh Post-Gazette, I suggested that the city editor have someone check the number of sunny days we'd seen, or rather the lack of them. Weather stories tend to bore journalists, and no one checked. When I finally did, it turned out we'd had four sunny days in four months. It became front-page news.

In a rebellion against the weather that year, I took the family skiing to Laurel Mountain. My wife and children, ages 8, 7 and 5, had never skied, and I'd skied just once as a kid. We were only on the bunny slope, but by the end of the morning, my great family adventure had become a disaster. Tears flowed, and consternation reigned. After lunch, though, we all had private lessons, and by the end of the day, four of the five of us had a great sense of accomplishment. (My wife decided that skiing would be fine if only it didn't involve speed and heights.) We'd learned something new and found a great, if expensive, way to enjoy winter
Winter in Pittsburgh has a lot to do with your attitude. Exhibit one is the drawing on this page. It was my favorite of the eight sketches that artist George Schill submitted as possible cover paintings. I sent the four finalists around to my e-mail focus group. The grumpy guy cracked me up, and I reasoned that if people look at a magazine cover and laugh, perhaps they'll be more likely to buy. The grumpy guy received the most yes votes but also evoked the most negative responses. Schill took the winning sketch and turned it into a painting, which graces our cover. The finished product left no doubt we'd made the right choice.
We're fortunate to have Schill's work in Pittsburgh Quarterly. And this issue, we have a number of other great, new contributors. Seamus McGraw, a writer from eastern Pennsylvania, called one day, asking if I knew anything about a house in McKean County that may have provided some of the inspiration for Fallingwater. I'd never heard of the place known as Lynn Hall, and the more Seamus talked, the more remarkable the story was. It's on page 66 and worth your time.
If you're a Steelers fan and feeling out of sorts this winter, Reid R. Frazier has a diagnosis for you on page 28. It's a fascinating and funny journey into the psychology of fandom. We're also introducing a new feature about birds called "On the Wing." Written by David Liebmann, it's an eminently readable piece about a world just outside the window.
I'm also partial to an interview I did with Iowa Gov. Tom Vilsack. He grew up in Squirrel Hill, went to Shady Side Academy and has announced he's running for president. His views are compelling and refreshing, and he's very engaging in a low-key, Pittsburgh way. Who knows?
This issue is packed with good writing and art — good enough, I hope, that you'll take out the subscription card and support the magazine.
One final thought. Please take a tip from the snowman on the cover and find a comfortable place to sit down and enjoy it.
Thanks for reading.