Public Interest Radio
WESA battles back with NPR and local news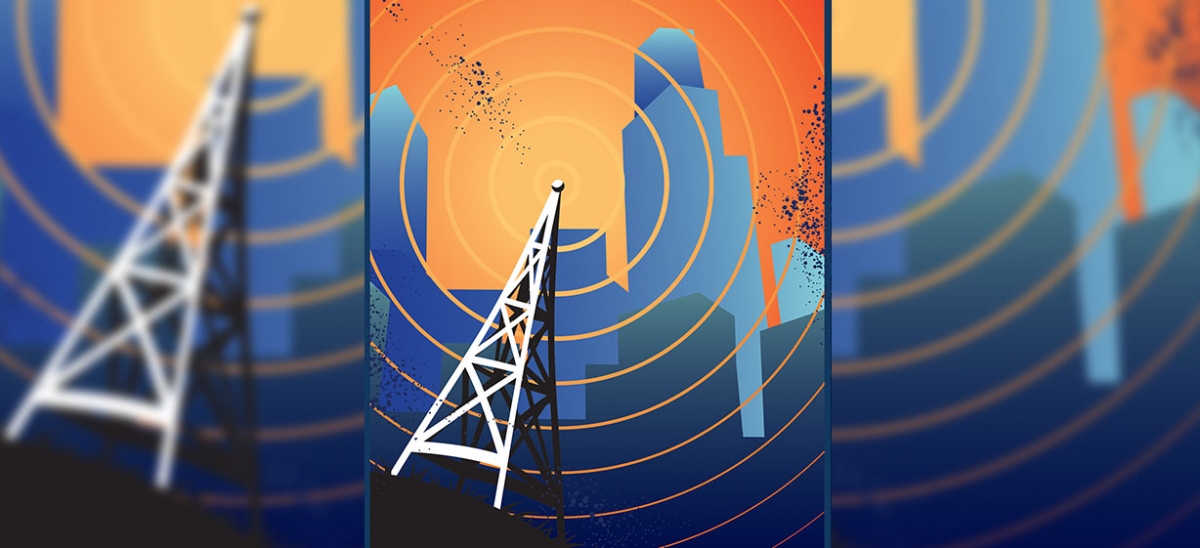 November 21, 2013
Marco Cardamone offered a blunt assessment in recalling the transformation from Duquesne University's radio station WDUQ to 90.5 FM WESA, an all-news National Public Radio format: "We got pretty clobbered," he said with a chuckle. "The backlash was much greater than we anticipated. You always lose part of an audience in a radio ownership transition, but we did not properly anticipate how huge the outrage would be."
Since launching in July 2011, WESA has faced a series of daunting challenges: overcoming the transition from WDUQ; soothing rankled jazz fans who lost their favorite station; building a local and national news format; and rebuilding its listener base, membership and financial support.
But a rocky beginning appears to be paying dividends as station managers say there's been recent growth in audience, membership and corporate underwriting.
In June 2011, right before WESA launched, the average number of daily 90.5 FM listeners was 48,400. That number dipped in June 2012 to 38,000 and rebounded this June to 54,700. Average weekly listeners during the same time period was at 146,200 for June 2011, dipping to 85,400 in June 2012 and climbing back to 119,600 last June. The station recently topped 10,000 people who donate $40 or more annually. Membership tumbled from 10,793 in 2011 to 8,990 in 2012, but bounced back this year to 10,749. "We've had a lot of growth," said DeAnne Hamilton, WESA's general manager. "I'm really pleased that we are being embraced and accepted in the market. The foundation support here is just phenomenal. We know we have to earn it too, and we're not going to take anything for granted."
Initially known as Essential Public Radio, the new station was rebranded in August 2012 to 90.5 WESA, when administrators realized the need to play up the station's call letters and connection to news content.
"We had to do a lot of building as we were going," said Tammy Terwelp, WESA's director of content and programming, who came to Pittsburgh from Chicago to help launch the new station. "Marco likened it to putting a car together while driving at 80 mph."
Cardamone, who now chairs the 90.5 WESA board, was a key part of a group that put together a bid to buy WDUQ when its sale was announced in 2010. He had previously been chair of WYEP 91.3 FM, which shares a building with WESA on Pittsburgh's South Side. "There was a contingent of us who thought, 'Let's not lose the largest single public radio station in this market,' " Cardamone said. "We felt that in Pittsburgh we could not let this happen. We were one of only two of the top 50 markets in the country that didn't have an all-news, NPR station. Then came this idea to save DUQ and transform it into an all-new news format with more local reporting."
Behind the scenes, the move to purchase the station and build a bigger local news presence was spearheaded by local foundations, and in December 2010 WYEP bid to buy DUQ for $6 million.
"I was very concerned about the possibility that we could lose our flagship NPR affiliate," said Grant Oliphant, president and CEO of The Pittsburgh Foundation, which has invested $750,000. "I think that would have been a really strong mark against us in terms of being a major city. A lot of people want to live in a place where people have access to NPR. One of the unfortunate things that happened was that this was cast as a choice between a news station and a jazz station. There was no money behind the alternative, but there was a possibility of money behind an all-news station."
To appease jazz listeners, WESA added a 24/7 Web stream (www.pittsburghjazzchannel.com) and HD channel for jazz, but loyal listeners were still outraged. "The backlash was hard, and it hurt my heart," Terwelp said, who went through a similar transition at a Chicago public radio station. "I took the phone calls, and I was empathetic. Someone told me that I was responsible for killing an entire genre of music. I wish I had that kind of power. The bottom line is that you can't be all things to all people."
The new station also created and produces the weekday, live talk show, "Essential Pittsburgh," which focuses on key regional issues. When "Essential Pittsburgh" began, Terwelp said, the team was unacquainted, "and, within three weeks, they had to put a daily show together. No one could hand over the Rolodex. They really had to start from scratch."
A key member of that team was Pittsburgh native Paul Guggenheimer, who returned from South Dakota Public Broadcasting to host "Essential Pittsburgh." "From the beginning, I think we have done good shows," he said. "But I also think that we are now really hitting our stride." He mentioned shows on race relations and an hour-long segment with Murrysville native Sean Parnell, a U.S. Army lieutenant who wrote the book "Outlaw Platoon" about his wartime experiences in Afghanistan. Both spun into public forums that WESA recorded and aired. "Interviews like [Parnell's] are so riveting. That is when radio is so powerful—it can be more powerful than television. You have this guy telling you this incredible story, and people were pulled right in."
"It is a grueling schedule to do it live and do it daily with multiple segments," said General Manager Hamilton, who came to Pittsburgh from WKAR Public Broadcasting at Michigan State University. "It's madness. But if you're like me, you love it. You thrive on deadline. And we're delivering a quality local show to our listeners."
The changes come as local and national radio continues to be in flux. The AM band, in particular, is struggling in markets across the country because of signal strength, easy interference and resistance from younger listeners. Locally, AM financial news station WMNY-1360 folded last summer and was donated to a Pentecostal Temple Church of God in Christ.
"In one perspective, there is no difference between AM and FM," said Michael Young, senior vice president and Pittsburgh market manager for CBS Radio Pittsburgh, which owns news talk station KDKA radio (1020 AM), FM sports station 93.7 The Fan, WDSY-FM, which is country and known as Y108, and WBZZ-FM (100.7 Star), which is pop music. "Great brands make radio successful, and serving communities very well is the driving engine. But I certainly concede there is a critical mass difference between the two bands right now."
While many wonder whether AM ultimately will fade away, Young is not among them. "The really good AM stations have good ownership and radio personalities and serve their communities well. In many rural areas, the number of stations, when comparing FM to AM, tends to even out or even favor AM radio."
Underlying the struggles between the bands is online and satellite radio. "What keeps me up at nights is FM radio and looking at all the new cars equipped with satellite radio," said WESA's Terwelp. And at classical music and NPR station WQED-FM, managing director Joanna Marie said, "You cannot ignore online. In the future, most, if not all, listeners will switch to some other device. You have to make sure that wherever the listeners are, your station is there, too. It's better to embrace and do the best you can than stick your head in the sand because online listening it is not going away."
In terms of programming, music remains strong, with country music having made considerable inroads with teens and pre-teens. Sports talk radio is a giant, as CBS Radio's Young said, because of the unending appetite of listeners to discuss their home teams. The still-unknown piece of the puzzle is where local news and more in-depth journalistic programs in the public interest fit. It's part of a larger question across the country. In an age of declining newspaper readership and a perceived crisis in quality journalism, how will citizens get the information they need in order to make informed decisions about issues important to their communities?
When it comes to WESA-FM, the Pittsburgh Foundation's Oliphant says administrators will continue to pay close attention to radio trends and evolve.
"We are operating in a very rapidly changing media environment. We have to give our experiment time to play out, but there is no guarantee that every aspect will survive. Still, it's also important to keep experimenting. 'Essential Pittsburgh' touches on a wide variety of important local issues, and they don't seem to be afraid of tackling the tough ones, including race relations and public education. They seem to be willing to hear from all sides of any issue and engage in serious conversations."