Full-Court Press
Pittsburgh's small publishing houses are flourishing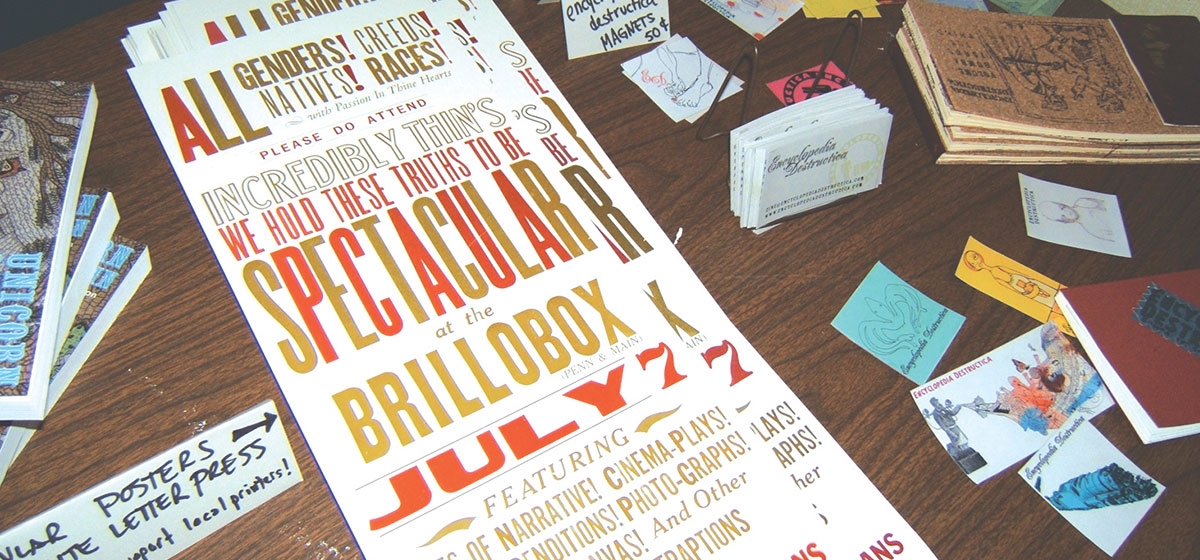 August 20, 2006
Ten bucks says you didn't know that Pittsburgh is a hotbed of small press activity.

Calling the Pittsburgh literary landscape "the most underrated art scene in town," Paper Street Press poetry editor, Arlan Hess, described this year's book fair of the Association of Writers and Writing Programs in Austin, Texas: "There were 450 tables of small presses from all over; we were in about the eighth row. By the time people got to us, they were all exclaiming, 'we had no idea Pittsburgh had so much going on!' There was at least one press from Pittsburgh in every row."
So what, exactly, constitutes a "small press?" The term can refer to anything from writers who self-publish to short-run literary journals to young entrepreneurs employing new, Web-based print-on-demand services to presses independent of corporate influence. Many involved in the small press movement claim that big publishing houses care more about formulating the next blockbuster than fostering the next budding author.
"The best writing of today is being done through the small presses," said Che Elias, 25, of Friendship's Six Gallery Press. "They're keeping the independent spirit of literature alive." Bookseller Bill Boichel, 45, added, "The independent arts are where the new ideas come from."
Most editors here agree that Pittsburgh has a supportive small publishing community, making this a welcoming city for fledgling ventures. The more high-profile include such journals as Creative NonFiction, Cake Train, 5Am, tpqonline and the South Side poetry publisher, Autumn House Press. But there's also a whole new crop of small presses in town.
"The Pittsburgh literary scene has always been fertile, if transient," said Hess, 38, who was raised in Mt. Lebanon and runs Paper Street Press there. "There've always been small presses here, if not always the same ones continuously." She gave an example of the evolution: "Several months ago, the editors of The New Yinzer [a local online journal] asked for help. They were about to fold. But people from other publications came forward. The community wanted to see it keep going." Soon a new lineup of editors took their place at the New Yinzer, coming out with their first new issue of fiction, essay, and poetry in May. Hess finds it typical of the Pittsburgh literary sprit: "When one goes, someone else wants to add their voice."
After grad school in New York, Boice-Terrell Allen, 36, returned to his hometown of Clairton in 2000 to start Rattlecat Press. He sees a local preference of cooperation over competition. "People here are very open. If you want to promote your books at someone else's event they'll let you; if someone's having a reading series, they'll invite you to read. Pittsburgh is the opposite of cliquish."
One man in his forties who calls himself The Dirty Poet has a different take. A physical therapist by day, The Dirty Poet said, "A lot of the editors here know who I am. 'Send us your work!' they'll say. And still they reject it." He is a published writer of short stories and poems outside the city limits. In Pittsburgh, though, The Dirty Poet finds the best distribution is the most direct: He tapes his poems and e-mail address on lampposts. It's a fitting venue for his writings, which are street-level observations of daily life. "It's much more gratifying than when I was getting published in the magazines. There I never got any feedback. Now I get so much!" His paste-ups can be found on street corners in Oakland, Squirrel Hill, Lawrenceville and Bloomfield, and he carries a hand-out version to pass off to acquaintances. The Dirty Poet adds, "I can watch people wait for a traffic light and read my poems — the kind of people who would never walk into a store and buy a poetry journal."
Fans and comrades are forms of support. So is money.
Rattlecat Press received two grants totaling $9,000 in 2002, one from the Pittsburgh Foundation and another from the Multicultural Arts Initiative. Editor Allen had sold his grandmother's car to help pay for the printing of his first novel. He used the grant money to fund his second and best-selling novel to date, "Janet Hurst," written in the voice of a middle-aged woman, as well as "Coloring Book," an anthology of contemporary writers from near and far. "Janet Hurst" has sold over 1,000 copies at $15.95.
Pittsburgh's Sprout Fund supports arts projects with the hope of "retaining the young talent" of the city. Sprout helped put the New Yinzer anthology, "Pittsburgh Love Stories," into print in 2004 with a grant of $8,395. A $3,500 Sprout Seed Award meant a high-end color printer for the kitchen-table operation of Encyclopedia Destructica, a Squirrel Hill-based periodical of visual art and writing in progress. Headed by Carnegie Mellon graduates Christopher Kardambikis, 23, of New Castle, and Jasdeep Khaira, 22, of California, Encyclopedia Destructica has produced nine limited-edition issues — handsomely and eclectically handbound at "binding parties" — since its inception in 2005. "We think it's a common misconception that Pittsburgh's art scene is struggling," said Khaira. This fall, "ED" will collaborate on an issue with another Sprout recipient (of $925), the Paper Riot Project, which debuted in March with a crowded reading at Carson Street's Hkan Café.
But the jackpot Sprout winner of late is the East End art collective, Unicorn Mountain, which received a $10,000 grant. "They may be the biggest success story in Pittsburgh small publishing," says Matthew Newton, 29, co-editor at Turtle Creek's Poison Control. "Not only did they get the money, they are committed more than anyone to promoting Pittsburgh artists." Both Unicorn Mountain and Poison Control favor the anthology format. Unicorn Mountain features narratives by graphic artists, while Poison Control's latest issue has short prose, illustration and photography in an attractive, wood-bound package.
Poison Control's Newton graduated from Pitt's Creative Non-Fiction program. His years of freelancing for national pop-culture magazines have earned him both talented colleagues to call upon and a disdain for "disposable literature." So he attempts to create the paradox of "periodicals with staying power." He funds his labor of love mainly through earnings as a technical writer for the Society of Automotive Engineering.
Six Gallery's Elias has the good fortune to have a benefactor for his fiction and poetry press. "We got our first funding when our patron, Richard Laskowski, sold the film rights to his novel," says Elias, who in 1999 moved to Pittsburgh from West Virginia. Elias was attracted by Pittsburgh's film scene. "I used to drive here to get away from Wheeling. Finally I just stayed."
Despite patronage, Elias has complete creative control of the press. He knows what he likes when he sees it, whether experimental prose, Eastern European fiction or film criticism. "Richard says, 'Whatever Che thinks will advance the press is fine with me.' " Elias passes this generosity on to his authors. Writers often publish with small houses or journals for no pay or for promised returns they never see. Six Gallery, however, pays authors on a quarterly basis. It also solicits reviews in relevant publications, gives authors a substantial number of free copies and has luck with sales, mainly through the Internet. Six Gallery is a print-on-demand press, making it possible for someone to read an online review, click on a link to reach the book's page on Amazon.com and request the book which is then produced through the online print house. Elias also has the opportunity to download books at a wholesale price to distribute in the physical world, so Six Gallery books are sold locally at such stores as Copacetic Comics, Caliban, Jay's Bookstall, Big Idea and Borders Books in the South Hills.
When presses promote their releases, the events attract old friends and new audiences. Paper Street had a summer reading series in the cozy back room of Mt. Lebanon's Coffee Den. Poison Control and Unicorn Mountain have release parties at art galleries that feature their illustrators' work. Poison Control had several hundred guests and sold out of the first run of "Young & Reckless" — 50 copies at $15 — at the Apartment Gallery on the South Side last year. Unicorn Mountain works regularly in association with Penn Avenue's ModernFormations Gallery. Another collective of art, music and publishing, Incredibly Thin, throws notorious bashes in Lawrenceville venues which feature spoken word artists alongside film screenings, music, hanging artwork and $1 beer.
Success wears a different face in the independent arts, where a little goes a long way. Creative NonFiction is an established journal with a significant following outside of Pittsburgh. They print 4,500 copies per issue, with 2,700 subscribers and about 1,000 going to national distributors. For Paper Street, success means selling 400 of each 500-copy run, with a subscription base of about 250. Poison Control was pleased to sell the remaining 200 copies of "Y & R" at the full price of $30 each, while Unicorn Mountain has sold over 800 copies of its first volume — all locally. And Elias has sold almost 2,000 copies of his poetic novel, "Pagan Ellipsis," in two years.
Boichel of Copacetic Comics has been a vendor of self-published literature and comics in Pittsburgh since 1978. He is enthusiastic but "cautiously optimistic."
He has watched Pittsburgh's small press scene "grow to become very healthy," but says it hasn't quite reached critical mass. "It hasn't reached the point where it could employ a few people full time, where it could insure its own future. For that we may need a few more very committed individuals."
The new, small press houses "are effervescent, but precarious," Boichel says. "They shimmer for a time, but they can die out. There's a lot of new things shimmering right now."