Pittsburgh's First Great Boxing Rivalries and the One-Punch Wonder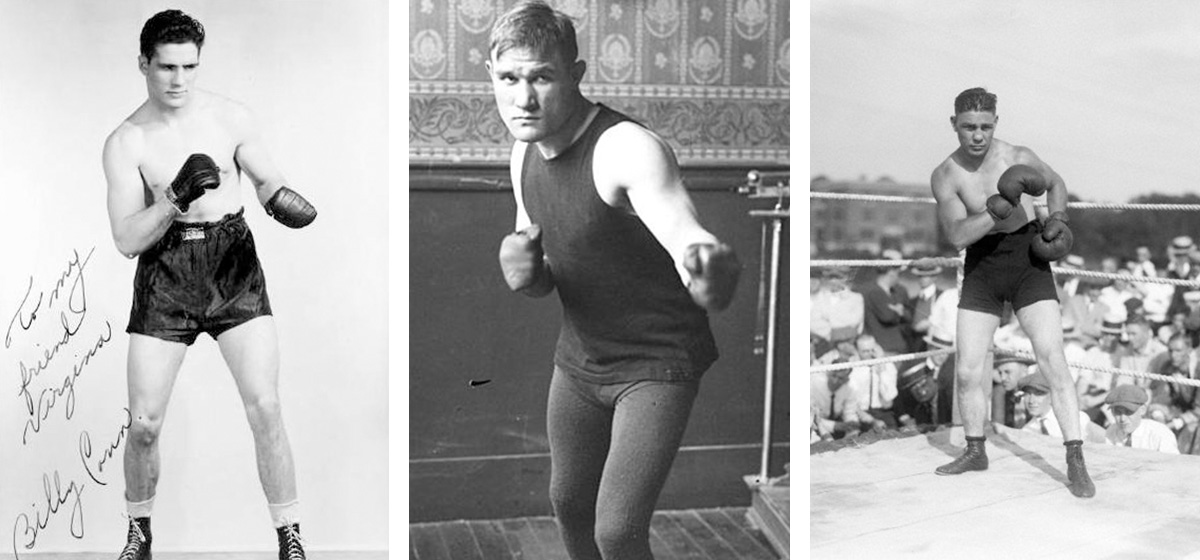 February 15, 2021
While the Pirates may have given Pittsburgh its first major sports championship when they defeated the Detroit Tigers in the 1909 World Series, its boxers gave Pittsburgh its first claim to the title City of Champions.

In the first half of the 20th century, there were nine boxing champions with ties to Pittsburgh and the surrounding area. They held titles at every boxing level from Featherweight to Light Heavyweight. Only the Heavyweight crown eluded Pittsburgh area boxers, though on the night of June 18, 1941, East Liberty's Billy Conn, dubbed "the Pittsburgh Kid," was outboxing Heavyweight champion Joe Louis until he made the fatal decision in the unlucky 13th round to knock out Louis.
The remarkable run of Pittsburgh's boxing champions began in 1913 when New Castle's George Chip challenged and defeated Braddock's Fred Klaus for the Middleweight title. By the time Light Heavyweight champion Billy Conn stepped into the ring against Joe Louis in 1941, Pittsburgh area boxers Harry Greb, Teddy Yaroz and Billy Soose had also worn the Middleweight crown. During the same span of time, Featherweight Jackie Wilson, Lightweight Sammy Angott, and Welterweight Fritzi Zivic won boxing titles.
A year before capturing the Middleweight championship in 1923, Garfield's Harry Greb, known as "the Pittsburgh Windmill" and generally regarded as the greatest boxer in Pittsburgh sports history, defeated Jack Tunney in their first of five bouts. Tunney later described his five fights with Greb as "savagery" and claimed that he took the worst beating of his career in his first fight with Greb. Tunney defeated Greb in a return match, fought him to two draws, and defeated Greb in their final bout. He survived his fights with Greb and went on to defeat Jack Dempsey for the Heavyweight title in arguably the most controversial bout in boxing history with its notorious long count that saved Tunney.
While Pittsburgh's champions faced some of the greatest fighters in boxing history, including Henry Armstrong, who held the Featherweight, Lightweight, and Welterweight titles during his remarkable career, they often, beginning with George Chip and Fred Klaus, fought against each other. Harry Greb, who was on the card of the first Chip-Klaus championship bout, later fought George Chip four times, including a controversial draw in their first bout, held at the old Duquesne Gardens.
After winning the Middleweight title, Monaca's Teddy Yarosz, dubbed "the new Pittsburgh Windmill," fought as a Light Heavyweight and met Billy Conn four times, winning once and losing three times, including two disputed decisions. The popular Conn, when he fought earlier in his career as a Welterweight, met Lawrenceville's Fritzi Zivic, who would later defeat Henry Armstrong in 1940 for the Welterweight title.
The Conn-Zivic bout, fought in 1936, was suppose to be a friendly meeting between two local favorites, but it turned into a brawl that ended with Conn winning a controversial decision. Zivic, known as "the Croatian Comet" and regarded as one of the dirtiest fighters in the game, praised Conn as a smart fighter, but said, "He couldn't knock your hat off." Conn made a prophet out of Zivic when, five years later, he tried to out punch Joe Louis and was knocked out. It was, Conn later admitted, the dumbest move of his career in the ring.
Billy Conn wasn't the only Pittsburgh boxer to make a dumb decision that cost him a boxing title. On the night of October 12, 1913, Middleweight champion Fred Klaus stepped into the ring at Pittsburgh's Old City Hall for a six-round bout against lightly regarded George Chip. After fighting his way to the Middleweight title against the best boxers of his day. Klaus regarded Chip as no threat to his crown and was so confident going into the match that he didn't bother to train. Observers at the fight, including, Richard Guy, of the Pittsburgh Gazette Times, noticed Klaus's "extra weight around his belt and his shortage of wind."
Before the start of the fight, Klaus waved to the crowd and joked with friends sitting at ringside. Once the fight started, Klaus appeared to hold back his best punches in what looked like an attempt to carry Chip and set up a rematch. When he did land a punch that hurt Chip, Klaus backed off and gave Chip time to recover.
Guy noted that while Chip "was never rated as a champion or a championship contender," he did possess "a terrible wallop." Klaus, however, had a reputation for allowing his opponents to hit him in the jaw and never flinching: "The owner of a veritable iron jaw, he takes his average bout as a matter of no concern."
In the sixth round, Chip stunned the crowd by landing a right hook to Klaus' jaw that dropped the champion to the canvas for the first time in his career. Klaus managed to struggle to his feet, but as Richard Gay reported, "he was dazed and unfit to fight anymore and the referee waved Chip to his corner." Less than ten seconds remained in the final round when the referee ended the fight and gave Chip the victory.
While the crowd greeted Chip with a wild celebration, all that Klaus could do, once he recovered, was climb through the ropes and head back to his dressing room, where he apologized for his performance: "It was my own fault. I held him too cheap. Being knocked down is a sensation new to me. I did not try for a knockout at any stage, but Chip had one real chance and he took it."
Fred Klaus, a few months later, did have his rematch with George Chip in a championship bout held at the old Duquesne Gardens, but, once again, he failed to get into shape and lost on a TKO to Chip. It was the beginning of the end of Klaus' career, but, despite his losses to Chip, he was eventually honored in 2008 with enshrinement in the International Boxing Hall of Fame.
With his election, Fred Klaus became the sixth champion from the Pittsburgh area to enter the Hall of Fame. Harry Greb and Billy Conn were included in the inaugural class in 1990, followed by Fritzi Zivic in 1993, Washington PA's Sammy Angott in 1998, and Monaca's Teddy Yaroz in 2006. Three years after Klaus' election, Farrell's Billy Soose, who, before he turned professional, was the intercollegiate boxing champion while at Penn State, joined boxing's immortals.
To this date only Homewood's Jackie Wilson, who held the Featherweight title from 1941 to 1943, and George Chip have yet to join the champions from Pittsburgh's golden age in the Boxing Hall of Fame. Wilson, who fought legends like Willie Pep in his career seems a likely candidate for induction, but Chip, though he also fought against boxing's best, may suffer from his reputation as a one-punch wonder.