Pittsburgh's tiny troubles
Our old ways with housing challenge attempts to build new ones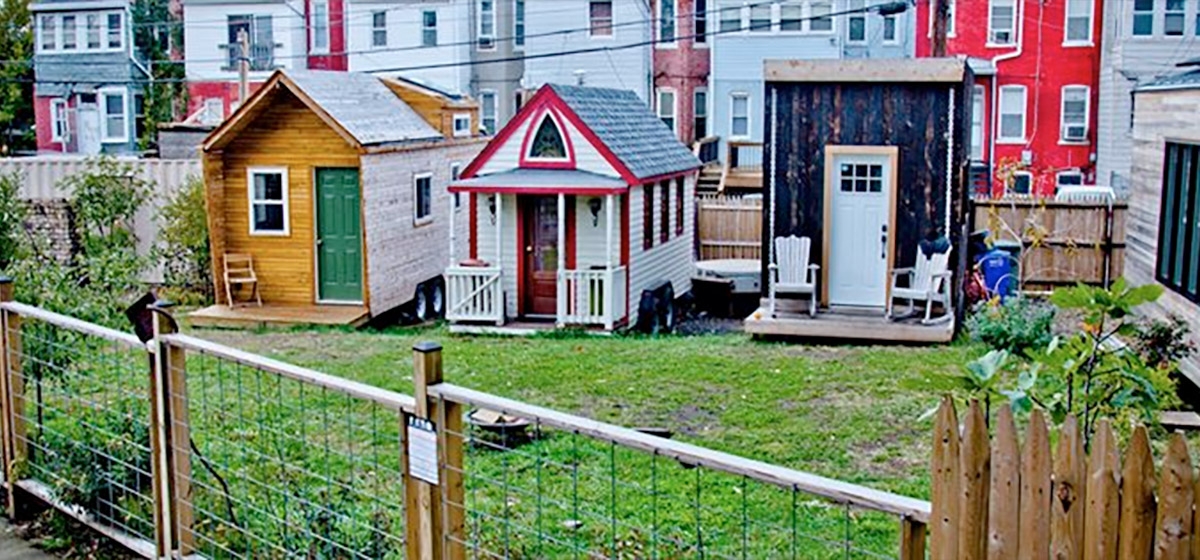 May 21, 2015
"Tiny houses" are a hot trend on the Internet and occasionally in real life. The widespread but not entirely formal movement includes residences of between 100 and 400 square feet, depending who is counting. They come from builders and owners who want to live more economical and less complicated lives by getting rid of possessions, using fewer materials and consuming less energy. Everywhere you click, someone else has posted an adorable pint-sized Modern or, better yet, miniature Queen Anne home that they built for either a suitably tiny sum or an unmentioned cost. Since so many images circulate online, many more people simply wonder about them than actually live in them.

In Pittsburgh's Garfield neighborhood, developer Eve Picker is working to provide the real life version. Her nonprofit cityLAB, "a do tank not a think tank," has been aiming, among its many projects, to bring more younger, artistic and creative people to live in the underserved district north of Penn Avenue.
Building Pittsburgh's first tiny house has been part of her work for the past year and a half, and it's almost ready for construction. Her experiences suggest that completing such a structure is much more challenging than most online portrayals indicate, yet many of the appealing qualities persist. The real question is whether or not to live in the city. "Our purpose was to turn eyes to Garfield," Picker explains. "To replan [the neighborhood] and get people to start looking at it." The north side of Penn Avenue has decaying housing stock and an abundance of empty lots, which become magnets for garbage and mischief or worse. Picker thought that tiny houses might provide an opportunity to reuse the lots and bring in moderate cost housing—providing some new energy without driving up housing costs unduly. "We got a catalytic grant [from Neighborhood Allies] to explore this kind of house," she says. She agreed to document the process of researching tiny houses, but not necessarily to build any. Too many of the financial parameters were uncertain.
Bargain tiny houses abound on the Internet. In one frequently cited example, author LaMar Alexander built a 400-square-foot, off-grid, sustainable house for a cost that he describes as $2,000. However, he did so with salvaged materials and free labor on a remote rural site with no building regulations. His results are truly admirable, but they are almost completely inapplicable to Pittsburgh. Within the city, by contrast, regulations require that you connect to water, sewer and utilities, which invariably include costly digging. These can cost $25,000 to $30,000 in Garfield and much of Pittsburgh, perhaps more if there is a foundation remaining from an earlier structure. "I think site issues are the biggest thing," Picker says.
Then there is the building itself. The city requires permits and bonded contractors, which contribute to the high cost of new construction, compared to existing housing stock. You might be able to build for a couple thousand with found materials and a composting toilet on Granddad's farm, but a new building with real utilities on a city lot in Pittsburgh is an entirely different enterprise. "We're trying to bring these in under $100,000," says Rick Swartz, executive director of the Bloomfield Garfield Development Corporation and one of Picker's collaborators. That's still a substantial savings, he notes, considering that conventional "new houses in Garfield are not less than $275,000."
"The tiny house allows us to get to a new place with owner-occupied housing without having the government reach into its pocket."
Nor are these the only options for Garfield's substantial population of low-income families. Swartz's group is working on several dozen units of subsidized rental houses and apartments where below-market rents of $550 to $800 per month can provide dignified housing for residents. But subsidies are not as easily available as they used to be, including from Pittsburgh's Urban Redevelopment Authority whose subsidies have declined substantially, Swartz said. "The tiny house allows us to get to a new place with owner-occupied housing without having the government reach into its pocket."
Also, the tiny house caters to a specific market. Young, early career creative professionals who might otherwise look at an apartment in Bakery Square at $1,000 per month can consider a tiny house at around $800.
Picker is pleased with plans by Wildman Chalmers Design, for an L-shaped Modern unit with a trellis over its compact porch. The firm came to the project when attempts to use standardized plans proved to be incompatible with Pittsburgh's sloping streets and specific building codes.
Even with designs approaching their final stage, the project is not complete. The back-and-forth with contractors has been a challenge, because scaling elements down in size does not necessarily make them cheaper. "There's no such thing as a small project," says principal architect Chad Chalmers. "You still have to draw it up, do code research, select finishes, and specify equipment." Likewise, at the time of writing, the tiny house needs two variances from the Zoning Board of Adjustment before construction can proceed.
"It's a tiny house, but it's a big headache," Picker sighs.
So you might imagine that the first tiny house would be Picker's last. In fact, she shows computer renderings for a complex of five tiny houses for Garfield, if the approvals come through for the first one. "We'd love to do more of them," says Chalmers, though "it still takes a lot of work to complete a house of this size."