Pitaland
Bakery, grocery and café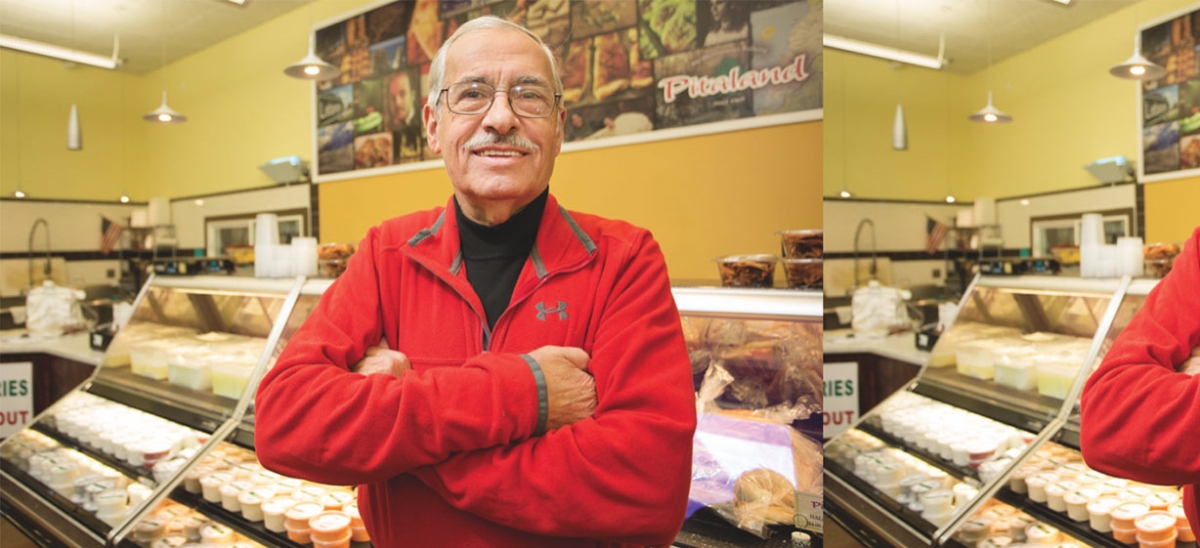 February 21, 2015
If breaking bread is the key to world peace, Joe Chahine has a jump on it at Pitaland in Brookline. A Lebanese Maronite Christian, Joe has pita customers of all faiths and nationalities. An Italian baker, Cellone, delivers Joe's pita to area groceries. And if you are eating pita at any area Mediterranean restaurant, and even one Cambodian spot, it is probably Joe's.
Joe's employees, around 20 now, mostly live in the neighborhood but many hail from Egypt, Syria, Lebanon and other troubled countries. "They might be fighting there, but they get along beautifully here, helping each other when they can," Joe says. Maybe Don Quixote's Sancho Panza was right when he said, "With bread all sorrows are less."
Every hour, 2,000 hot loaves of pita bread are made here, as customers watch through the glass wall between the bakery and grocery. At 1,400 degrees, the loaves pop instantly and flatten again as the bread travels 90 feet through the cooling system.
The Pitaland Café, with counter-seating along the opposite wall, is open for breakfast, lunch and dinner. All the best-known Mediterranean items—stuffed grape leaves, hummus, baba ghannouj and Pitaland's renowned spinach pies—are here, along with more unusual dishes.
Try the "National Breakfast of Lebanon," chickpeas and fava simmered in garlic and lemon, finished with parsley, tomatoes and olive oil."The Way We Eat At Home"—another breakfast choice—varies but often includes eggs as you like them, sausages, mixed olives, fresh vegetables, yogurt, cheeses and pita. The lunch and dinner menu offers a variety of sandwiches, pita pies and mezza, those small plates that are often shared and combined. Kufta—lamb with parsley and onions, garlic and spices—was a recent special. Hummus with ground lamb and toasted pine nuts was another. And there is a daily flatbread, with varying toppings.
For dessert, traditional walnut baklava is the star. The walnuts are bought from a single orchard in California. Taste this, and you will wonder if the place should be called Baklavaland.
Joe and Jocelyne Chahine came to America for their honeymoon in 1974, visiting Joe's brother George, who ran a small bread bakery in Brookline. When they tried to return to Lebanon, where Joe taught French in a Catholic school, war had erupted and it was not safe. They tried twice more, every six months, but it only got worse.
Once their first daughter was born here, Joe knew they were to be Americans, and in 1979, he became a citizen. Starting with a wooden paddle at his brother's outdoor brick oven, he learned to bake, and by 1990, he opened Pitaland at its current location.
Now, there are four children; Danny, Donna and Aleen work full-time, Joey pitches in when he stops in on Saturdays, and son-in-law Greg is the chef at the café. "This is my dream," Joe says. "I work every day with my children."
Many Pitaland customers are greeted by name, those from the old country mingling happily with parents who bring their kids to eat and watch the bread machine. Pita brings them in the door, but they quickly feel like family here, and keep coming back. Bread can do that.
Last summer, two middle-aged men approached Joe outside of Pitaland. They had driven from North Carolina to find their old French teacher from Lebanon, a man whose kindness had shaped them. "Do you remember us?" they asked Joe. And he did.
So they hugged and laughed and cried a little. Some tears of joy, and some for the lost Lebanon of their youth. And once inside Pitaland, they broke bread together. Family, friends, places—the good times—it all came back.
Pitaland, 620 Brookline Blvd., Pittsburgh, PA 15226. Eat-in, take-out, catering. Open daily: Mon.–Sat. 8 a.m.–7 p.m.; Sun. 10 a.m.–4 p.m. 412-531-5040 or 412-561-9285, pitaland.com.