Pickling plenty
Making your produce last through the winter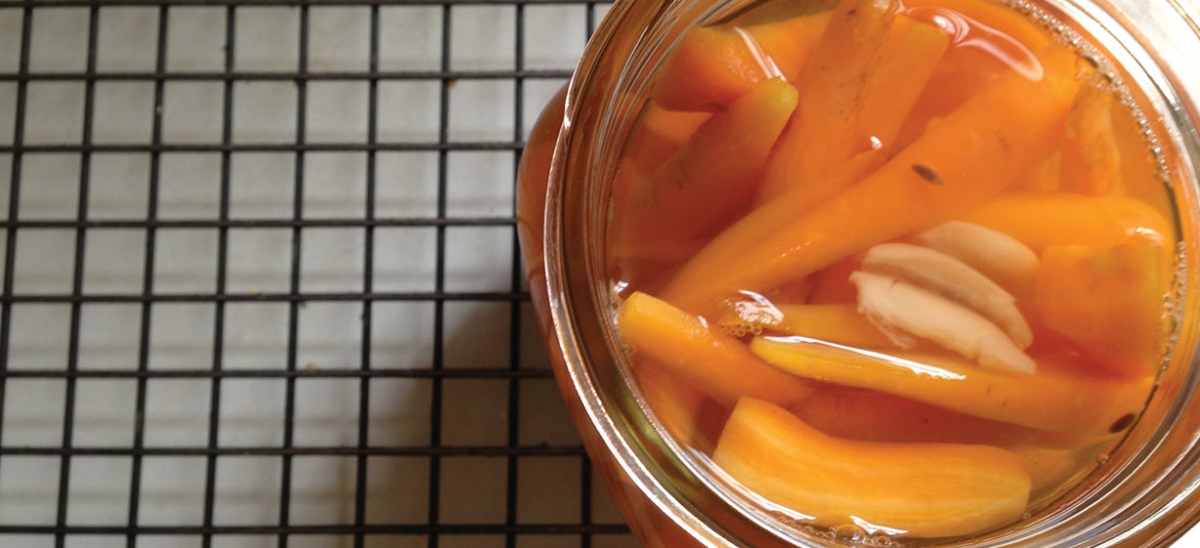 November 21, 2013
As the garden tips from late summer to fall and the plants become a little woody, then crispy, the only thing to do—if you're a gardener like me—is turn to the things you've put up during the months of productivity. It's nostalgic, opening up a jar of tomato sauce or jam. Garden memories may seem corny, no pun intended, but it's those sealed-up memories that get me through the deep freeze of winter to the arrival of seed catalogs and the eventual spring thaw so I can plant the peas again.
This leads me to pickling. Not just to the pickled cucumbers we all know, but to pretty much anything that can be harvested. I'm new to canning and pickling. I'd say 2013 was year three for me going at it earnestly from the results of my little urban plot. I grow cucumbers to make pickles since I don't really like cucumbers on their own. Sometimes I forget and just go straight to calling them pickles. I picked a basket of pickles today, I'll say, and then catch myself.
I make sweet-and-sour refrigerator pickles, and this year I canned garlic dill pickles. It was a good cucumber year, so many friends received jars of pickles as housewarming and hostess gifts. But beyond the plump cucumber, I pulled up a lot of carrots. Soon, bright orange slivers floated in a spicy brine. Mid-summer, I ate pickled Swiss chard stems at a local restaurant. I love chard and grow a lot of it, but I tend to de-stem the leaves and just use the leafy greens in my sautés. Pickling the stems seemed like a brilliant use for something I would normally compost. I tried to replicate the taste of the restaurant's tasty appetizer, making a brine that leaned toward cardamom and clove with some black peppercorns thrown in.
By fall, as the garden wound down and I lost all control of any semblance of organization in the beds, I noticed many of the radishes I'd planted in with the cucumbers (to help keep away cucumber beetles) had gone to seed. Big loopy tendrils sprouted from their tops. These leggy vines soon formed radish seed pods. After a little research, I found someone who had pickled these too. So I popped mine into some brine. Their peppery taste leans toward a caper, and they make a great garnish for martinis.
Pickling is easy. All you need is equal parts water and vinegar and some salt. You decide on the herbs and spices you'd like to add. Blanch what you're about to pickle (except for cucumbers), stuff whatever that thing is into a jar with the herbs/spices of choice, pour heated brine in, leaving a little gap at the top, and screw on the lid. You can either store the jar in the fridge (and thus you've made refrigerator pickles), or you can "can" the jars by processing them in a hot water bath for 10 minutes. If you're like me and have urban-sized crops, refrigerator pickling is often the way to go. A couple jars of pickled carrots, one jar of pickled radish seed pods, and one jar of pickled chard stems will last a long time refrigerated.
Cucumber pickles are a great source of fiber, iron, potassium, and vitamins C and K. The pickling (fermentation) process itself helps increase B vitamins in vegetables and produces essential minerals. The other beauty of pickling is that it becomes easy to put together an exciting cheese tray once you have all these jars in your fridge. Cheese, crusty bread, a little bowl of pickled chard stems, another of carrots, some sliced pickles, a bowl of almonds, a bowl of olives, a bottle of wine, and you're ready to entertain. Plus, the pickled things themselves make great conversation starters.
For more information, read "The Art of Fermentation: An In-depth Exploration of Essential Concepts and Processes from Around the World," by Sandor Ellix Katz.