Pandemic Tests Resiliency of State's Small Businesses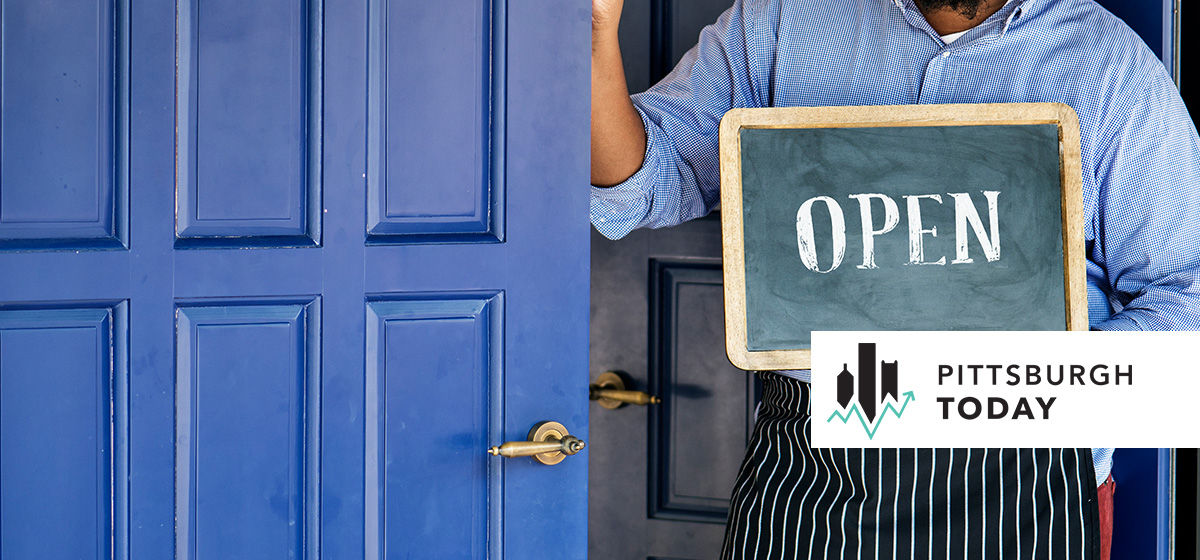 November 16, 2020
Most small businesses in southwestern Pennsylvania and across the state have found ways to adapt to COVID-related sales losses, social restrictions and other bruising conditions. But the lingering pandemic has darkened their outlook.

Nearly one third of business leaders doubt conditions will return to pre-pandemic levels even after the virus is tamed, according to a PNC Financial Services Group survey of small and medium-sized businesses in Pennsylvania.
The September survey suggests only 18 percent of business leaders were heading into the next six months enthusiastic about the business climate. Another 40 percent were "hopeful" about what to expect—the most popular sentiment expressed in the survey.
"It's been a difficult environment for small businesses," said PNC Chief Economist Gus Faucher. "Obviously, 'hopeful' is not the best description. But it could be worse. They're seeing some glimmer of hope that conditions will get better, and I think that bodes well for recovery."
One glimmer of hope small businesses could not foresee when surveyed in September were the announcements in the last week that COVID vaccines developed by pharmaceutical companies Pfizer and BioNTech and Moderna were found to be more than 90 percent effective in a preliminary analyses of late-stage clinical trials.
Effective vaccines could limit long-term small business damage, and the announcements of promising results could immediately give small businesses a much-needed boost. "It doesn't mean this is over by a long shot, but it's certainly encouraging," Faucher said. "In the short term, it creates a sense of optimism. It may make consumers a little more willing to spend and make businesses a little more willing to invest if people think the pandemic is likely to come to an end sooner rather than later."
More than 7 in 10 Pennsylvania businesses have been impacted by COVID restrictions in some way, with 46 percent saying they've operated at reduced capacity and 41 percent saying they've reduced hours. Only 40 percent say business is back to normal. But, so far, Pennsylvania businesses appear to have fared a bit better than those in the rest of the United States in terms of sales, a PNC national survey also conducted in September suggests.
Some 47 percent of Pennsylvania small businesses reported a drop in sales from pre-pandemic levels compared to 50 percent of U.S. businesses. And while 16 percent of small Pennsylvania businesses saw sales cut by more than half, 24 percent of businesses outside the state reported losses of that magnitude.
The pandemic has pressured Pennsylvania's small and medium-sized businesses to make major changes in how they operate. More than 3 in 4 have done so since March, when coronavirus first surged in the state.
Some 62 percent instituted safety changes, such as new policies and procedures or physical modifications to the workplace to reduce the risk of infection. Nearly one-third of small businesses adopted work-from-home policies. More than one-third changed products and services they offer or changed the way they sell or deliver them in order to adapt to shifting consumer behavior.
The pandemic and accompanying recession also led 25 percent of the state's small businesses to cut their workforce, although 84 percent consider the layoffs to be temporary and 42 percent had begun rehiring furloughed workers by September. Layoffs in Pennsylvania have been less severe than what has been seen across the United States, where 38 percent of small businesses overall cut jobs to adapt to the pandemic.
The survey suggests that federal stimulus measures helped limit the damage to small businesses, particularly the Paycheck Protection Program. The $669 billion program, which by the summer had run out of money, offered loans to cover payroll and other costs that could be forgiven if businesses kept employees on and met other conditions.
Eight in 10 Pennsylvania businesses that applied for loans were approved, a rate slightly lower than the national average. Of those, 83 percent described the loan as "extremely important" to the health of their business. And 58 percent of business leaders said additional stimulus was important, with 42 percent describing it as extremely important to weathering the pandemic.
Not surprisingly, business leaders are much less optimistic about sales and profits in the coming months than they were a year ago. Only 31 percent expect sales to increase compared to 48 percent surveyed last year about their outlook for the months ahead. And only 20 percent of small businesses expect to see a profit next year, down from 38 percent a year ago.
Heading into this year, about half of Pennsylvania's small business leaders were bullish in their outlook for the economy. In September, seven months of pandemic had cut the number of those optimistic about the economy to 1 in 5.
Improving economic data suggests the region, state and nation are in the initial stages of an economic recovery, although conditions remain challenging. In September, for example, the unemployment rate in southwestern Pennsylvania had improved to 8.2 percent, yet remained much higher than a year earlier when 4.5 percent of workers were out of a job.
News of early signs that coronavirus vaccines could be highly effective in preventing infection kindled hope the economic recovery could soon accelerate.
Fairly rapid availability of effective vaccines would reduce long-term damage to the economy and many businesses, particularly those that reeling under social distancing restrictions, such as hotels, restaurants, entertainment venues and airlines, Faucher said. "If we have a vaccine that's effective, those industries have a viable future and we don't have to figure out how to replace them, which takes time."
In the meantime, the survey makes clear that small businesses believe they'll need more help from federal stimulus programs to get by. Federal stimulus is also needed to buoy consumers whose continued spending is critical to the economic recovery, but whose incomes have been hurt by the pandemic recession, Faucher said.
But what will likely influence the pace of recovery the most is how well the region, state and nation is able to control the spread of COVID-19 until an effective vaccine is available.
Steadily rising infection rates have been reported in southwestern Pennsylvania and throughout the nation. Such trends raise the risk of tighter social restrictions and other circumstances that would disrupt business and a fragile recovery. "We don't want to go back to where we were in the spring, when businesses were forced to shut down," Faucher said. "Unless we get [the virus] under control, it will be difficult to experience a strong recovery."