Opining on Eponymy
(Someone please save me from the name/fame industrial complex!)
Illustration by George Schill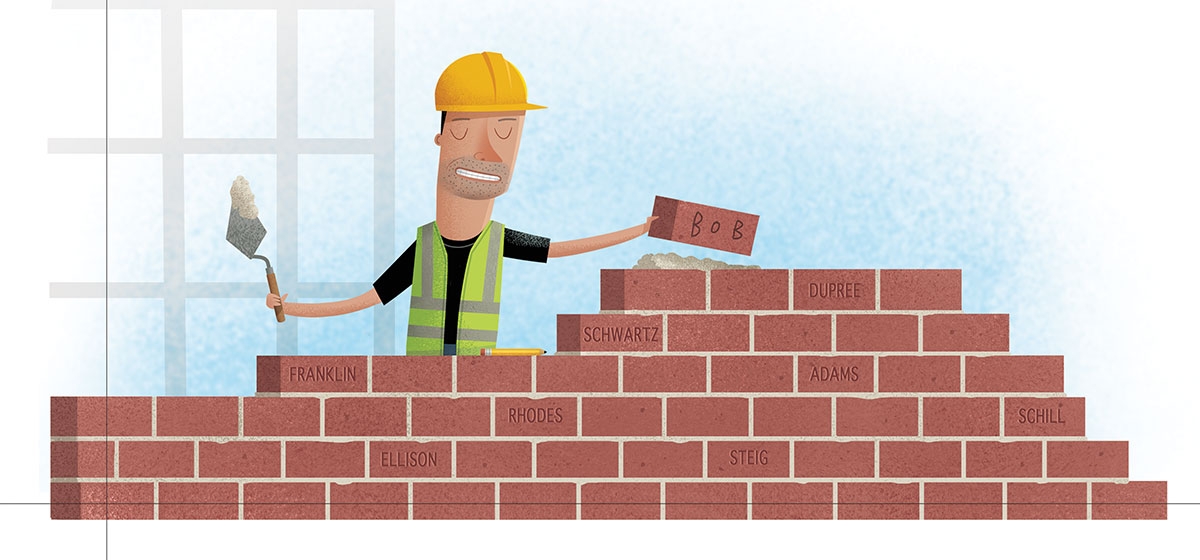 April 23, 2018
It used to be you had to die to get your name etched in stone.


Not anymore. Now all you need to do is fork over enough cash to your local school or library and you can purchase a brick with your name chiseled on it while you still register a pulse.
Bricks are only part of the story. Today everything is inscribed with someone's name. I can't move 10 feet without bumping into something named after somebody—parks and gazebos, benches and arenas, cultural centers and cancer centers, highways, byways, and bicycle trails. They've all got a person's name.
Is there a name for this naming craze? Definitely. The dictionary calls it eponymy, defined as "the derivation of a name of a city, country, era, institution, or the like from that of a person." (Think Victorian Era, Trump Tower or Andy Warhol Museum.)
Eponymy has longevity. For millennia, humans have christened things after kings, queens, popes, poets, warriors, explorers, musicians, mathematicians and everybody in between, real or unreal.
What's so special about Jim Thorpe, besides his being an Olympic gold medalist? He has a town in the Poconos named after him, that's what. Thorpe fared better than a couple of notorious Frenchmen who come to mind. Better to have a place bearing your name than an instrument of death. Consider Joseph Guillotin, a physician who suggested a new way to chop off heads during the French Revolution. And sadism? Thanks to Marquis de Sade for his torture practices.
With such a protracted history, no wonder the current naming craze is a raging epidemic, contagious and unstoppable, infecting its way beyond names of cities, states and continents.
We know about Megan's Law and Amber Alerts, named after victims of crimes, but have you heard of Tommy John surgery, a procedure to replace ligaments, named after a baseball pitcher? How many people can say they have an operation named after them?
Pittsburgh—itself eponymous, named for William Pitt—could be eponymy's epicenter. This town erupts more explosively than Mt. Etna with ubiquitous eponyms. You can take in a concert at Heinz Hall or a football game at Heinz Field. You can study at Carnegie Library or Hillman Library. You can picnic in Frick Park or Schenley Park. You can cross the Roberto Clemente Bridge or the Rachel Carson Bridge. You can saunter along Mazeroski Way or Tito Copobianco Way. Crafton Borough even has an alley called Cowher Way to honor the Steelers coach who grew up there.
But you needn't be a hometown hero to get your name in print, nor must you be named Frick, Carnegie or Heinz. Beneath the overpass on the corner of Grant Street and Fort Pitt Boulevard, did you know the city has a wall engraved with names of the departed homeless who were, gratefully, not nameless?
You get the picture.
I have no qualms about naming inventions such as pasteurization (Louis Pasteur) after their inventors or elements such as curium (Madame Curie) after their discoverers. But I become weary of publicity hounds who plaster their names front and center on everything they touch in frenzied fits of self-absorbed eponymy.
"The eponymous are upon us!" I want to shout. (It's like being in a sci-fi flick, "The Attack of the Nomenclature.")
I'd rather revere the poor and obscure than the rich and overly exposed. I prefer musing about the unwashed and unnamed than the well-heeled and well-publicized. And I admire those who wish to remain anonymous more than those who wish to remain in our faces, constantly bombarding us with a barrage of their name brands.
After all, anonymity—the opposite of eponymy—carries a singular mystique. It's inscrutable and immutable, its enigmatic aura unattainable by eponymy's boastful swagger.
Aren't murder mysteries more suspenseful and enthralling when we don't know "whodunit"? Aren't anonymous donors more humble—and potentially more exalted—than those who emboss their names on each gift? Aren't AA meetings more effective because participants are anonymous?
Years ago, I knew a professor who published his poems in a college journal, signing them "Anne O. Nymus." Except for his students, to whom he revealed his prank, nobody knew who wrote them. Consequently, everyone on campus religiously read them, perusing his poetry more intently than if they had known the poet's identity.
Indeed the Vietnam War Memorial is stirring and sad, with 50,000 names of sacrificed soldiers carved into its polished black granite, but I'm more deeply affected by the Tomb of the Unknown Soldier, its stark white marble pure and opaque, the occupant's name permanently unsung.
Don't misunderstand. I'm not for purging plaques from parks or markers from memorials. I don't clamor to dismantle names from streets and structures. Eponymy's cacophony is truly not my enemy. Sometimes I just crave the serenity of anonymity.