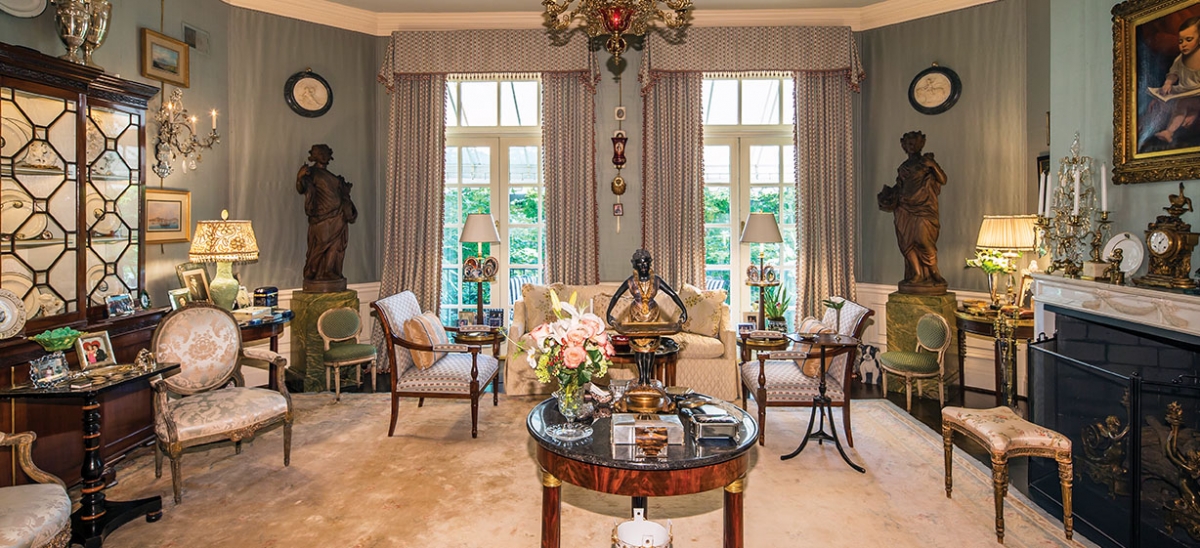 August 20, 2013
In 1872, when the residence of interior designer Louis Talotta was built, it was a grand place on a grand street in Oakland. But by the end of World War II, it had been carved up, much like the map of Europe, into many smaller pieces. The tall ceilings were lowered with acoustic tile so ineptly installed it hid the tops of the windows. The staircase was moved to the other side of the house and many original parts disappeared. The flow of the rooms was interrupted by doors and partitions that turned it into many apartments. In short, it looked nothing like the great beauty it once was, and has become again.
---
---
As one of Pittsburgh's premier designers for more than 50 years, and the principal of Parke Interiors Inc., Talotta is known for his exquisite use of color and knowledge of period details. His client list includes Hillmans and Mellons, but he is just as happy imbuing a simple residence with character and charm. And so it was with his home. He bought the building in 1960, and it evolved over time into what it is today—an office on the first floor, a residence on the second, guest quarters on the third and workrooms in the basement where custom lampshades are stored and faux finishes are applied.
Given the building's age and ramshackle history, Talotta had little choice but to gut much of the structure and replace all the mechanics—electric, plumbing and HVAC—before he could even address the aesthetics of the space.
"We basically removed every drop of lath because we had to," Talotta says. "The walls and openings are back to where they had been. The main staircase is where it originally was and rebuilt using parts from the 1870s and 1880s. All the floors are new hardwood, except for the pine on the third floor. The house was meant to look as though it had never been touched."
Light is one of the most important design elements to Talotta, and it was abundant on the first floor, which boasted tall windows to match the 12-foot ceilings. But upstairs the windows were tiny, so he replaced them with French doors that open onto small terraces. The effect was immediate.
"I have the morning light through the side of the house and the afternoon light comes from the opposite side. You don't have to turn a lamp on in this house until it really is dark. Because of the way it's situated and landscaped, you have a sense of privacy. You don't know where you are when you're in the house. You could be in Europe with the French doors and the little balcony."
With the bones restored, Talotta began the process of decorating as he always does—with the backgrounds that would set the stage for a furniture collection he had been amassing since he was 15 or 16. But furniture is not all he collects. His home is filled with paintings and objets d'art and "d'whimsy," numerous photos of family and friends, decorative pillows, porcelain, antique fireplaces and lighting fixtures, and anything ever made that features a Boston terrier, the beloved breed of his two dogs, Max and Nicky.
Typical of the way he collects is a wall of black and terra cotta reproduction Etruscan ware in the den. Talotta bought the first set of plates for $12 on the street in New York when he was 17 because "I'd always been interested in archaeology and anything Italian and Greek, and that started me collecting all things classical." He has similar stories for just about everything, evidence of a well-trained eye and the great curiosity that drives him. Placing it all with some semblance of order was the challenge—especially with himself as the client.
"It's more complicated. With a client I can get far enough away, knowing what a client's needs are, the best coloration primarily for the lady. It takes me forever to do it for myself. I can never decide on the background. I vacillate back and forth and drive myself to distraction making a decision for me.
"An object is easy—a candelabra, a box, that's simple. I only buy what I like, what is good. I wouldn't buy a chair I couldn't sit in or a piece of porcelain that was chipped. When it comes to putting a background together it takes me longer. I usually make the same decision—a pale, pale aqua, soft, with a pale ecru. I've always preferred Adams or English Regency, Louis XVI and Directoire backgrounds. Simple and clean without lots of ornamentation. Good moldings and doorways and ceilings, lots of natural light and good windows."
A centerpiece of the building is Talotta's office, a warm and welcoming room covered in pine that looks old but is new except for the antique fireplace and carved pine conch shells. He designed the room to hold and hide his samples, with large doors that open to become presentation boards on which to display paint chips, fabric swatches, trim and anything else needed to show a client how a room will look. A long table serves as his desk so he can look at plans or sketch while Max and Nicky keep him company on their favorite seats.
The room is done to perfection, like the rest of the house. Luxurious fabrics, faux finishes, marble and slate, walls upholstered in silk and antique wallpapers, needlepoint rugs—everywhere there is the unique, the eclectic and the beautiful.
"If the people who lived here when it was built had money, it would have looked like this—if they were really, really rich," Talotta adds with a grin.
The Talotta residence is for sale through Cindy Ingram at Coldwell Banker.