Hillman, Lenchner, Spruill, Peters, Faison, Danforth, Hoffstat
Noting the passing of prominent Pittsburghers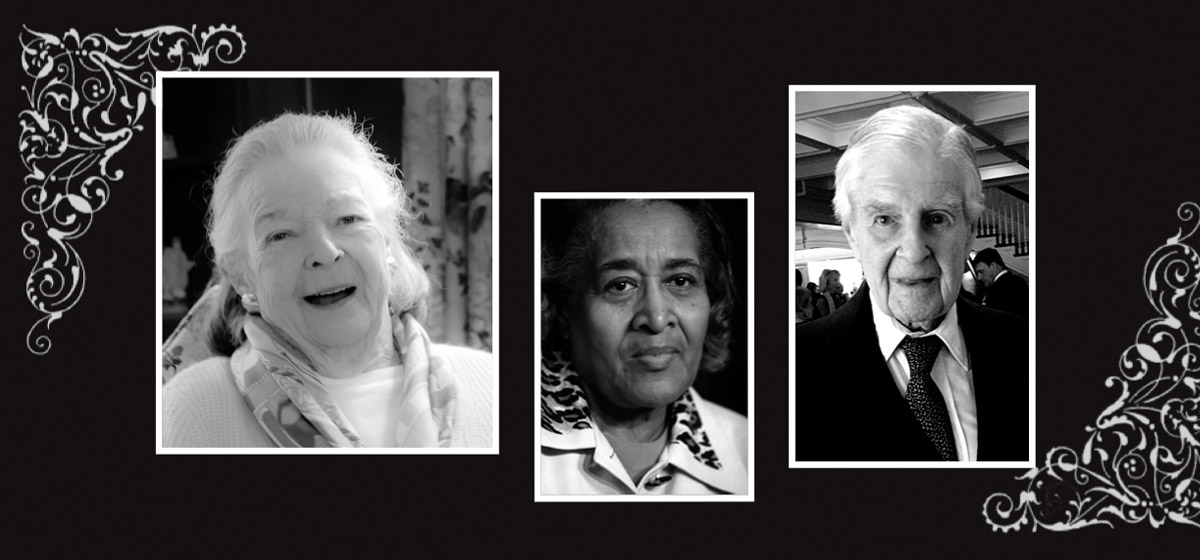 August 20, 2015
Elsie Hillman, 89
The irreplaceable and irrepressible first lady of Pittsburgh, "Elsie" combined vision, commitment, enthusiasm and means with a common touch. Those qualities and a sense of humor and fun helped her spearhead and support political, civic, cultural and philanthropic initiatives for more than 60 years. She headed both the Allegheny County and Pennsylvania Republican parties and advanced moderate candidates who supported civil rights and women's rights. A Republican Party national committeewoman from 1975-96, she played key roles in the election of President George H.W. Bush (whose wife, Barbara, likened her to "a cross between Teddy Roosevelt and Auntie Mame"), U.S. Sen. John Heinz, and Pennsylvania governors Dick Thornburgh and Tom Ridge, among many others. Except for college and a few post-war years, Elsie was a Pittsburgher who improved her city in innumerable ways. She and her husband, industrialist Henry Hillman, recently celebrated their 70th anniversary, and for Elsie, her family—four children, nine grandchildren and 14 great-grandchildren—always came first.
---
Sig Lenchner, 94
Lenchner worked himself through college in U.S. Steel's Homestead Works before enlisting in the Navy in World War II, where he skippered a minesweeper in the South Pacific and received a personal commendation from Admiral "Bull" Halsey. In 1953, Lenchner and his wife, Audrey, founded Today's Home—a home furnishing business he ran for decades—which grew to have three locations and four separate operating businesses.
---
Lucy Spruill, 70
Born with spina bifida and home-schooled until high school for health reasons, Lucy Spruill became a longtime advocate for people with disabilities. She became director of the Roselia Center, a Catholic Charities nonprofit for unwed mothers, and later Pittsburgh's first Americans with Disabilities Act coordinator. Spruill built programs for increased in-home care for people with disabilities, founded the Committee for Accessible Transportation and served on the City Planning Commission.
---
Chuck Peters, 81
Peters was long the leading Pittsburgh advocate for people with disabilities and mental illness. For 20 years, he directed the Allegheny County Department of Mental Health, Mental Retardation, and Drug and Alcohol Services, now the Department of Human Services. He was also the longtime leader of the Allegheny County chapter of the Pennsylvania Association for Retarded Citizens, now Achieva. With a big, warm personality, Peters pushed government to help citizens who needed it most.
---
Helen Faison, 91
In her 50-plus-year career, Faison was an outstanding teacher and administrator with the Pittsburgh Public Schools. After 18 years teaching, in 1968 she became the district's first female and first African American principal. She later served as deputy superintendent and then interim superintendent for the city schools—the first African American in that post. Faison was a thoughtful, hardworking person, and a city elementary school is named after her.
---
Douglas Danforth, 92
Danforth personified the long tradition of corporate leaders who contributed to Pittsburgh's civic life. During his 1983–87 tenure as Westinghouse Electric CEO, the company sold underperforming units and the stock price more than tripled. His lasting civic contribution was the key role he played in keeping the Pirates in Pittsburgh during two ownership transitions in the 1980s and '90s. A tough negotiator, he also helped numerous Pittsburgh charities.
---
Henry Phipps Hoffstot Jr., 97
Hoffstot led an exemplary life of professional and community service. With his keen legal mind, unflappable nature and gracious manners, he set the standard for younger Reed Smith partners during the more than 70 years he reported to the office. Hoffstot represented Mellon interests, negotiating with billionaire Howard Hughes in the financing of Trans World Airlines. During World War II, when rocket scientist Wernher von Braun sought to surrender to the U.S. military, Hoffstot, a German-speaking counterintelligence officer, was assigned to arrest and guard von Braun. In Pittsburgh, he wrote the bylaws for many nonprofits and served on more than 30 boards, including the Phipps Conservatory & Botanic Gardens, donated by his great aunt's husband, Henry Phipps, a business partner of Andrew Carnegie. He died in his magnificent Fifth Avenue mansion in Shadyside, outside of which he often was seen, impeccably dressed, waiting for the bus to work.