Nuts About Nutcrackers
Photo: Historic Fort Steuben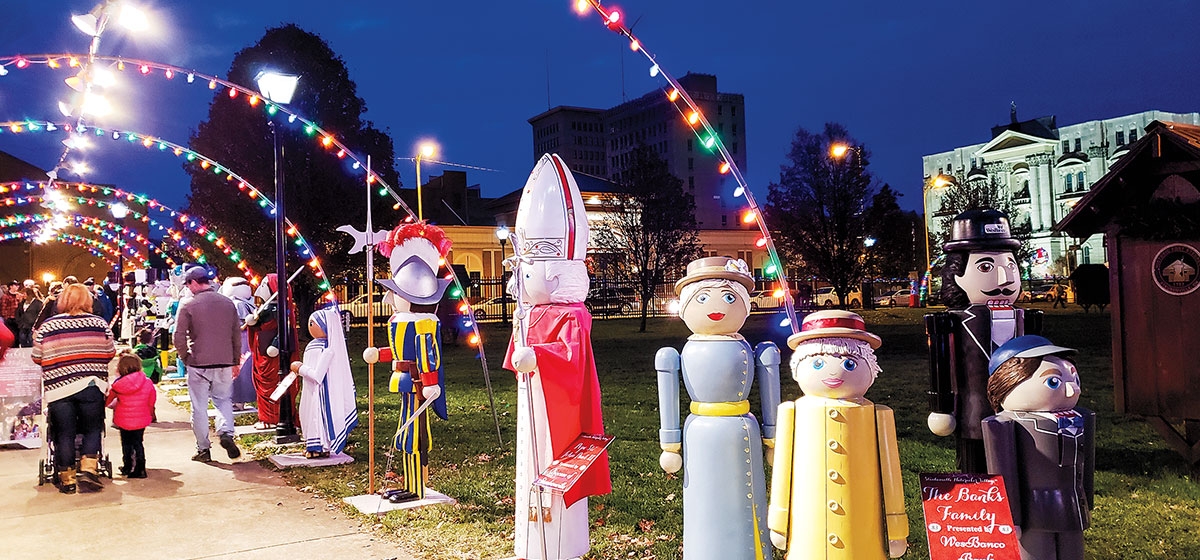 December 4, 2019
When Steubenville comes to mind, you probably don't think of the Rust Belt town as a travel destination. Mayor Jerry Barilla has been intent on changing that and the narrative of industrial decline that has dominated the town. Its population of 18,000 is less than half what it was in 1940—between 1980 and 2000, Weirton-Steubenville had the country's fastest urban population decline.

The former appliance store owner got the idea that displaying life-sized nutcrackers would be the perfect attraction. Five years ago, he contacted Mark Nelson, a father of ten and local entrepreneur who owned several companies, some of which focus on American-made items. Nelson, working with his daughter, Térèse, created 37 mostly six-foot nutcrackers, and the Steubenville Nutcracker Village & Advent Market was born.
The small display has grown to 183 nutcrackers and attracts up to 60,000 visitors from across the country. The nutcrackers go way beyond the traditional characters from the Tchaikovsky ballet and include crooners Frank Sinatra, Sammy Davis, Jr., Joey Bishop, Peter Lawford and hometown boy, Dean Martin; Wizard of Oz and other film characters; religious figures such as Mother Teresa and St. Paul; Christmas-themed characters; artists and literary figures; and Steubenville citizens. Debuting this year are Johnny Appleseed and Rosie the Riveter.
Térèse Nelson conceptualizes the design of each unique nutcracker. Then her woodworker brother-in-law, Brodie Stutzman, starts construction and carving, including high school students and adult volunteers in the painting and decorating of each piece. And their reputation is growing, as are sales: the Biltmore estate in North Carolina has commissioned two nutcrackers, and the city of Alpharetta, Georgia has purchased twenty.
The event relies heavily on volunteers, who contribute to Steubenville's revival while allowing their hometown pride to shine —the Nutcracker Village is the world's largest display of life-sized nutcrackers. Local businesses, organizations and citizens sponsor each carved figure. For example, the Italian-American Cultural Club sponsors Geppetto and Pinocchio, and the Weirton Daily Times sponsors Lois Lane.
The bulk of the nutcrackers will be displayed at Fort Steuben Park from Nov. 26, 2019 through Jan. 4, 2020. Additional nutcrackers will appear in store windows and throughout the town, and all of them will be viewable any time.
The Nutcracker Village also features an Advent Market held Friday through Sunday each week, with free hayrides. A model train encircles a 30-foot Christmas tree centerpiece in the park. German Christmas market-style wooden chalets house vendors selling everything from hot beverages, snacks and sweets, to gifts and decorative items. Don't miss the beautiful décor items at French Vanilla; their mini trees decorated with antique ornaments placed in vintage china are stunning.
There is also a "Holly Trolley" on Friday and Saturday afternoons with free rides through town, highlighting many of the stained glass windows at various churches and local art. Known as the "City of Murals," Steubenville has 24, painted on buildings, depicting its history, culture and famous natives.
Over 50 percussionists from local high schools will participate in a Nutcracker Drum Line on Dec. 8 from 4–5 p.m. Glockenspiels will carry the melody line as they play a medley of Christmas music. On Dec. 14, a parade will feature floats, music, dancers and nutcracker-themed items. The Nelsons' Drosselmeyer's Nutcracker Shoppe, a popcorn store and other businesses welcome visitors, as does the Steubenville & Jefferson County Visitor's Center via its Christmas Wonderland & Gift Shop. Kids can write letters to Santa or delight in a model railroad, and this year features a gingerbread house contest. Restaurants, Fort Steuben and Franciscan University of Steubenville round out the attractions. The best thing about all of this is that Main Street is vibrant once again.
For more information, go to www.steubenvillenutcrackervillage.com.