Museum Quality
Photographs by Roy Engelbrecht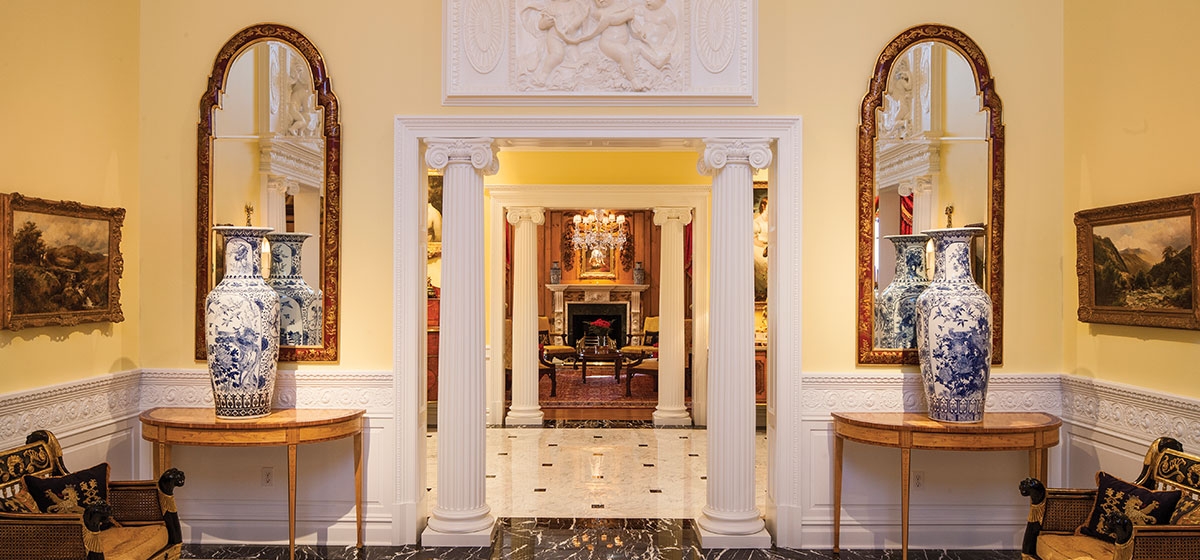 November 19, 2012
From the outside, the home is striking—a classic Georgian executed in subdued red brick. It looks neither new nor old, with immature landscaping the only hint that the owners have lived in it less than a year.

---
---
The pleasantly symmetrical exterior sheathes a most extraordinary interior. More than a labor of love, the residence took seven years to complete from design through the construction process. Perfection requires time and money, both of which the owners have lavished on their new residence.
"The whole house was designed around our art and furniture. It was really a setting for 40 years of collecting," says the husband, a retired businessman. Indeed, the house is filled to the rafters with a jaw-dropping collection of museum-quality paintings and antiques. The library is stocked with books on architecture, interior design, period furniture and art, all of which the self-taught owner has read. He put his knowledge and his collection to work, doing his own elevations for the home and incorporating a wealth of architectural antiques he had been storing in four warehouses. Carved English overmantels and moldings, antique paneling and doors, Georgian fireplace surrounds and mantels, marble medallions and other artifacts were incorporated into the design, with door widths and ceiling heights adjusted to accept the period details.
Architect Tony Stillson was brought in to execute the plans before the construction firm of Ja-Mag from Butler began the project, which took three years to build. The level of craftsmanship is impressive—a Russian marble cutter spent several months laying the black and white marble floor so that the first and ground floors line up perfectly. A floating spiral staircase connects the ground level to the second, half of which is a generous master suite with a 1920s-inspired marble hotel bath.
The owner did his own interior design, and it ranges from relaxed and comfortable in the bedrooms, with plump chairs from Blawnox Upholstery and ornate window treatments by Gary Bowers, to highly formal in the living room. This is the first room guests see from the dramatic two-story entrance hall, and it houses an assortment of 15th- to 18th-century Dutch, Italian and French paintings and mostly French furniture.
In the tradition of Georgian architecture, the stairs are hidden behind the foyer in the stair hall, built on a cross axis so there is a view in each direction. It's where the owner's most valuable pieces are displayed. A 1790 English lady's desk from Luton Hoo, the DeBeers estate, stands next to a 1750 English tall-case clock—one of many in the home. An exquisite Dutch marquetry cabinet from 1740 anchors one wall while a rare English primitive painting from 1750 is hung above a 1795 Seddon chest once owned by the former financier and collector Saul Steinberg.
Perhaps the most welcoming room is what the owner calls the dog room, and not because the couple's three small dogs have full use of the space. At least two dozen dog-themed paintings—including important works by John Sargent Noble, Sir Edwin Landseer and Arthur Wardle—are hung here on pine paneling. French doors flank the Palladian-style marble mantelpiece and open into the large garden behind the home that is rimmed with Greek and Italian classical bronze statues. A side door leads to the library, also known as the cat room for its paintings. As in every room, each piece of furniture was placed in the plans before the home was even built.
"Really, I have three hobbies—architecture, English furniture and European paintings," says the owner, who was in Europe or China several times a year on business before he retired. "When we first got married and we were looking for things, the furniture we saw in department and furniture stores was such poor quality. I traveled around the world and was exposed to great art, and I gravitated to English furniture. Seventy percent of what I have is from New York or London. Those are the sandboxes where I played."
Although he started collecting Renaissance paintings and furniture, "I knew I couldn't build a significant collection of that so I switched." The owner is particularly keen on 1780 to 1800 Robert Adam classical-style English furniture.
"It's like any collection—you refine your taste. English furniture is a little understated, much quieter. Many collectors start with glitzy stuff—French generally—heavily carved or with ormolu. Then if they get educated, they gravitate to English furniture or American furniture, Williamsburg-type stuff, American Federal, or early folk art. It's a more sophisticated look."
He also bought in Pittsburgh in the late '60s and '70s, "when you could still find pieces that were interesting and they were tearing down these great houses." He notes that the robber barons who built these Pittsburgh homes didn't necessarily have great taste, and their children, who were better educated and could afford fine things, mostly left town.
But the owner learned an important lesson from the early industrialists.
"I was a guy who pushed paper all my life. I created many good companies and helped a lot of families lead a good life. A lot of people are worth millions, but no one will remember them. The fact is, the people who are important leave something great behind for hundreds of years, like Leonardo da Vinci. I really appreciate people who can use their hands and create really great things. I can always make more money, but I don't know how to make a great painting or build a masterpiece of English furniture. It's a trade-off, and it's my priority. And it's all going to go to animal rescue charities someday."