Murray, Alexander, Wolfenstein, Mickle, Levin, Legato, Gordon, Snyder, Pavlovich, Dauler, Anderson
Noting the passing of prominent Pittsburghers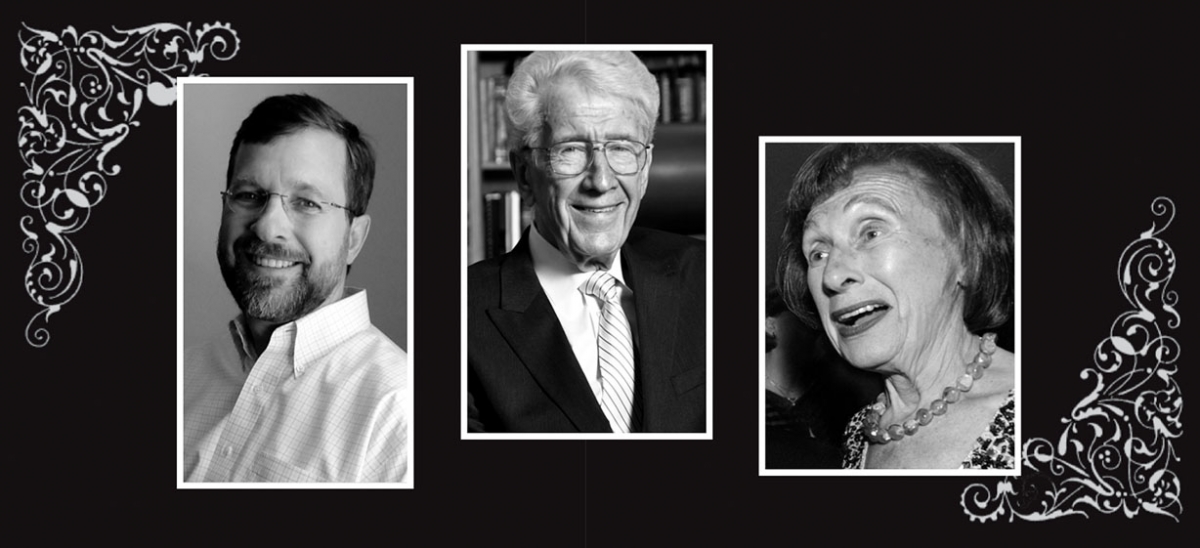 May 20, 2015
John Murray Jr., 82
From 1988 to 2001, Murray was the high-profile President of Duquesne University, who led the Catholic institution through a major revitalization, raising more than $200 million during his tenure. The former dean of the University of Pittsburgh School of Law, Murray was Duquesne's first lay president and continued teaching in Duquesne's law school faculty until his death. An expert in contract law, Murray authored 26 books, and during his years at Duquesne, created 80 academic programs. His reputation in the legal world and in Pittsburgh was stellar. His numerous involvements in the Pittsburgh community included chairing the Committee to Prepare Allegheny County for the 21st Century (ComPAC 21) and the Pittsburgh Intergovernmental Cooperation Authority.

---
Neil Alexander, 49
After the initial shock of being diagnosed with ALS—"Lou Gehrig's Disease"—Alexander and his wife Suzanne decided to make the most of the time he had left by launching "Live Like Lou" a campaign to raise awareness and money for research into the disease. With determination, energy and good nature, he succeeded at both, helping to launch a $10 million research center at the University of Pittsburgh's Brain Institute and demystifying the disease through his own experience.
---
Lincoln Wolfenstein, 92
Wolfenstein was an eminent theoretical particle physicist who taught at Carnegie Mellon University for more than 50 years. He was internationally known for his work on neutrinos and in 1978 was elected to the National Academy of Science. Though his thesis advisor was Edward Teller, the "father of the hydrogen bomb," Wolfenstein became an active in efforts for responsible nuclear policy.
---
Marlin Mickle, 79
Mickle pioneered the application of radio frequency waves during his long career in the University of Pittsburgh's Swanson School of Engineering. His research, which includes 40 patents, led to the development of a variety of wireless devices, including communication networks, battery chargers and radio frequency identification (RFID) tags, considered to be the most significant innovation in retail technology since the bar code. His work led to the creation of numerous companies.
---
Sally Levin, 88
While raising five children, she was deeply involved with the family business, Levin Furniture. Mrs. Levin was known for her excellent eye for design, and with it, she oversaw the store's displays and windows and travelled to furniture markets buying for the store. She was an active contributor to numerous community agencies including The Westmoreland Museum of Art, Mount Pleasant Library, Pittsburgh Cultural Trust, City Theatre, The Carnegie Museums, Carnegie Library, Pittsburgh Cancer Institute, and Jewish Residential Services.
---
James Legato, 71
He was the proprietor of Emphatics boutique and, with his wife Karin, made the store, which closed last year, a leading fashion venue. Legato was known for scouting the fashion world and introducing to Pittsburgh, and in some cases to the United States, the best clothing and designers. The store in One Oxford Centre was a "theater of fashion" featuring numerous fashion shows and outstanding personal service.
---
Ira Gordon, 92
A Navy torpedo bomber pilot in the Pacific during World War II, Gordon was a two-time successful entrepreneur and a Pittsburgh philanthropist. In 1950, he started Swift Homes, an early national player in pre-fabricated housing. In 1982, he and his son founded General American Corp., a mortgage servicing company they sold in 2000. Gordon was an involved donor to the Allegheny Valley School, City Theatre, the Carnegie Museums, the Pittsburgh Symphony Orchestra and the Jewish Federation of Pittsburgh.
---
William Penn Snyder III, 96
The descendent of an illustrious family in Pennsylvania government and industry, Snyder was a longtime Pittsburgh businessman, civic leader and philanthropist. As leader of family businesses, Shenango Furnace Co. and Shenango Penn-Mold Co., he joined the Allegheny Conference on Community Development in 1948—during the decisive years when the Conference brought cleaner air and flood control during the famed Pittsburgh Renaissance—and he served through 1994, including as Conference president. He was a very significant donor to the Carnegie Museums and Allegheny General Hospital, which named its inpatient wing the Snyder Pavilion in his honor. His magnificent family home "Wilpen Hall" is one of the last great Sewickley Heights estates.
---
Joseph Pavlovich, 84
The 23-year leader of Shady Side Academy's math department, Pavlovich loved expanding young minds, including those for whom math didn't come easily. The Kenyon College athletic hall-of-famer was an All-American soccer player who also holds Kenyon's single season strikeout record (102).
---
L. Van V. Dauler Jr., 71
After successful years in New York with Coopers & Lybrand and Merrill Lynch, Dauler returned to Pittsburgh in 1989 to lead his family's company, Neville Chemical Co. He ran the company until 2005 and was known as a leader who was sensitive to the concerns of company employees. Dauler was very involved with the Pittsburgh Public Theater and served on the boards of Western Pennsylvania School for Blind Children, the Pittsburgh Symphony Orchestra and UPMC Shadyside.
---
"Chizmo" Charles Anderson, 86
Known as "Pittsburgh's King of the Blues," Anderson sang in Pittsburgh venues for more than 60 years, blending a comic bent with his performance of jazz standards as he worked room after room. His prominence grew in the 1980s with the band Mystic Knights of the Sea and in regular gigs at The Balcony in Shadyside.