Moneyball?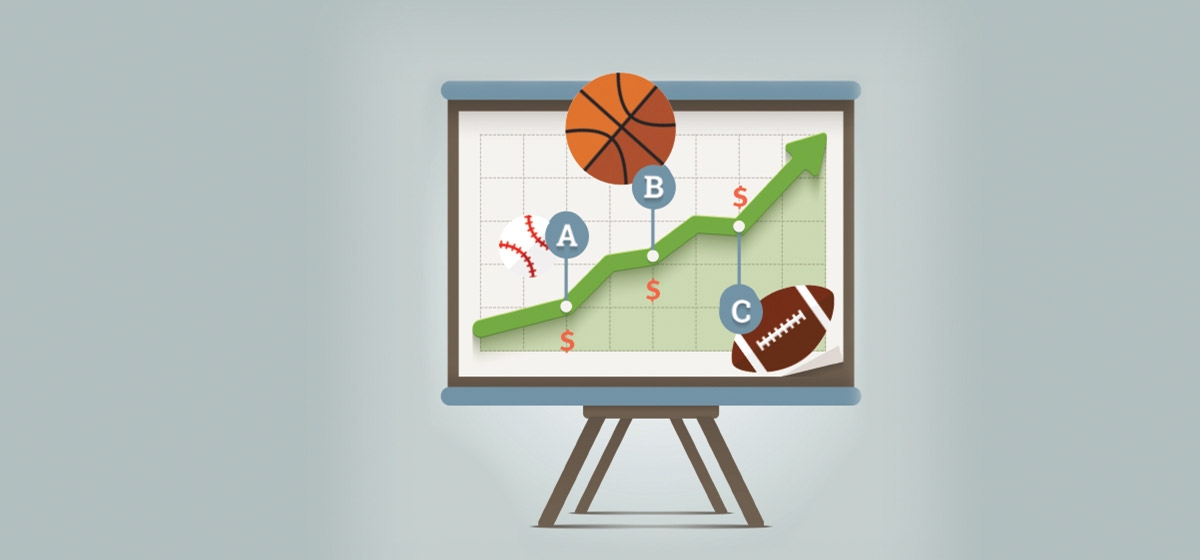 August 20, 2015
The morning after flying in from Texas in March, Greg Harris and his mother downed an oatmeal breakfast and coffee before heading to the basketball game they'd traveled more than 1,000 miles to see.

They came to Pittsburgh to watch their favorite team, the University of Texas, play Butler University in the opening round of March Madness—the NCAA Men's Division I Basketball Tournament, hosted by Duquesne University at Consol Energy Center.
In Pittsburgh, they purchased meals, lodging and amenities—part of an estimated $7 million spending spree by thousands of out-of-towners and locals, according to VisitPittsburgh, Allegheny County's tourism promotion agency. Fans bought 58,000 tickets for the weekend tournament, which brought teams from eight cities.
The Pittsburgh metropolitan area is home to many schools that compete in collegiate athletics, with or without the national spotlight. These athletic programs offer the schools some revenue and the city an economic boost.
Just how big is the impact?
The Pittsburgh Council on Higher Education has eight member institutions with athletic programs—Carlow University, Carnegie Mellon University, the Community College of Allegheny County, Duquesne University, La Roche College, Point Park University, Robert Morris University, and the University of Pittsburgh. According to records submitted by those eight to the U.S. Department of Education in accordance with the Equity in Academics Disclosure Act, their athletic programs generated nearly $91 million in the 2013–14 academic year, netting nearly $10 million after expenses.
Landing in the black certainly boosts universities, but area businesses experience the ripple effect of sports spending—especially when collegiate athletics draw out-of-state fans for big events such as March Madness or the Frozen Four men's NCAA hockey championship and rivalry games.
The combination of sports, cultural and student spending via the 10 institutions of the Pittsburgh Council schools—which include Chatham University and the Pittsburgh Theological Seminary—supports nearly 9,000 jobs and attracts more than $244 million in direct spending and more than $360 million in total regional economic impact, according to a report from consultant Fourth Economy, which produced the report for the council. The schools also were responsible for 5.8 percent of the amusement tax collected by the City of Pittsburgh in 2012—$710,906, according to the report.
Putting fans in the seats and the city
A marquee matchup is not always necessary to draw the fans.
Jim and Sue Kline, of Westmoreland County, hold season tickets for the University of Pittsburgh men's basketball team. Though not alumni, Jim's father played football and baseball for Pitt in the 1940s. The Klines attend every home basketball game, even with small-school opponents such as Bryant University in Smithfield, R.I.—and even on early February nights when temperatures hover in the teens.
Others clearly do the same, as Pitt's men's basketball team averaged 10,012 fans during its 18 home games last season—more than 180,000 attendees in all. But when it comes to potential economic impact, the magnitude of the game is a significant factor for bringing locals and tourists to the stands and the city.
Rick Wilson, who for 25 years has lived two hours east in Elton, visits Pittsburgh half a dozen times per year for the last 15 years to watch college sports. Unlike most avid fans, he has no specific ties to a university, and he gets free tickets through work. "I haven't paid for tickets in years," Wilson said. With free tickets and parking pass in hand, Wilson planned a weekend trip in mid-February to watch Pitt's men's basketball play North Carolina. "Between going out to dinner, the casino, and hotels, I'll blow $500 easy," said Wilson, who was excited to see the Tar Heels, one of the most storied basketball programs and a new rival after Pitt joined the Atlantic Coast Conference in 2013.
Jesse Herrle manages the Blue Line Grille across from Consol Energy Center in Pittsburgh's Uptown section, and he knows from experience what impact big-name teams and rivalries have on local businesses. "I was in North Carolina for a number of years," Herrle said. "Our restaurant was relatively close to the Dean Dome. Any time we played Duke or any of the major top-25 schools, we could pretty much guarantee that we would be at capacity or sell out."
But when a small school plays a small opponent, business doesn't always boom. A 25-year restaurant veteran, Herrle doesn't see as many big-time rivalries with Duquesne's basketball program as he saw in North Carolina. "For a regular season Duquesne basketball game, we may not get much of a draw for it, but when it's a top-ranked team and they're playing at Consol, we're going to get a huge draw."
Duquesne's 16 home basketball games averaged just 2,270 fans last season, but one game—against cross-town rival Pitt—drew nearly 15,000 fans, nearly matching a March Madness game.
"Any time there's a college event at the Consol Energy Center, we'll certainly experience a boost." said Kevin Joyce, owner of The Carlton Restaurant downtown. "The key is really putting teams in Pittsburgh that are going to bring their fans."
Case in point: Greg Harris estimated that his trip from Texas with his mother cost about $4,000, including airfare. They would spend nearly $1,500 of that in Pittsburgh, including meals at Jerome Bettis' Grille 36, NOLA on the Square and Primanti Brothers.
Show me the money
Tracking the flow of sports economics is not as simple as watching the scoreboard, totaling ticket sales or running a formula. Some fans attending games—especially locals—don't always spend. The Klines, for example, pay for parking at Soldiers & Sailors Memorial Hall & Museum, and that's about it.
"Even though you fill the stadium, most of those fans are local," said Dr. Victor Matheson, economics professor and sports economics researcher at the College of the Holy Cross in Worcester, Mass. "They're just spending the money at the stadium rather than spending it at [Church Brew Works], so that's just money that's shipping around the economy rather than new money coming to the economy."
For example, if a fan spends $50 on a ticket, he or she has $50 less to spend on a dinner in the city. If the drive to the arena costs $100 in gas, then going out for drinks after the final buzzer may not be possible.
For hotels, sometimes the biggest boost comes not from fans but from teams. Michael Dougherty, director of revenue for the Fairmont Pittsburgh downtown, said his hotel sees "very little" bookings resulting from a Duquesne game, but when he worked at the Hyatt near Consol Energy Center—now a Marriott—the situation was different. "We worked a lot with Duquesne and had a lot of college teams stay with us, particularly basketball."
Pittsburgh has just two programs at the Division I level averaging more than 3,000 fans per contest—Pitt football and Pitt men's basketball—so rivalry games and mega-events prove critical to maximizing the economic potential of college sports in the city. And while sports are a component of the annual $5.6 billion tourism industry in Allegheny County as of 2013 (the latest figures available), the vagaries of sports tourism at the collegiate level make actual tallies difficult, said Jason Fulvi, executive vice president of VisitPittsburgh.
For example, convention tourism comes with contracts for hotel rooms, making tracking economic impact easier than for sports tourism.
"When you start getting into the leisure side of things," Fulvi said, "it's very challenging to know exactly the impact there unless we have ticket-takers at every bridge coming into the city asking the questions 'why are you here? How long are you going to be here? Where are you staying? How much money are you planning to spend?' We can't do that, so we have to make some assumptions."
But some data do exist for measuring the inflowing traffic—primarily through zip code recognition.
"We collect a lot of data from our attractions," Fulvi said. "Those attractions give us zip code information. And we know that if somebody is from outside about 100 miles, based on their zip code, odds are, they're spending the night."
Obtaining such information on spending is not as easy. Even when thousands of fans come from out of town for March Madness, Visit Pittsburgh's estimates are "conservative," Fulvi said, because of the unknown factors in leisure tourism spending.
For those reasons, some sports economists, such as Holy Cross's Matheson, caution against overly optimistic projections for mega-events. He offered three reasons why they may not always result in a significant economic boost.
The first is the substitution effect, in which financial totals include the spending of local residents who may buy tickets with money they otherwise would have spent on food or other Pittsburgh attractions. Theoretically, for every dollar spent by a local on a March Madness ticket, local shops lose out, and hotels and motels feel no benefit.
He calls the second factor "crowding out," which occurs when sports fans who enter the city actually displace or deter tourists who otherwise would have been there if not for the game. Fortunately for Pittsburgh businesses, March Madness is an exception, Matheson said. "March is not a high-tourist season for Pittsburgh, so that's probably not as big a deal, but when you're talking about a bowl game in Miami in January, that, of course, is a big deal."
The third factor, leakages, might be the most worst. Local restaurants might collect more cash during the influx, but if the money heads back to corporate offices out-of-state—rather than staying within the local business—then the city is little more than a vehicle for getting tourist dollars to headquarters.
What's it worth to Pittsburgh?
The multibillion-dollar tourism industry annually supports 40,000 jobs in Allegheny County, Fulvi said, and even though not all of the jobs or dollars rely directly on sports tourism, some jobs such as concessions and ticket sales are intrinsically tied to athletics.
While hotel and restaurant jobs may not be directly tied to sports, big athletic events do bring a boost, even if it's not measurable. For example, Gary Lee, former group sales manager at the Renaissance Pittsburgh Hotel, said, "You're going to have more housekeepers on. You're going to have to have more front-office personnel to handle the folks who check in. Your bar staff and your restaurant staff is beefed up."
Football and basketball generally provide the highest earnings in college sports, but secondary sports such as hockey also can pack an economic punch. When Consol Energy Center hosted the 2013 Frozen Four, Joyce estimated The Carlton Restaurant saw at least 120 extra dinners per day, and the event generated $11.6 million in direct spending according to VisitPittsburgh's estimates.
Beyond the sometimes murky contribution of college sports to the local economy, even skeptics such as Matheson acknowledge their other virtues. "While there are not big economic effects from spectator sports that we see, there is no doubt that there's a quality-of-life aspect there."
Successful athletic programs increase applications and enrollment numbers for certain schools, which can boost the long-term economic impact of a university and the spending from its student body. It's what Matheson calls the "Flutie Effect" referring to Boston College University's star quarterback in the early 1980s, which raised that university's popularity.
A somewhat similar effect is occurring in Pittsburgh. With the national spotlight shining on Duquesne during March Madness, sports have helped the university cultivate its donors.
"Just think about the exposure that the city gets, the arena gets, the university gets," said Duquesne's senior associate athletic director Phil Racicot. "We have our logo on the court. There are millions and millions of people who see that. You can't really calculate the value of that."