Magnificence in Montana
At the foot of Spanish Peaks, a Pittsburgher is building a resplendent retreat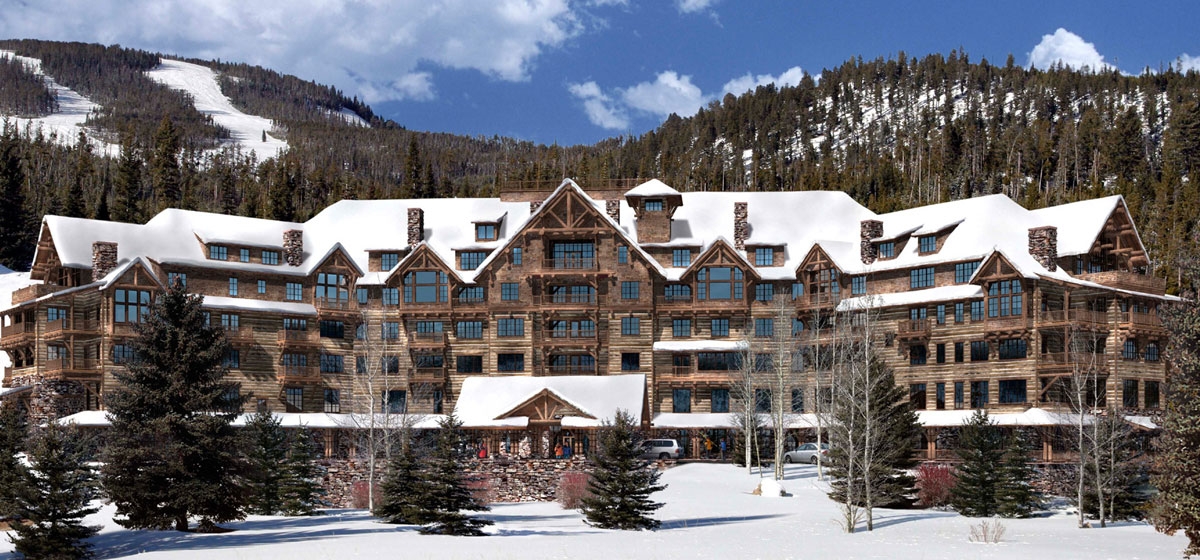 November 24, 2008
When his six boys were young, Jim Dolan and his wife Patty took the family every spring break on a ski trip, each time to a different location. They went to Aspen, Vail, Steamboat, Jackson Hole—you name it. Each year, the boys said, "This is great, let's come back here next year."
---
---
And each year Dolan replied, "No, that's not my role. My role is to show you more of the world and different places." By 1995, the family made it to Big Sky, Montana, and the rugged, wild country changed Dolan's mind. "This is the place we should stay," he said. "We've found it."
Dolan bought land in Big Sky and became an early member of the Yellowstone Club, the ultra private club that boasts being able to live and ski among vetted personages only. Ultimately though, Dolan envisioned something else, something different, a place where good people and their families could get together and share an authentic Montana experience. He looked around and found the land he wanted—nearly 6,000 acres in all. And he set about creating what is now known as The Club at Spanish Peaks.
Dolan, 54, pulled together the best Rocky Mountain planning team he could find, and he articulated a vision: Great skiing, unpretentious feel, the best golfing in the country and a family-centered atmosphere. The idea was to avoid a faux European village with chalets in favor of pure Montana. He wanted western influences without being cowboy chic. The challenge to the architects was to take that vision and develop and define an as-yet unarticulated Montana architecture, using native timber and stone. And as they set out to create that definition, Dolan built the vision further, hiring a musical director, Jim Salestrom, to develop and create the concept of Montana music.
"The primary difference from other clubs is the authenticity," says Dolan of Fox Chapel. "This is for real people who want a real Montana, not living behind a gate. In Montana it's not a social thing, not 'Where did you go to school? What clubs do you belong to?' In Montana it's not what you are—it's who you are. This is a place where you can take your kids and grandkids, confident that the kids are safe, that they won't get run into on the slopes and that they'll return at the end of the day."
Big Sky's front door, so to speak, is the Bozeman airport, less than an hour away. From there, you turn south on 191, the Gallatin Road, named after Albert Gallatin, the former Fayette Co. resident and secretary of the treasury under Presidents Thomas Jefferson and James Madison. Soon, whatever roadside civilization there is falls away, and you find yourself driving beside the pristine, cascading Gallatin River, where "A River Runs Through It" was filmed. On either side of the highway, pine- and fir-covered mountains rise from the road, and up ahead, miles in the distance, one mountain range is taller than the next, residing in a mix of sun and shadow.
Upon reaching Big Sky, you realize that there isn't really a place of that name, at least not a municipality per se. In "town," a few disparate stores greet you, but not much else, until you take a right and head up into the mountains and the center of millions of acres of protected land. To the west is the 250,000-acre Lee Metcalf Wildnerness, to the north the 2.1-million-acre Gallatin National Forest and to the south, the 2.2-million-acre Yellowstone National Park.
Skiing is the most obvious attraction, with good reason. The Club at Spanish Peaks has 300 acres of private skiing that connect by a high-speed quad lift into the heart of Big Sky ski terrain, a public ski area. With 5,700 acres, it is the largest in North America; bigger than Vail, and with more skiable acreage than all four Aspen areas combined.
It's the largest in area, but not in people, points out Dean Genge, of Aspinwall. "On a big day in Vail, you'd get 25,000 skiers. The biggest day in Big Sky has 5,000—that's less than a person an acre. If you can catch your breath before you get back on the lift, you aren't skiing hard enough." Genge is the chief operating officer of Voyager Group, the private equity holding company for Dolan's businesses, and at Spanish Peaks, he's Dolan's right-hand man and a long-time Big Sky devotee. "Big Sky has some of the best extreme skiing that's lift-serviced in North America, and thousands of acres of intermediate and family-friendly terrain. So the idea is that the family can go out together and ski together, or go to whichever terrain fits each person best. And the lifts are all interconnected. You never have to take off your skis."
Of course, any super-high-quality western club needs the second element of the one-two punch—golf. And in this regard, the golf vies with skiing at Spanish Peaks for the number one spot. In his years as a property owner in Big Sky, Dolan became friends with golfing legend Tom Weiskopf, whose kitchen overlooked the property Dolan bought. A famed course designer, Weiskopf had long thought the terrain was perfectly suited for a mountain course. One day, while he and Dolan were sitting in that kitchen and Dolan said he was considering a couple of different designers, Weiskopf interrupted, "Jim, you don't understand, I want to do this course."
Dolan gave Weiskopf his vision. "I want a course that is challenging to accomplished players. I want a course that my wife and I can go out and play on a Sunday afternoon and just have fun. And I want a course that I can play barefoot with my granddaughter. Something not pretentious and stuffy. Something that's a wonderful experience." And in an unusual step, Dolan, the developer, ceded to Weiskopf first choice of which land to use for the course. The homes and buildings would use the land Weiskopf didn't. Weiskopf wasn't shy. He took 400 acres.
In August 2007, Weiskopf delivered, opening the course that almost immediately won the club a 9th place ranking by Travel + Leisure Golf magazine in America's Top 100 Golf Communities. What is really unusual about the course, however—and this from a non-golfer—is its intimacy. It's laid out in such a way that you don't see other holes or golfers from the hole you're playing. What you do see is nature—nature and breathtaking views of four different mountains: Lone Peak, the Spanish Peaks, the Gallatin Range and the Absarokas in Yellowstone.
It's also not unusual to find yourself sharing the course with elk, moose or bear. The feeling is the reality. You're in Montana, surrounded by mountains and trees in a "viewshed" that is carefully protected. In that regard, the Big Sky area has about 85,000 acres, and the four biggest landowners—The Club at Spanish Peaks, Big Sky Resort, another resort named Moonlight, and the Yellowstone Club—control about 46,000 of those acres and share a cohesive concept of keeping Big Sky natural.
The Club at Spanish Peaks also offers all the rest of the amenities particular to Montana, including horseback riding, hiking, rafting and the best fly fishing in the continental U.S. And what it all amounts to is the value proposition for this ambitious undertaking.
Dolan hopes to attract 900 people who want to put down roots in Big Sky and become members of The Club at Spanish Peaks. So far, 260 have signed on as the club is taking shape. Built so far are a number of single-family homes and the stunning, cozy clubhouse, which was finished on New Year's Day, 2006. When the project is finished, half of the 900 members will have single-family homes on pieces of land ranging from one to 160 acres. The other half will have townhomes and condos, all of it designed to fit with the rugged Montana landscape in both scale and materials. (If you're interested, lots start at $500,000 and range up to $3.9 million for 30-acre parcels with ponds near the golf course. Condos start at $1.5 million. In short, the price for entry ranges from $500,000 to over $9 million.)
The heart of the community and club is an area called The Settlement. When it's finished, it's intended to feel as if it grew organically, like a western settlement of the 1800s. Plans call for a group of buildings clustered around a pond that will be the skating rink in winter. The buildings will include a community barn for community productions, movies, weddings and receptions, hoedowns, etc. There will also be a pub, general store, ice cream parlor, coffee shop and an outfitters building, where you'll drop in to set up your fly fishing outing or pack trip into Yellowstone.
The centerpiece of The Settlement will be The Lodge, a seven-story, 270,000-square-foot building that's under construction with a target completion date of late 2010. With its architectural heritage in the national park lodges of the northern Rockies, the log and stone edifice is custom-designed and built, soon to be home to 49 residences, ranging from 2 to 5 bedrooms. It will have a great room, bar, main dining room and library. And there will be a room called the Log Room, loosely modeled after the Log Room at Ligonier's Rolling Rock.
It likely won't create the buzz of the Yellowstone Club, and that's the idea. And though members currently come from 32 states, there's an authenticity and family orientation that imbue The Club at Spanish Peaks with a kind of western Pennsylvania feel. Adding to that are a couple of key staff members, who'll be familiar to some Pittsburghers. Golf pro Chip Swanson was assistant pro at Fox Chapel Golf Club and then head pro at Rolling Rock before heading west. And General Manager Mark Acerni was at Montour Country Club and the Roaring Fork Club in Basalt, Colorado, before going to Spanish Peaks.
As Genge said, "The person who likes Aspen wants the shopping, dining, social scene and the crowds. We're attracting people who want the unspoiled, authentic west. They call Montana the last best place with good reason."