Looking Good
Hans Jonas considers seven decades of portrait photography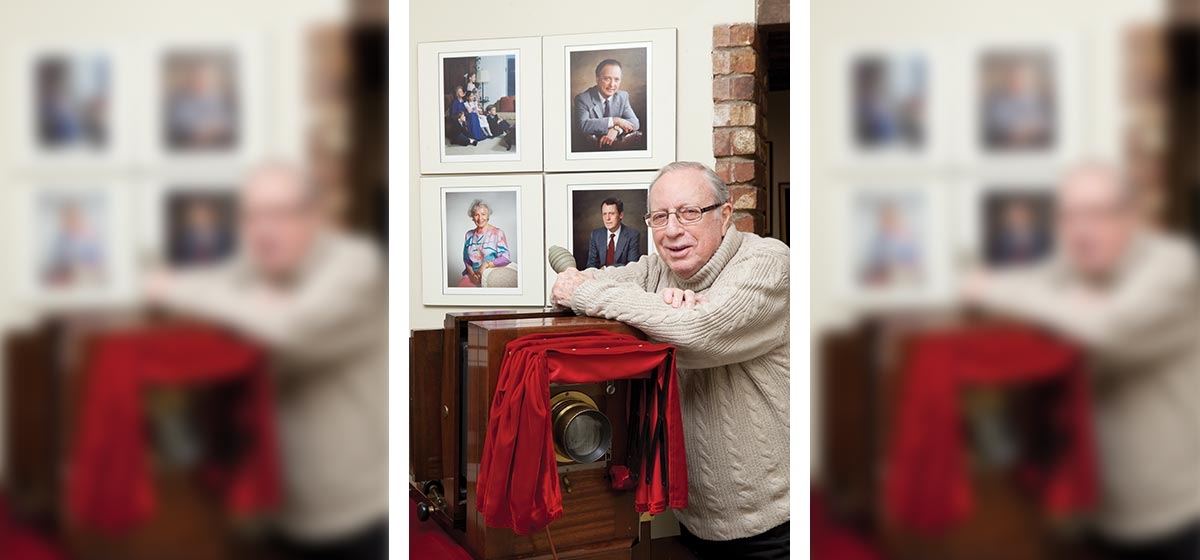 August 20, 2017
To flip through Hans Jonas's album, which is indistinguishable on the outside from a family photo album, is to view Pittsburghers as if they were a family: a beloved aunt Sally Wiggin, a hardworking cousin Willie Stargell, and of course, everybody's favorite neighbor, Fred Rogers.


Behind the camera, behind these photographs, is Jonas himself. His vision for his photos is simple: He wants to make you look good. Jonas, now 90, flips through the pages, reeling off the names: Etta Cox, Linda Dickerson, Carol Brown, Patti Burns, Jack Lambert, and Sophie Masloff. Their faces smile from the pages, steady and consistent; they always look good, as if they're in their finest moments: at galas and weddings, at the beginnings of careers.
Jonas has taken Pittsburgh portraits since the 1940s. He had to get a sharp image and the right exposure. He learned about lighting, posing, and retouching. And which lens, film and paper to select. And the way a black background might draw attention to a subject's eyes.
Each new client is a challenge—one of rounding out a squarish face, or disappearing a pimple. "No matter who walks in, the arrangement of the two eyes, the nose and the mouth are always a little different," says Jonas. "Everyone needs a little different treatment." And that challenge keeps Pittsburgh's most trusted portrait photographer engaged in the craft his family has honed over three generations.
His grandfather started in the business in 1885, in Vienna, Austria, and later his son Herman joined the studio. When Nazi Germany annexed Austria in 1938, "My father lost everything," Jonas says. From the Dachau concentration camp, Herman urged his family to flee to Pittsburgh.
They arrived in 1938, began to rebuild, and arranged for the release of Herman who joined the family in Pittsburgh a year later.
Herman got a job in an East Liberty studio, and Hans, a high school student, started photographing events and people. After a two-year stint as an Army photographer, he joined his father's studio in 1946, in polluted, two-shirt-a-day Pittsburgh. When Thomas Dewey was running for president in 1948, the campaign wanted Herman to photograph him, but he was too expensive. "Send us your boy," they said, and Hans shot Dewey for 50 cents a frame. And so it began.
Jonas seems to remember everyone he's photographed. As he flips the album's pages, he says their names. But for all of Jonas's memories, he is careful, always, about privacy. As a photographer, he sees a lot and hears a lot. But he never repeats.
When he takes a portrait, he isn't looking for deeper meaning. "That's not what I'm supposed to do." He appreciates how difficult it is to be photographed—"to have this stranger and this camera sort of invading you"—and so he stays focused on providing what people want. And over 70-plus years of photographing, whether it's 1950 or 2015, he's found that people want the same thing: "Do it. Don't fool around a lot. Get it done nicely. And give me what I want: I want to look good. That's it."