Local COVID Cases Trail Benchmark Regions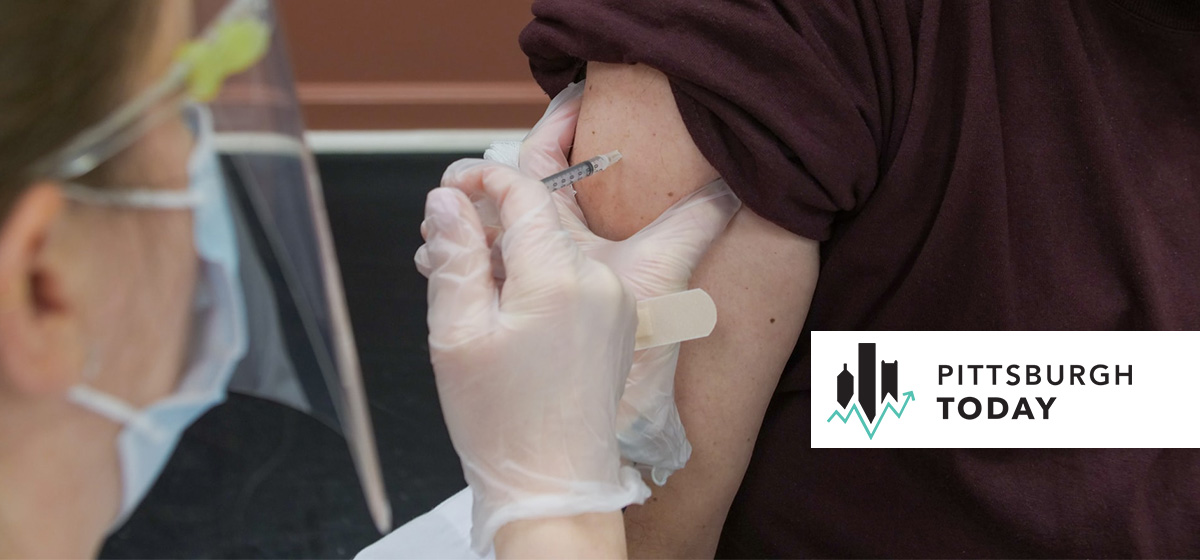 February 1, 2021
COVID-19 infections slowed last month in Allegheny County, keeping the rate of new cases of the coronavirus below the national average and lower than most metropolitan counties.

But the encouraging drop in new infections following the New Year holiday is tempered by frustration over a slow roll-out of the two available vaccines and concern over variants of the virus blamed for a surge of cases beyond U.S. borders.
Only the counties that hold Seattle, Wash. and Austin, Texas have a lower number of COVID cases per 100,000 residents than Allegheny among the 16 metro counties tracked by Pittsburgh Today. Milwaukee County has the highest new case rate at more than twice that of Allegheny.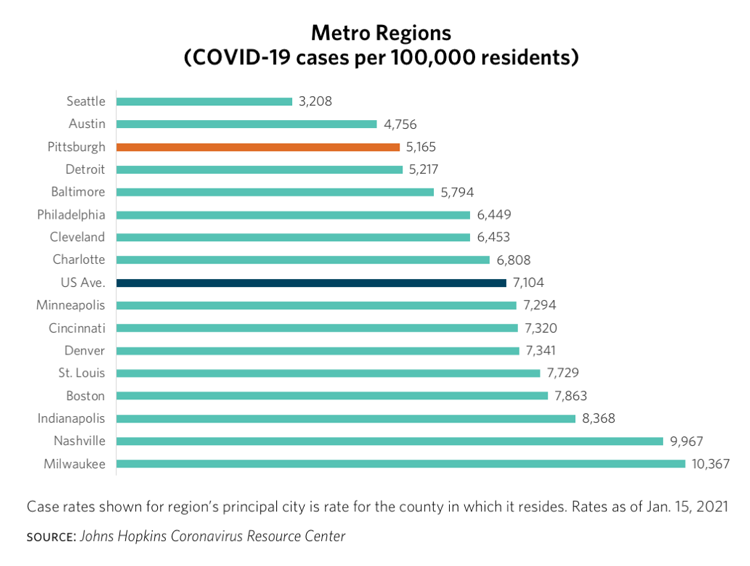 The rates are part of a monthly regional COVID case analysis done by the Allegheny Conference on Community Development based on data from the Johns Hopkins University Coronavirus Resource Center, Allegheny County Health Department and the Pennsylvania Department of Health.
Coronavirus case rates dropped nearly 12 percent in Allegheny Country from Jan. 6 to Jan. 20. In Fayette County, cases fell by 32 percent, the steepest drop in southwestern Pennsylvania. Only in Washington County did the case rate increase. Statewide, the case rate fell by less than 3 percent.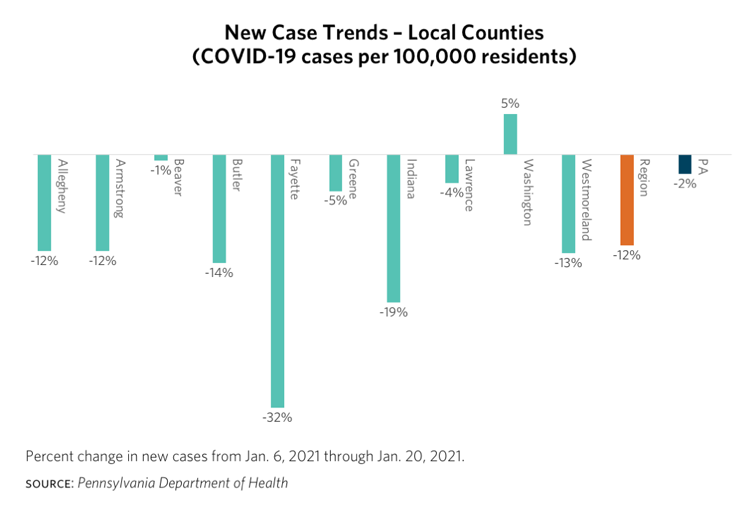 No cases of the COVID variants causing outbreaks in the United Kingdom, South Africa and Brazil have been reported in southwestern Pennsylvania. The variant first reported in the United Kingdom is believed to be more contagious. The Centers of Disease Control and Prevention has warned it could become the dominant strain in the United States around March.
"As encouraged as I am by the numbers, I'm still cautious," Allegheny County Health Department Director Debra Bogen said last week. "If these variants become the dominant strain in our region, it could undo all of the hard work we've done to bring case counts down."
Slow-rolling vaccine
Meanwhile, local vaccination campaigns were slow to develop last month, leading to complaints from residents unable to schedule shots and frustrating officials trying to manage the large-scale effort with a shortage of doses and irregular deliveries.
About one third of Allegheny County's 1.2 million residents are eligible to receive one of two federally approved COVID-19 vaccines during the first phase of the vaccination campaign, Dr. Bogen said. Vaccination under Phase 1A is restricted to health care workers and other frontline workers, such as long-term care staff; people aged 65 and older; and those aged 16-64 with conditions that increase the risk of severe illness from the virus.
"I know there is a lot of frustration out there," Dr. Bogen said last week. "Clinics are filling up fast. The state registration system is confusing and sometimes it doesn't work. You're wondering when you can get a vaccine and how you will get a vaccine. We're frustrated, too."
Supply has been the key issue. Until recently, the county was only getting weekly delivery of about 20,000 doses of the vaccines, each of which requires two shots to complete inoculation.
"We have too few vaccines for so many who want it," she said. "Part of our frustration is our inability to plan around a known quantity of vaccines. We don't know how much we'll get each week so we can't plan far in advance. We don't know how much we are getting in Allegheny County because the state doesn't know how much it is getting from the federal government."
But there is some good news. Last week, she said, the county received a shipment of 50,000 doses, more than double what its weekly supply had been.