Ferguson, Mastiff, Kay, Kalson, Musgrave, Simmons, Guarino, Gallagher
Noting the passing of prominent Pittsburghers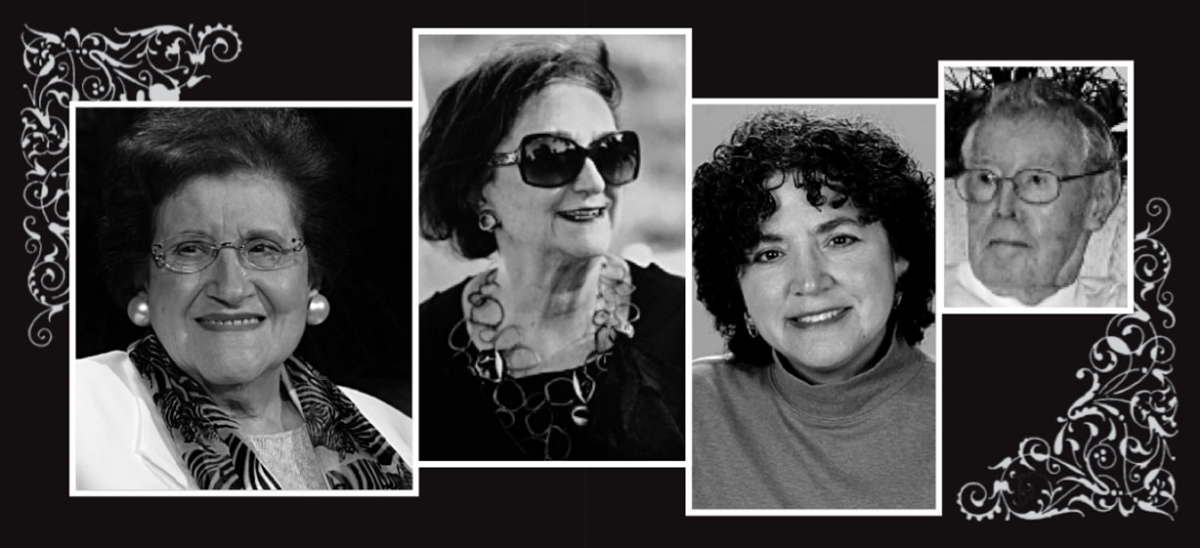 November 20, 2014
Dr. Albert Ferguson Jr., 95
Dr. Ferguson founded the University of Pittsburgh Department of Orthopaedic Surgery, which he chaired from 1954 until he retired in 1986. As a Marine during World War II, he performed enemy surveillance in islands in the South Pacific, surviving a torpedo attack on the boat transferring him to an island destination.Following the war, he was first in his class at Harvard Medical School and joined the faculty. In Pittsburgh, he created new methods to treat hip dislocation in infants and invented the use of an I-beam nail to repair hip fractures. He pioneered the field of sports medicine, serving for decades as team doctor for the Pirates and also for Pitt sports and the Pittsburgh Ballet. Known as an outstanding teacher and prolific surgeon, in retirement he focused on raising trees on his 300-acre farm in Somerset County.
Sophie Masloff, 96
Sophie Masloff was the first woman and the first Jew to become Mayor of Pittsburgh. A favorite of cartoonists and vocal impersonators, "Sophie," as she was known across the city, was warm, approachable and direct—the embodiment of the average Pittsburgher. She was born in the Hill District to immigrant parents; her father died when she was two, and she was raised by her mother who knew very little English. After graduating from high school, she rose from being a secretary in county government to a clerk in local courts. She served in city council from 1976 until 1988, becoming council president. She became Mayor after Mayor Richard Caliguiri died in office and won a four-year term in 1989.
Gerri Kay, 70
A passionate advocate for civil rights, racial equality and the arts, Gerri Kay was involved in efforts to make Pittsburgh a better city across a broad spectrum of fronts. Starting in social work at the former Reizenstein Middle School, she fought for successful integration of public schools. Later, as Vice President for Program and Policy of the Pittsburgh Foundation, Kay supported numerous initiatives, including helping young artists. She served on the boards of the Jewish Federation of Greater Pittsburgh, the local chapter of the American Civil Liberties Union and the Squirrel Hill Health Center and helped arts groups across the city.
Sally Kalson, 63
She was an irrepressible liberal voice in the pages of the Pittsburgh Post-Gazette for the last 30 years. A tough-minded foe of those she felt were foisting injustice on everyday citizens, Kalson believed in fairness and doggedly pursued it in her often sharp-edged columns, which, whether witty or blunt, were unequivocal. At the Post-Gazette, she was a longtime leading force in the Newspaper Guild, the union representing the journalistic staff. She was also a capable singer and wrote numerous humorous songs for "Off the Record," the musical revue of Pittsburgh goings on, which she helped create.
Dr. Ross Musgrave, 93
A man of many interests, Dr. Musgrave was a nationally known plastic surgeon who combined his medical and artistic talents in repairing cleft palates and lips and other cosmetic procedures. After graduating from Pitt Medical School in 1943, he was an Army surgeon in Japan during World War II. He was a distinguished clinical professor of surgery at Pitt, where he taught generations of surgeons, and was a past-president of the American Society of Plastic Surgeons and the American Cleft Palate-Craniofacial Association. Beyond medicine, Dr. Musgrave acted, directed and produced plays and was an accomplished oil painter. He served on the boards of UPMC, Pitt and Westminster College.
Paul Simmons, 93
Simmons was western Pennsylvania's first black federal judge, appointed in 1978 by President Jimmy Carter. A Monongahela native, he graduated from the University of Pittsburgh and then Harvard Law School, becoming in 1965 the first black Pennsylvanian to run for a statewide judicial office. He later won election as a Washington County Court of Common Pleas judge before his appointment to the federal bench. Judge Simmons was known as a dedicated jurist who loved the law and believed in giving a 100 percent effort—despite having lost a leg in a 1942 accident when he was a railroad porter.
Louis Anthony Guarino Sr., 82
Guarino was a self-made, Pittsburgh-based music producer who rose to national prominence with the Skyliners' hit "Since I Don't Have You." His three record labels—Calico Records, Robbee Records and World Artists Records—produced a number of musical acts including Chad and Jeremy. The son of Italian immigrants, he had a big personality, and though he never played an instrument, Guarino had a musical ear and a talent for blending lyrics with music to produce a pleasing finished product.
Vernon Gallagher, 99
Gallagher was the eighth president of Duquesne University, from 1950–59. He grew up in Sharpsburg and was called to religion as a young man, becoming a Catholic priest in 1939. With a master's and Ph.D. from the University of Pennsylvania, Gallagher was fluent in five languages and a man of erudition and humility. He taught at Duquesne, became dean of academics, then vice president, before becoming president of the then-small institution at 36. He built Duquesne, acquiring more land and overseeing construction of Assumption, Rockwell and Trinity halls. He was a high-profile leader in Pittsburgh and nationally, leading the opening prayer for the 84th Congress. He also supported racial integration, turning down a Sugar Bowl bid for the Duquesne football team because of Louisiana segregation. Gallagher left the priesthood in 1972, married his wife and lived to see four grandchildren and eight great- grandchildren.