Boyle, Ganassi, Wycoff, Madoff-Scheske, Greenwood, Spinabelli
Noting the passing of prominent Pittsburghers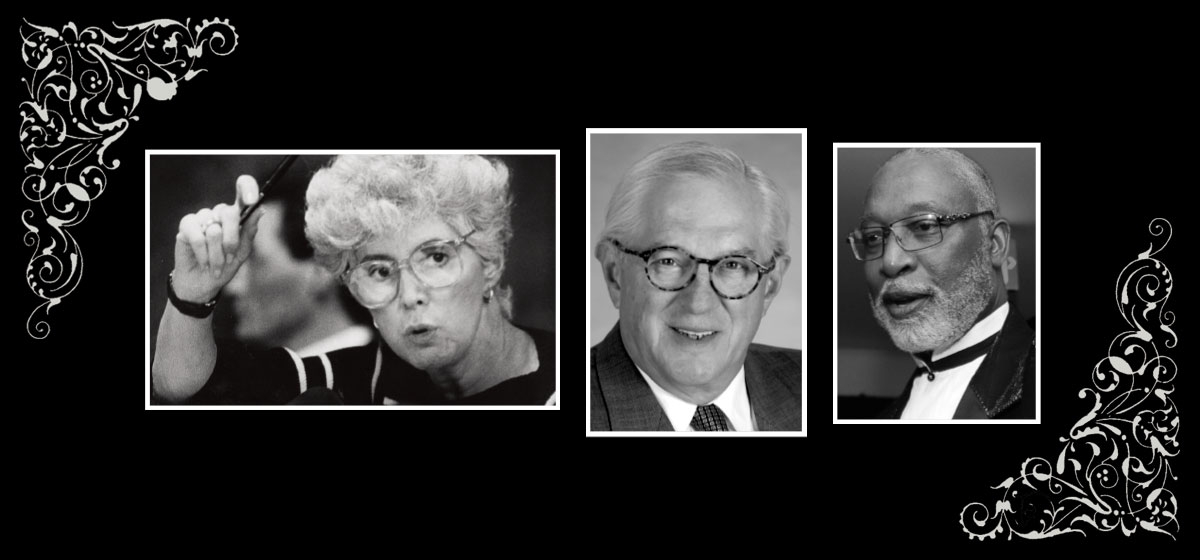 November 20, 2013
JoAnne Boyle, 78
One of Westmoreland County's most important leaders, she combined great energy and vision with a sparking personality and wit. A champion of the liberal arts, Boyle was President of Seton Hill University for 26 years, transforming the women's college into a co-ed university. Deeply involved in the revitalization of Greensburg, she was also a board member of many organizations, including the Pittsburgh Regional Alliance, the University of Pittsburgh, the Westmoreland Museum of American Art and the United Way of Westmoreland County.

William M. Wycoff, 72
Bill Wycoff was a genuine, thoughtful and friendly man. A trial lawyer with Clark Hill Thorp Reed & Armstrong, he was very successful in the courtroom—once winning the largest jury award in Allegheny County history on behalf of a severely injured worker. And outside the legal arena, Wycoff was a committed community leader—past president of the Children's Home of Pittsburgh and the Pittsburgh Golf Club, past chairman of the Pittsburgh Dance Council and longtime board member of Pressley Ridge. An avid outdoorsman, he was also a trustee of the Pennsylvania Chapter of the Nature Conservancy.
Michelle Madoff-Scheske, 85
After determining that Pittsburgh's air was aggravating her asthma, she became the first president of the Group Against Smog and Air Pollution, better known as GASP. A longtime environmental advocate, she was best known in Pittsburgh as being one of Pittsburgh City Council's most colorful and outspoken members at a time (1978–93) when Council was full of them. During those years, she was routinely in the limelight for activities ranging from battling sexism to talking down a would-be bridge jumper she noticed while stuck in traffic.
Luigi Spinabelli, 85
For many Pittsburghers, Luigi Spinabelli was the embodiment of the Strip District. A native of Parma, Italy, he immigrated to the U.S. in 1954 and founded the Parma Sausage Co., which has grown into four storefronts. Spinabelli was known as a tireless worker who loved what he did—talking with customers and friends, sharing his signature prosciutto and homemade wine, and building a multi-generational family business. (See PQ feature online: pittsburghquarterly.com/food/food-fare.html)
Floyd Ganassi, 87
A gregarious man with great people skills, Ganassi rose from relative poverty to become a very successful businessman, who saw his son, Chip, reach the pinnacle of automobile racing. A McKeesport High graduate who didn't go to college, Ganassi worked a variety of jobs after World War II before starting his own business—Westmoreland Paving in 1950—and later buying Davison Sand and Gravel. He was a supporter and board member of numerous organizations including Duquesne University, UPMC Passavant and the Civic Light Opera.
L.C. Greenwood, 67
A stalwart of the legendary Steel Curtain Defense, Greenwood was a six-time Pro Bowl defensive end, who won four Super Bowl rings during his 13-year career with the Pittsburgh Steelers. He was part of what is arguably the best defensive front four in the history of pro football, along with teammates Joe Greene, Dwight White and Ernie Holmes. Despite wearing gold shoes in the flashy 1970s, the 6'6" 245-pound Greenwood was a relatively quiet guy who let his tough play do the talking. Known for wreaking havoc on opposing offenses, he has the second-highest number of quarterback sacks in franchise history. After his playing days, Greenwood remained in Pittsburgh and ran several businesses.