Gaisford, Fisher, Feeney, Mccarran, Veeder, Weis Jr., Wymard
Noting the passing of prominent Pittsburghers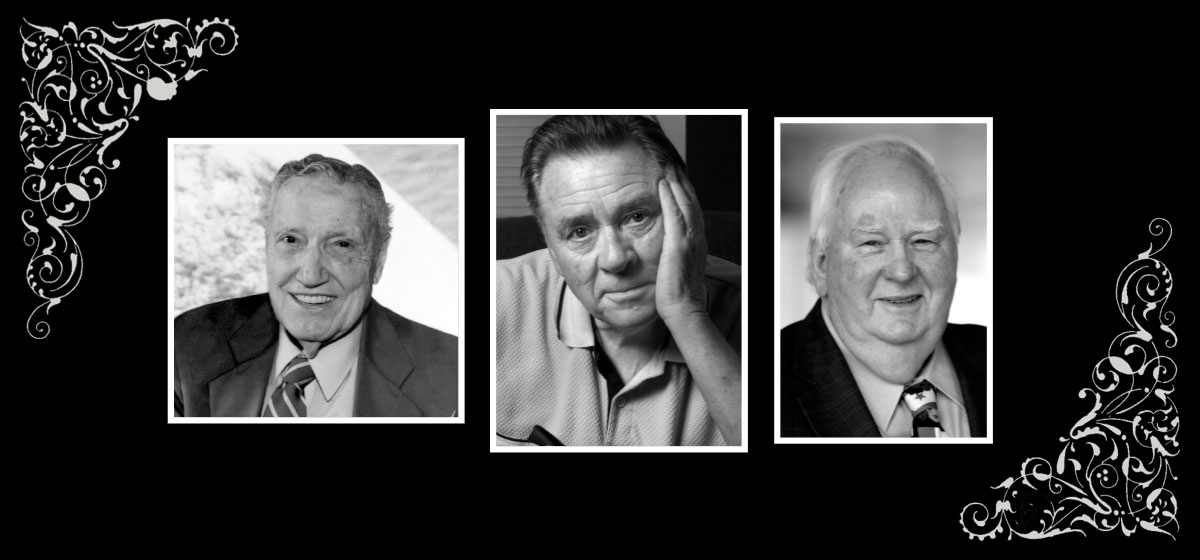 May 20, 2014
Dr. John Gaisford, 98
Jack Gaisford was a leading Pittsburgh surgeon, known for creating the West Penn Burn Center. After serving as a surgeon in the Pacific during World War II and treating patients around Hiroshima, Japan, Dr. Gaisford returned home, developing a specialty in treating burn patients.

John R. McCartan, 79
Jack McCartan was the driving force in changing Robert Morris from a small, for-profit accounting school into what became Robert Morris University. His father purchased Robert Morris School in the late 1940s with a group of partners. In 1958, the father and son bought out the partners and converted the school into a nonprofit institution to offer accessible career-oriented education. As the new school's first vice president, McCartan purchased the land in Moon that became the Robert Morris campus. In 1990, he acquired the Pittsburgh Technical Institute, turning it into an accredited program offering college degrees. After selling PTI, McCartan and his wife, Margaret, earmarked $20 million for philanthropy, becoming The Pittsburgh Foundation's largest living donors.
James A. Fisher, 93
An erudite man with a twinkle in his eye, Jim Fisher was a leader in the creation of the Andy Warhol Museum. He worked in sales and marketing at Fisher Scientific, founded by his father, but made his lasting mark on Pittsburgh in the arts. A trustee of the Carnegie Institute and board member of the Carnegie Science Center, Fisher helped found the Fellows program at the Museum of Art. He fought successfully to locate the Warhol in Pittsburgh, instead of New York. He was also a devotee of the English language, keeping notes of imperfect usage, and turning them into the book, "Talking Correctly for Success: A Practical Guide for Business, Professional, and Social Success by Sounding 'Right.' "
Peter Veeder, 72
A former managing partner with Thorp, Reed and Armstrong, Veeder was one of the region's leading nonprofit fundraisers. Known for his friendly and gentlemanly demeanor, Veeder helped numerous nonprofits including the Visiting Nurses Association, St. Edmund's Academy and the Carnegie Museums of Pittsburgh, where he was named a life trustee for his efforts.
Charley Feeney, 89
One of the nation's best baseball writers, Feeney was inducted into the Baseball Hall of Fame in 1997. He started his 41-year career as a copy boy, and he rose to cover the Yankees and Giants in New York, before coming to Pittsburgh in 1966 to cover the Pirates for the Post-Gazette. Feeney mentored young Pittsburgh competitors, teaching them the tricks of the trade, even as he routinely beat them on stories. He was known for asking tough questions but also for his fairness, which won him the confidence of players and officials at every level. He called everyone "Pally," because he didn't want to hurt anyone's feelings by forgetting their name.
Joseph Weis Jr., 91
Known for his fairness, humility and brilliant legal mind, Weis was one of the most respected federal appellate judges in America. A judge on the Third Circuit Court of Appeals from 1973 until he retired last year, Weis was founder and president of the Academy of Trial Lawyers of Allegheny County. Among his many legal honors, Weis won the Devitt Award, the highest honor for federal judges. For battlefield heroics in France during World War II, he won a Bronze Star for Valor, a Purple Heart with Oak Leaf Cluster and the National Order of the Legion of Honor, France's highest decoration.
Francis X. Wymard, 70
Franny Wymard was a dapper and gregarious developer, outdoorsman and world traveler. His developments include the Schenley Road townhouses and Beacon Condominiums in Squirrel Hill and the Grandview Towers on Mount Washington. An expert skier, Wymard also was a humanitarian who volunteered in Bolivia and Haiti.