Richardson, Allen, Bork, Musial, Potter, Horne, Krugman, Millar, Hughes, Cardinali, Ferriero, Jones, Novak
Noting the passing of prominent Pittsburghers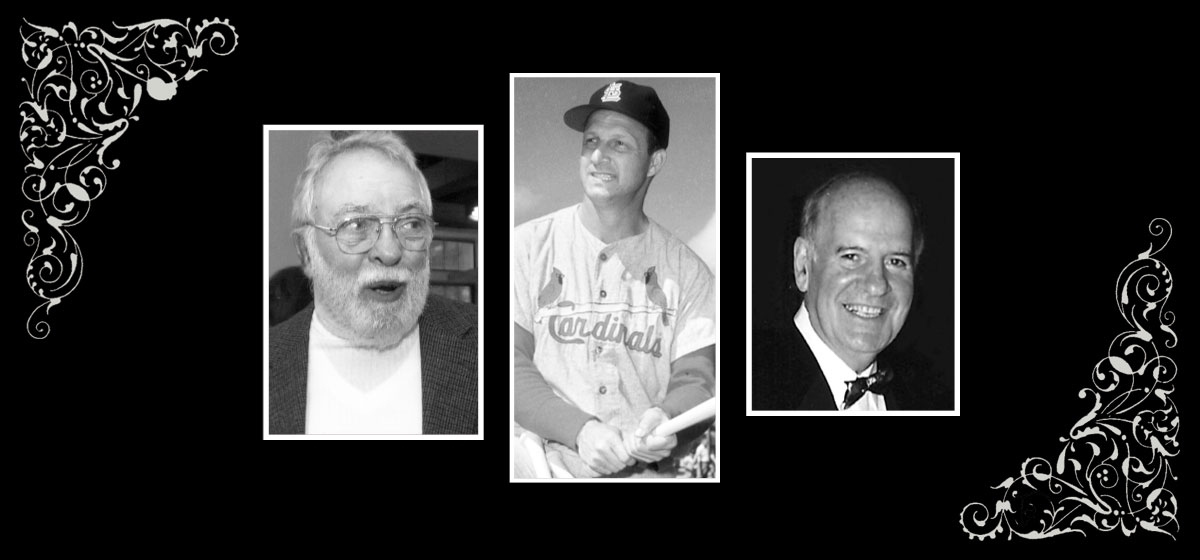 February 20, 2013
Jim Richardson, 75
Jim Richardson was the creator of the Post-Gazette's "Seen" column. While running the salon at Kaufmann's, he suggested a society column to Post-Gazette editor John Craig, and the idea took off. The slight and stylish Texas native had a big sense of fun. A keen observer who spoke with a drawl and wrote with a wry wit, he toted his big notebook to Pittsburgh parties, jotting down names, reviving coverage of social events and increasing the prominence of charitable fundraising in Pittsburgh.

Dr. Thomas Allen, 93
Allen rose from very humble beginnings in rural West Deer to become a leading local and national figure in women's health and reproductive rights. He was a leader in establishing the therapeutic abortion clinic at Magee-Women's Hospital and was the key figure in establishing Women's Health Services, serving as medical director from its founding in 1973 until 1994. Dr. Allen was a well-known wine collector and an ardent supporter of the ACLU and the American Wind Symphony Orchestra, where he was president or chairman for 40 years.
Stan Musial, 92
One of professional baseball's greatest players, Stan "The Man" Musial won seven National League batting titles with the St. Louis Cardinals and three MVP awards; his lifetime batting average was .331, and he's sixth all-time in runs batted in. The Donora, Pa., native got his nickname from Brooklyn Dodger fans at Ebbets Field, who admired him despite his destruction of their pitchers: "There's that man again—Stan The Man." A key supporter of the integration of Major League Baseball, Musial was a gentleman and champion off the field as well—as a successful businessman, restaurateur and leading St. Louis citizen. In 2011, he received the Presidential Medal of Freedom.
Thayer Potter, 79
Tad Potter was the former president and part owner of the Pittsburgh Penguins. When Potter and others heard that the Penguins might be sold and moved out of Pittsburgh, they purchased the team. A 1975 bankruptcy ultimately meant the end of the Potter group's ownership, but his involvement is credited with keeping the new expansion franchise in Pittsburgh during its delicate early years. The grandson of Pittsburgh industrialist Willard Rockwell, Potter later worked in the energy business.
Robert Bork, 85
After growing up in Pittsburgh and going to Avonworth High School, Bork became a professor at Yale Law School. He was most well known after his 1987 nomination to become a member of the U.S. Supreme Court was defeated in bitter confirmation hearings. Bork did serve as a federal judge on the U.S. Court of Appeals for the D.C. Circuit.
Charlie Horne, 83
A retired U.S. Steel executive, Charlie Horne was well known around Pittsburgh for his engaging personality, for his humor and for helping numerous causes. An All-City football player at Central Catholic, he held a number of high-level positions at U.S. Steel, including director of international finance and president of the company's real estate division. With his wife, Jean, the Tribune-Review society editor, Charlie was a staple at all manner of social events. He served on the Duquesne University board and was CFO of the Pittsburgh Blind Association board for 30 years.
Jack Klugman, 90
A Carnegie Institute of Technology graduate, Klugman was immortalized in the hit television series "The Odd Couple" playing the messy sportswriter Oscar Madison opposite neatnick photographer Felix Unger, played by his close friend Tony Randall. Klugman's most memorable film role was as a juror in "12 Angry Men," and he later starred in the title role of the television show "Quincy, M.E." in which he played a crime-fighting medical examiner.
Tony Cardinali, 82
Cardinali was the man behind Arthur Murray dancing in Pittsburgh, owning the Downtown studio for 44 years and starting the studios in McCandless, Monroeville and Peters. A native of Italy, Cardinali secretly helped Allied troups as a boy during World War II, reporting German troop positions for chocolate. He played professional soccer and later worked a variety of jobs as a janitor and construction worker in Canada, where he first took dancing lessons at an Arthur Murray studio. While working in the Yukon, Alcoa paid him extra to teach workers to dance to maintain morale. His English was imperfect, and he had a thick Italian accent until the end of his life. Dance, however, was a language he knew, and he combined it with a big and warm personality.
Douglas Millar, 54
Attendants at his capacity-crowd funeral agreed they had never known anyone like Doug Millar. Whether in business or his broad range of outdoor pursuits, he was an adventurer extraordinaire. Travel was his business, and he had traveled all over the world. But his gift was connecting people. He had a big personality, broad interests, a lightning-fast mind, and a singular sense of humor that combined mimicry with an arsenal of accents. With these traits and his generosity as a host, Millar helped his vast network of friends make better lives by introducing them to opportunities and each other.
Carl Hughes, 91
A former Pittsburgh Press sportswriter, Hughes became the driving force in building the current day Kennywood. From originally doing part-time publicity for the park, he became president and chairman of the board. He wrote the park's Kiddieland slogan: "The most beautiful music in the world is the sound of children laughing." A tireless worker for the park's betterment, his goal was to make it the best in the country, and he led by example. Under Hughes's leadership Kennywood was transformed in terms of beauty, rides and business expansion, including the purchase of Idlewild and the creation of Sandcastle.
Donald Jones, 75
A serial entrepreneur who founded four high-tech companies, Jones was one of the leaders of Pittsburgh's high-tech/innovation sector. From his business success, he donated $1 million to Carnegie Mellon University to endow the Donald H. Jones Center for Entrepreneurship, which brings students, faculty and business people together to further innovation and business creation. Jones also was managing director of Pittsburgh venture capital firm Draper Triangle Ventures.
Dr. Joseph Novak, 97
Novak was Pittsburgh's leading ophthalmologist, treating the region's top political and industrial leaders. But it was in treating steelworkers that he became a national leader. He was seeing as many as 400 workers each month from U.S. Steel's plants, and he persuaded the company's management and unions—based on economic and health reasons—to institute an eye protection program. Novak designed special glasses, and after U.S. Steel required mandatory eye protection, eye injuries were reduced by 81 percent, setting a national standard for industrial eye protection.