Labor Management
Trumka and DeIuliis compare notes on jobs, energy and the environment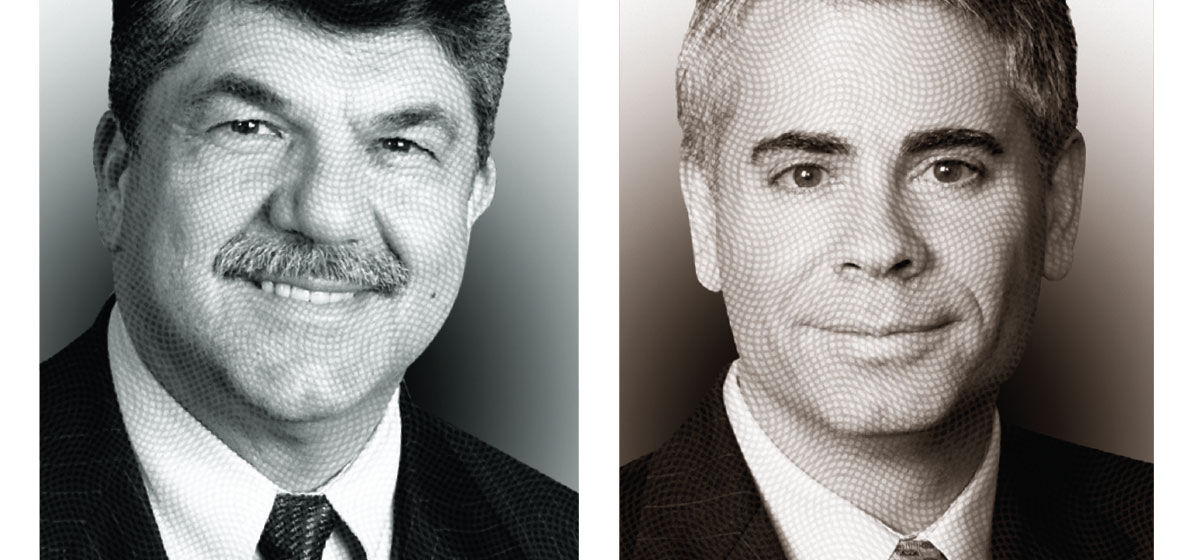 November 20, 2011
Against a backdrop of high national unemployment and concern about U.S. dependence on foreign energy, Richard Trumka, former president of the United Mine Workers and current president of the AFL-CIO, and Nicholas DeIuliis, president of Consol Energy, met in the second of a series of labor-management discussions sponsored by the Community College of Allegheny County.

Trumka: "Young people are entering a workforce we've never seen before, during a devastating economic upheaval. For this generation, finding a good job may be very hard. But it doesn't have to be this way. We're not asking too much by looking forward to a good job. The condition of our economy is not an act of God; we can change its course. One thing I know from my time in the mines is that you can't dig your way out of a hole. To get out of this 'jobs hole' will require investment."
Deiuliis: "Pittsburgh might be in the Commonwealth of Pennsylvania, but Pittsburgh is and always has been the capital of Appalachia. Western Pennsylvania has so much more in common with eastern Ohio, West Virginia, and upstate New York than it does with Philadelphia, Washington, D.C., or Manhattan. Manhattan can talk all day long about energy policy; here in western Pennsylvania, we don't deal well with theory and fantasy. We deal with reality, with making it happen. Rhetoric and political science from self-proclaimed experts don't make the coal move, the shale gas flow and the lights come on when you hit the switch. The men and women of Appalachia who work in the coal mines, and are on the drill brakes and the power plants, are the people who make these things happen." "The 9,000 people who work for Consol don't make simply a living wage. They make an awesome wage. When you add up all the benefits of a beginning coal miner, the salary is six figures. When you look at a miner with three years' experience, whether it's on a Marcellus Shale operation or in a coal mine, the number goes to $125,000. We just wrapped a five-year agreement with United Mine Workers that resulted in the largest wage increase in the history of the UMW. We can't hire fast enough; we hired over 1000 workers a year over the last three years. All those jobs are here, not in D.C. or Manhattan. Our gas division is growing because of the Marcellus Shale. Of our employees, 7,000 work in the coal mines, and 49 percent of those have 20 years' or more experience, and 49 percent have less than five years' experience. I can't emphasize enough the importance of training."
Trumka: "In the labor community, we are committed to bridging gaps. We belong to the BlueGreen Alliance, a coalition of labor, business and environmental organizations. The AFL-CIO Building Trades Department recently formed a partnership with a broad coalition of public employee unions and with investment funds; we are working to invest $10 billion in jobs-creating infrastructure. We will, through our apprentice programs, be training thousands of workers in the skills needed for 21st century infrastructure. Outside of the military, unions operate the largest job-training program in the country.
Deiuliis: "If you think you don't need coal and gas, think again. It's 75 percent of the energy mix today. You take solar and wind, add them together, it's 3 percent. New technologies of horizontal drilling, along with compressed natural gas for transportation vehicles, and yes, clean coal technology, are all signs of progress. The coal plant built today is 90 percent cleaner than the one that it replaces. With all that in mind, you'd think we would be a model for what is right. But these noble industries are under constant attack, by a well-organized campaign to smear our way of life and what we bring to the table. It's a little lonely out there in the coal and natural gas industries, but rest assured: we are not going to stop, and we're proud of what we do for this nation."
Trumka: "Investments in green energy offer a path to putting our people back to work in good jobs, powering our homes, vehicles and cities. Freeing ourselves from foreign oil dependence and protecting our environment are not mutually exclusive. We don't need an either/or situation—having good jobs or protecting the environment… those are false choices. We need jobs, energy independence, a clean environment and robust employers in the industry. Don't be forced into making small choices. "The worst thing we can do is pretend that there are no problems, that global warming doesn't exist. We need to look at the problems and solve them, so that we can have good family sustaining jobs."
Deiuliis: "The Department of Energy put out their strategic plan for energy recently and the word coal does not appear in that document. Natural gas comes up once. It does not mention the industry that provides 50 to 75 percent of the energy."
Trumka: "We have lost 57,000 manufacturing plants since the year 2000. Every other country has a manufacturing strategy. They implement it, and they utilize it, and they clean our clock with it."