La Prima Espresso
The Strip District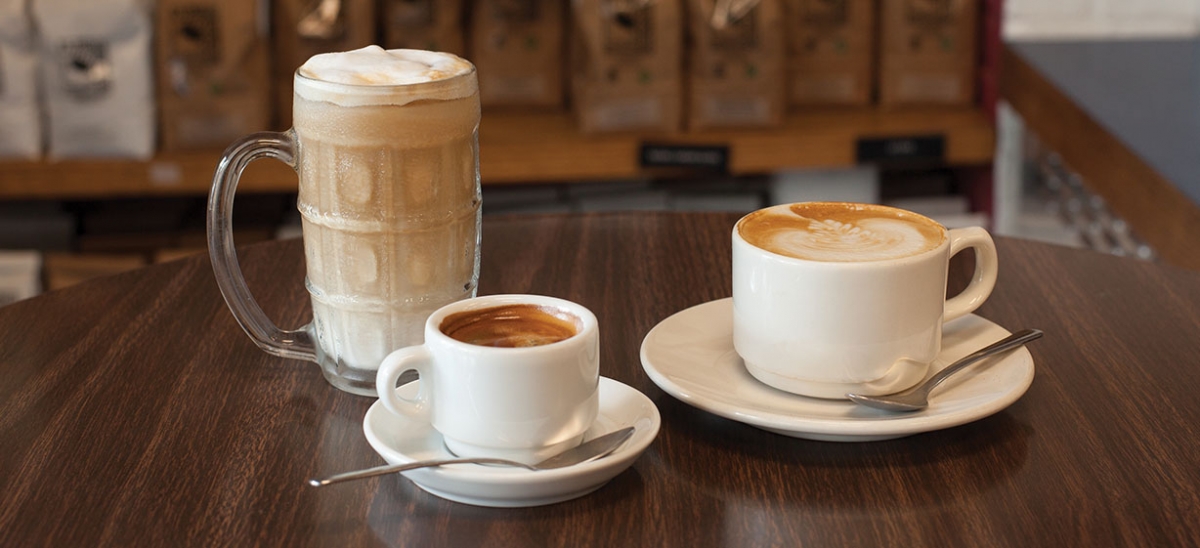 August 20, 2013
October 2, 1988, was a brisk Sunday in Pittsburgh's Strip District—then more a collection of warehouses than a bustling foodies' mecca—and Sam and Debbie Patti were hoping the naysayers had been wrong. With their 12-year-old daughter, Jamie, they sat bundled on a bench in the chilly storefront that had just become La Prima Espresso, the new family business.
"I talked to 10 people about opening a working espresso machine showroom and coffee bar, and my dad was the only one who thought it was a good idea," Sam recalls. Napoleon and Josephine Patti, part of the great American ethnic experience, and no strangers to hard work and pluck, had raised Sam and his sister Mary Jo above the family tavern in Indiana, Pa.
Sam, teaching at the University of Virginia after graduate work at the University of Pennsylvania in Italian studies, had been scheduled for an academic position at a local university, but a bureaucratic mix-up left him looking for other opportunities. Debbie, a lawyer, had a little pension fund set aside that she happily bet on the family's future. So there they sat, waiting for any sign that Nap was right.
Around 11 a.m., a white Jeep lurched to a stop at the front curb. A stranger, a former Pittsburgher who had moved to San Francisco and back, burst into the shop and announced, "Finally, real espresso in the Burgh… I can stay!" From that day, La Prima has grown from a ripple to a scirocco, the pioneer of a movement, now the benchmark. The bustling 21st Street espresso bar is the soul of an operation that includes national equipment sales and custom roasting. And the coffee itself inspires passione.
Scores of baristas have trained at La Prima, some opening their own bars, and other entrepreneurs, like Sam, were inspired in this space. The late Antonio Branduzzi, the gentle baker from Lucca, crafted his signature mele apple tarts in the back room, later opening Il Piccolo Forno in the connected space next door. Antonio's son Domenic now operates Piccolo Forno in Lawrenceville. Larry Lagattuta first baked his Italian cookies for Sam in the middle of the night, alongside Antonio in the back of the shop, before heading downtown to his corporate day job. When a space opened a few shops away, Sam and Larry believed the time was right, and Enrico's Biscotti was born; now its own legend.
In Italy, it is said that your most important decision is where you will take your daily coffee. In Pittsburgh, the cognoscenti gather at La Prima, seven days a week, driving in from all directions, meeting friends, pausing amid their hectic days, basking in the sunshine or ducking winter's cold. This is a moment of heaven.
The crowd includes workers from the Strip, captains of industry, journalists, politicians, students, restaurateurs, artists, unionists, even tourists; everyone from everywhere, and it works. They gather in clusters but mix it up, young with old, liberal with conservative, hip with not-so-hip, not minding their own business, making new friends, considering new ideas.
And that great cultural treasure is here, a daily gathering of older Italian men, as you see in town squares in places like Sorrento. They play scopa and briscola, Italian card games, sipping espresso, sometimes arguing politics, sharing wisdom and friendship, showing us la dolce vita.
La Prima Espresso's gift to us in its 25th anniversary year is the lesson learned in all the great espresso bars across time, in all the great neighborhood joints: A tavola siamo tutti uguale. At the table we all are equal.