Korea Garden
Fulfilling a dream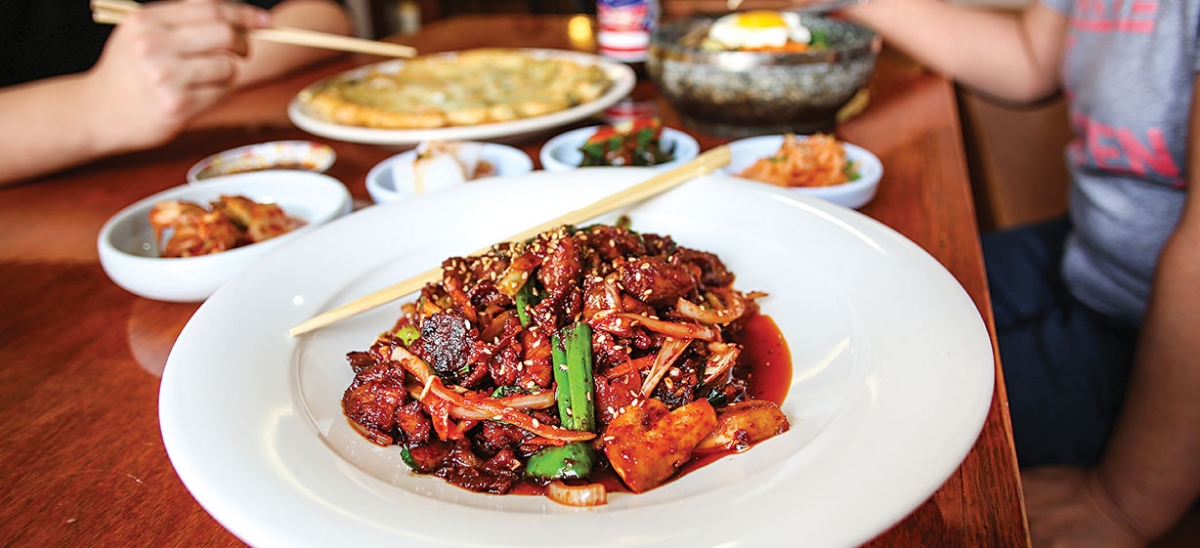 November 21, 2014
Seok Kun Han was born in the mountains of South Korea as the Korean War recovery had begun. It was a time of great hardship, and his family suffered as much as any. In those tough times, it was great luck to get hired as a delivery boy for a local kitchen, working for a pittance and something to eat.
Seok started below the bottom step, working his way up, waiting tables and cooking, until he could afford passage to America. Once here, the young man worked in Korean restaurants in Queens and Manhattan, and dreamed of opening his own place.
Mun Ja Han was inspired to come to America after her sister married an American GI, a man beloved by her family. She traded Korea for Seattle, working as a hotel maid, looking for the happiness her sister had found.
When another sister thought that Mun should meet a hardworking Korean man she knew in New York, Mun flew there for a formal introduction. Fifteen days later, Mun and Seok were married. They spend every day now side-by-side, co-chefs and owners of Korea Garden in South Oakland.
"They do all the cooking, and I do the other things," says Hirah Han, the couple's 26-year-old daughter, who manages the business for her parents. "They rarely leave the kitchen, and they recognize our customers mostly by what they order."
And while the family lives and works as one, Seok and Mun follow separate culinary paths. Seok cooks traditional Korean Chinese dishes, a cuisine developed in the Korean port city of Incheon, where ethnic Chinese began settling in the 1880s. Mun cooks the cuisine of the Korean royal court, dishes once served to kings.
Chinese-influenced dishes include Jja Jjang Myun, thin noodles, pork and vegetables stir-fried in black Peking sauce. Jjam Bbong, very popular with Korean and Chinese patrons, is a spicy seafood soup with noodles and fresh vegetables.
The best seller among the Korean preparations is Bi Bim Bap, a classic dish of beef and seasoned vegetables on a bed of white rice. Dol Sot Bi Bim Bap is served in a sizzling hot stone bowl and topped with a sunny-side-up egg, to be mixed in at the beginning.
The full menu is a balance of the exotic and familiar, including a dinner plate-sized scallion pancake and spicy rice cakes—popular Korean street food. There are tried-and-true rice and noodle dishes, and poultry, seafood, pork and beef entrees.
But here you can also dine daringly, trying dishes with unusual names, straying from the expected path. All dishes are custom made and can be crafted as you like, with vegetables only or substituting meats or seafood. The sauces are made from scratch.
The main dining room includes eight tables with gas burners for Korean barbecue. Diners cook spare ribs, pork belly or beef for lettuce wraps, topped with a little soybean paste. Upstairs, there is a private karaoke room, often reserved for the evening by friends who serenade each other over dinner. Ask Seok why he came to America and he answers quickly and emphatically. "For the American dream. And I'm living it."
It is a sentiment not lost on daughter Hirah. Even while away at college, she made the long weekend commute to work with her parents. Once, upon entering the restaurant, she looked through the dining room and into the back kitchen, noticing someone with an arm in a sling.
Surprised that there might be a new employee, she soon learned that her mother had fallen in the kitchen days before, injuring her shoulder. Now, Mun stood facing Hirah, who urged her mother to go home, asking why she would not take off at least one day to rest.
"Because you, too, have dreams, Hirah. You, too," Mun said, smiling.