Keith, Viator, Mellon, Jacobsen, Beaupré, Clark Smith, Howard
Professionals new to Pittsburgh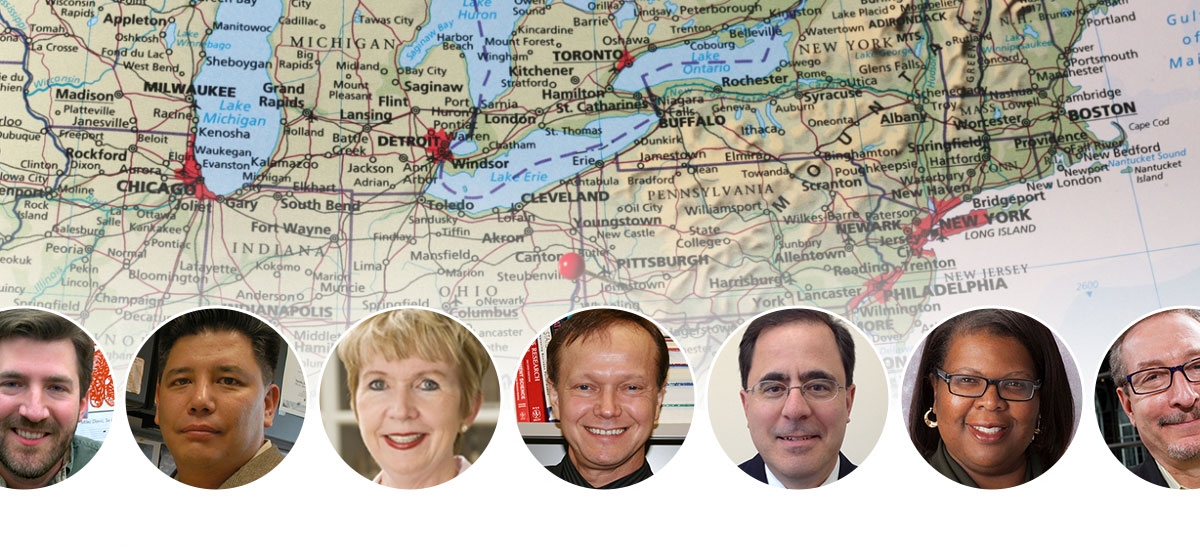 August 21, 2013
John Keith is the inaugural R.K. Mellon Faculty Fellow in Chemical and Petroleum Engineering at the University of Pittsburgh's Swanson School of Engineering. He comes to Pittsburgh from Princeton, N.J., where he was an associate research scholar in the department of mechanical and aerospace engineering at Princeton University. A native of St. Cloud, Minn., he received his bachelor's degree in chemistry with high honors from Wesleyan University and his Ph.D. in chemistry from the California Institute of Technology. Keith and his wife, Rose, will be living in the Heinz Lofts on the North Side until they find a house.

On Sept. 1, John Viator will become director of Duquesne University's new Biomedical Engineering Program. A native of Fairbanks, Alaska, Viator comes to Pittsburgh from Columbia, Mo., where he was an associate professor in both the bioengineering and dermatology departments at the University of Missouri. Viator holds four patents and has been awarded more than $1.6 million in grants. He has a bachelor's degree in physics from the University of Washington, a master's in mathematics from the University of Oregon, a master's in applied physics from the Oregon Graduate Institute of Science and Technology, and a Ph.D. in electrical engineering from the Oregon Health & Science University. Viator and his wife, Melissa, have four children and will live in Pittsburgh's East End.
Suzanne Mellon is the 10th president of Carlow University. She comes to Pittsburgh from Manchester, N.H., where she was executive vice president and professor at Saint Anselm College. As the chief operating officer and second in command to the president, she was responsible for all areas of the college. Previously, she held a series of faculty and administrative positions at the University of Detroit Mercy and Wayne State University. She has a bachelor's degree in nursing from the University of Michigan, a master's in nursing from The Ohio State University, and a Ph.D. in philosophy from Wayne State University. A widow with four adult children, Mellon is living in Shadyside.
Joe Jacobsen is the executive director of academic programs at the new Energy Innovation Center in Pittsburgh. The center's mission is to contribute to socially responsible workforce development, foster energy and sustainable technology advancement, and assist in job creation through a commitment to diversity, innovation and comprehensive education. Prior to moving to Pittsburgh, Jacobsen was the director of the Center for Energy Conservation and Advanced Manufacturing at the Milwaukee Area Technical College. Previously, he was operations manager for the City of Milwaukee. He has an interdisciplinary Ph.D. from Marquette University in applications of nonlinear dynamics. Jacobsen lives in the Hill District's Crawford Square Apartments.
David Beaupré is vice president for management and business at Duquesne University. He comes to Pittsburgh from Baltimore, where he was associate vice president of finance at Loyola University Maryland. A native of Southbridge, Mass., he will oversee Duquesne's Division of Management and Business, including the controller's office, planning and budgeting, computing and technology services, facilities management, human resources, institutional research and public safety. He has a bachelor's degree in business administration from the College of St. Joseph and an MBA in executive management from Boston's Suffolk University. Beaupré and his wife, Libby, who have two children, live in downtown Pittsburgh.
Andrea Clark Smith is senior associate counsel and vice president of employee relations for UPMC. She comes to Pittsburgh from Dallas, Texas, where she was managing director and senior attorney for American Airlines. Previously, she was an assistant general counsel for Rockwell International. In all of her positions, she has provided training to management and external professional trade associations on various employment law issues. A Pittsburgh native, she began her career in employment law with Reed Smith. She has a bachelor's degree from Spelman College and earned her law degree at Emory Law School. She, her husband Demetrius and their daughter are house hunting.
Russell Howard is vice president of special events and development of the Pittsburgh Downtown Partnership. He will curate and produce a range of activities, including Light Up Night and the Holiday Market. He comes to Pittsburgh from Washington, D.C., where he was senior vice president communications worldwide for National Geographic Channels. He is a graduate of the University of Pittsburgh and previously managed news promotion, public relations, and community affairs at KDKA-TV. Howard and his partner are temporarily living in the East End as they look for a house in Pittsburgh.