Kar Hing
Smashing Chinese in Chalfant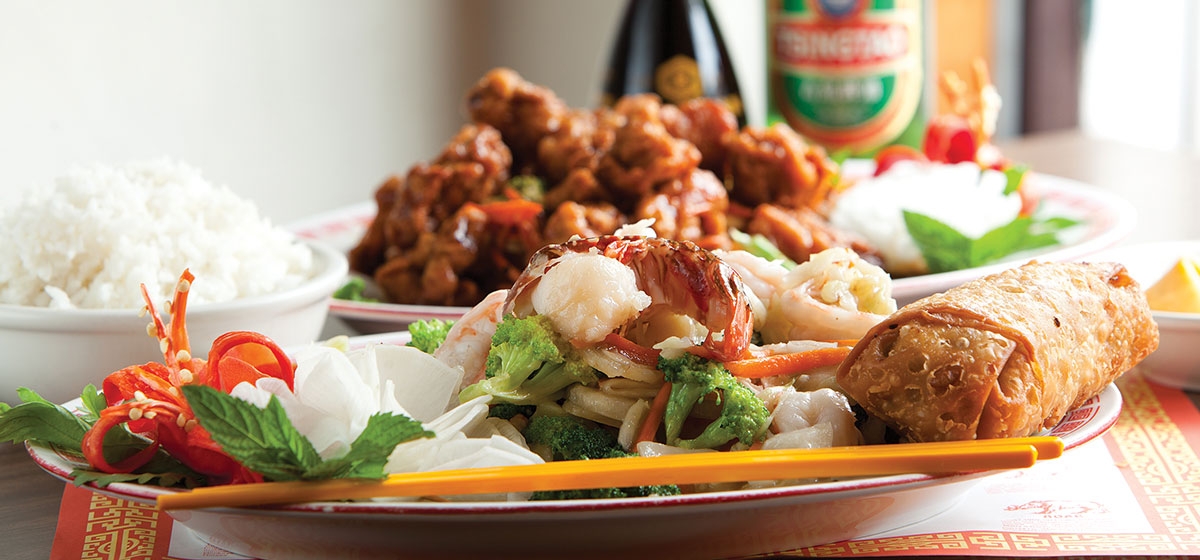 November 20, 2012
Since 1937, the world's first atom smasher–perched above Ardmore Boulevard at the confluence of Forest Hills, East Pittsburgh and Chalfant–has been a source of mystery and intrigue. The once-gleaming six-story-high silver ball–with its faded, giant Westinghouse "W" still visible–is a relic of the atomic age, but it is not the only rare find along that ridge.

Kar Hing, a Chinese neighborhood joint, the holy grail in a region dominated by Italian cuisine and bar food, sits just two blocks away. Once a Westinghouse factory workers' bar, it still has the old tin ceiling but now sports a cooler with Tsingtao alongside quarts of Miller High Life.
Wing Qin opened the doors in 1979, and his son Guang and daughter-in-law Shao arrived from Canton, China in 1984, first working in Pittsburgh's tiny Chinatown. The young couple took over Kar Hing in 1989, raised their son and daughter above the restaurant, and put them through college, working long hours downstairs while the kids studied upstairs. It is an American story.
Some variation of "Hey, Shao, how ya doin'?" is a common refrain as neighbors pop in to pick up orders, a lunchtime staple when the factory was booming. The plant closing hit these small towns hard, but the atom smasher and Kar Hing survived, one a relic of the past and the other still a gathering place where good food and happiness abound.
Portions are designed for hearty appetites and everything is made fresh, as though you dropped in on your folks or a favorite aunt who asked what you were hungry for and immediately went into the kitchen and started cooking for you. With Shao in the front of the house and Guang in the kitchen, the Qins pay homage to the mom-and-pop eateries that are now too hard to find.
The menu includes a number of Szechuan dishes along with typical items from their own region. Just like at home, only the freshest ingredients are used, and Guang handpicks his vegetables in Pittsburgh's Strip District. "When you get vegetables delivered," Shao says, "Someone else decides what to send you, and you can never be sure you have gotten the best."
The special wonton soup is a popular starter, packed with crunchy vegetables and lightly spiced pork wontons, and big enough to have satisfied a hungry millworker. The menu claims it serves two, but three can easily dine on this with a little left over—all for $5.99. Or you can enjoy as big a bowl of hot and spicy Szechuan pickle soup for the same price.
A very large shrimp egg roll, at $1.64, is easily shared by two and praised by regulars as "the best ever." The steamed dumplings, tasty little balls of pork in delicate translucent wrappers, are $4.99 for eight pieces.
General Tso's chicken, at $10.99, and Szechuan hoi sen combination, at $14.99, are among the most popular main dishes. The hoi sen includes jumbo shrimp, scallops and lobster, sauteed with vegetables in a spicy brown sauce.
Guang's specialties include the Triple Delight—flank steak, chicken breast and shrimp with vegetables—at $12.25, and Four Happiness, a namesake dish at Kar Hing; a happy combination of chicken, roast pork, beef and lobster, for $13.99.
You can still get the Chinese dishes of your childhood memories, favorites like chow mein, subgum chow mein, lo mein and chop suey, with your choice of chicken, pork, beef, shrimp or vegetables, from $6.75 to $9.25. Thirty-nine lunch specials range from $5.99–$7.35.
It is a small joint, with six tables seating 22 and a few stools so that you can eat at the bar. A giant Pittsburgh football schedule hangs next to a Chinese calendar featuring a demure young woman, posing serenely, with a calm lake and a temple in the background.
And when you ask Shao what Kar Hing means, it all makes sense. She smiles, slightly bows her head, and says, "happy family."