Josh Gibson on Deck
A world-premiere opera swings for the fences
Gibson image courtesy of the National Pastime Museum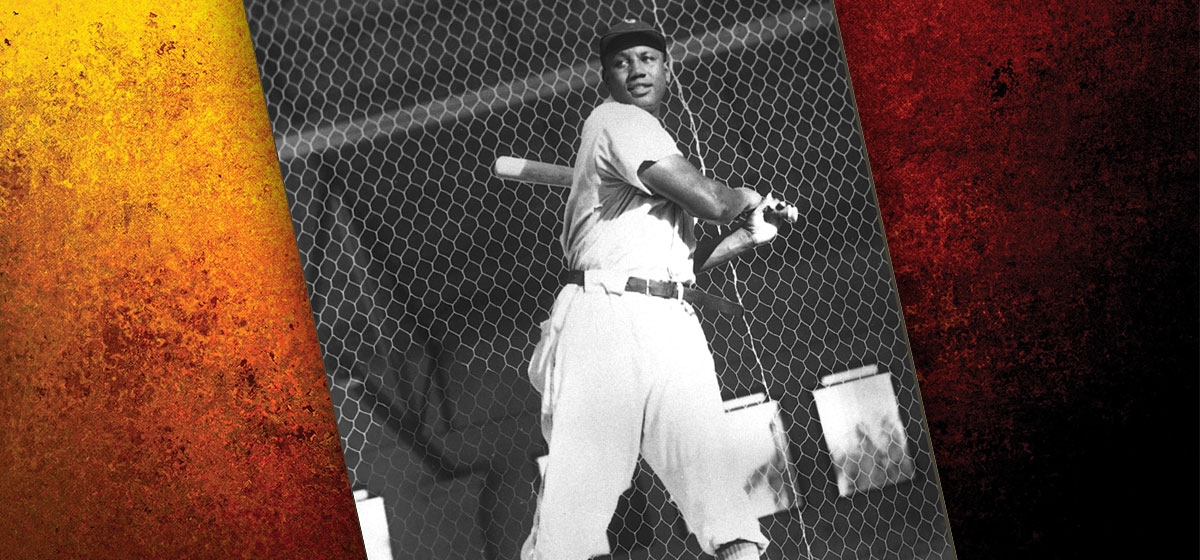 February 20, 2017
Pittsburgh's greatest but still relatively unknown sports hero is about to get a curtain call of a different kind. This spring, Pittsburgh Opera unveils "The Summer King," the world premiere of Daniel Sonenberg's tale of the remarkable, short life of baseball legend Josh Gibson.

The opera weaves a young black man's heartbreaking personal tribulations with his rapid ascent in a sport that would only let him climb so high. Possibly the greatest hitter who ever played baseball, Gibson's immense talent paved the way for the eventual shattering of the racial barrier that he came close to breaking.
The four-show run at the Benedum Center begins April 29 and features international opera sensations Alfred Walker and Denyce Graves, as well as a predominantly African American cast, which Pittsburgh Opera General Director Christopher Hahn calls "extraordinary." Accompanying the cast throughout the run will be some familiar Pittsburgh sports icons, including Al Oliver, Sean Casey, Rocky Bleier, Charlie Batch, and Franco Harris.
"In order to continue to refine the trajectory that has been the mission for the company, it was very important for us to find a project that would grab the imagination of a wider audience," said Hahn, the South African native who joined the Pittsburgh Opera in 2000 as artistic director and has been general director since 2008.
"I knew I'd found the right project because of the high level of recognition and excitement the name Josh Gibson brings really anywhere in baseball. It's a great story anyway, but to be able to celebrate here in Pittsburgh a native son of such athletic distinction who died tragically young, who didn't necessarily understand that he was on the cusp of history… for this area, it's the perfect story."
Gibson made his unorthodox Negro League debut at 18 after just two years playing organized ball. Instead of a tryout, he was plucked from the crowd during a Homestead Grays game and given an opportunity he never relinquished. Two weeks later, his wife of just over a year died giving birth to their twin son and daughter.
A great catcher, Gibson would later join forces with Hall of Fame pitcher Satchel Paige on the Pittsburgh Crawfords, owned by Crawford Grill proprietor Gus Greenlee. And in the off-season, Gibson went wherever they let him play—Mexico, Dominican Republic, Cuba—smashing the ball everywhere he went and eventually becoming known as "the black Babe Ruth."
At 31 and going into one of his greatest statistical seasons, the 6-foot-1-inch, 210- pound Gibson was diagnosed with a brain tumor after briefly falling into a coma. He played through intense headaches for four more years and died in January 1947 at the age of 35. Less than three months later, Jackie Robinson walked onto Brooklyn's Ebbets Field for his debut with the Dodgers. Gibson's crowning achievement was posthumous: a 1972 induction into the Hall of Fame in Cooperstown.
In a twist of fate, the opera company is preparing for its spring performances at its Strip District headquarters: a large brick warehouse formerly home to Westinghouse Air Brake Company, where Gibson worked as a janitor, trading his broom for a bat in the off-hours.
"The Summer King" is expected to renew Gibson's legacy in local circles at least, where it currently lives on through the Josh Gibson Foundation, which provides educational and after-school programs for Pittsburgh youngsters. The foundation recently announced the Josh Gibson Heritage Park in Station Square and is eagerly promoting the Pittsburgh Opera's pending premiere. "We're excited and happy to keep his memory alive," said Executive Director Sean Gibson, the slugger's great-grandson. "It's an honor."
As opening night rapidly approaches, Hahn and company are ready to show Pittsburgh what an opera is all about, and dispel preconceived notions of what an opera "should" be.
"People are going to come in because it's about Josh Gibson," Hahn said. "They'll come because of the extraordinary singers. They'll come because they love the story and the history, or they're proud of their Pittsburgh roots.
"And they'll leave saying, 'Wow, so that was an opera!' And that's all that matters. That's everything that matters."
Using the promotional code POJGF at ticket checkout will direct 10% of the purchase to Josh Gibson Foundation educational programs.