'It's Been Crazy': Gun Sales Break Records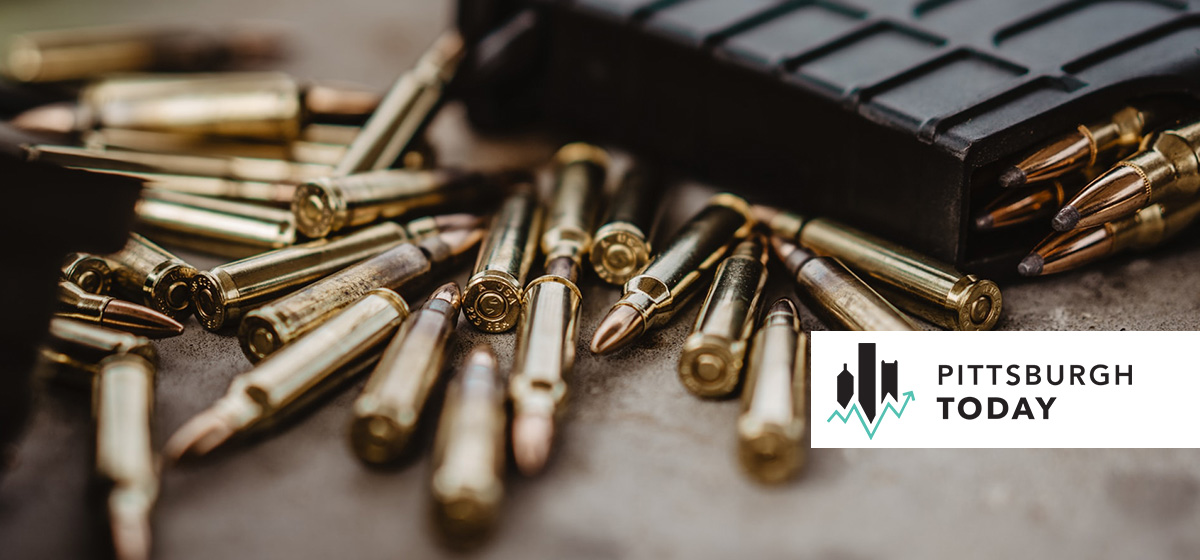 August 24, 2020
Gooch Ionadi has seen spikes in gun sales before. He's come to expect a surge of buyers at his Smoke 'N Guns shop when a mass shooting rekindles debate over gun control laws. And presidential elections are busy years, as a rule. But nothing compares to the last four months.

"I'm seeing little old women, little old men in their 70s and 80s buying," the Oakmont gun and tobacco shop owner said. "They've never owned a gun in their lives. I'm seeing single mothers. It's been crazy."
The confluence of a pandemic, civil unrest and a presidential election has created a perfect storm driving the sale of firearms and ammunition to record heights months before the traditional high season for gun sales begins.
An estimated 2 million firearms were sold in the United States last month, continuing an unprecedented surge that began in March, according to data reported by Small Arms Analytics and Forecasting, a research firm that specializes in the firearms and ammunition markets.
July sales were up 134 percent from a year earlier. June sales were up 145 percent. And March sales set a single-month record when nearly 2.6 million firearms were sold nationwide.
By the end of this month, 2020 firearms sales should surpass the total number of guns sold in the United States last year.
"These are numbers that have never been seen before during this period of the year," said Jurgen Brauer, chief economist for Small Arms Analytics & Forecasting. "This is supposed to be the low season for firearms sales. High season is always October, November and December—the start of hunting season, Thanksgiving and Christmas."
Monthly FBI data on background checks required for firearm licenses suggest gun sales in Pennsylvania are following national trends.
Fear drives sales
Concern over the prospects of new firearm and ammunition restrictions is the traditional driver of spikes in sales. Those concerns are most often seen in the wake of mass shootings and when gun control debates take center stage in state or national politics.
Before the record-breaking sales in March, the biggest spikes in U.S. gun sales were seen after the December 2012 mass shooting at Sandy Hook Elementary School in Connecticut and during the last presidential election when Hillary Clinton was polling ahead of Donald Trump. Firearm sales hovered at relatively high levels throughout the eight years of Barack Obama's presidency.
"Sales spikes, whether state-by-state or nationwide, tend to be related to fear in anticipation of [gun control] legislation, whether or not the legislation becomes law," Brauer said. "It's the fear that something might happen."
Conversely, firearm and ammunition sales tend to lag when the threat of new gun laws is low. "When President Trump got in, he's a friend of the gun industry, and sales went flat," Ionadi said. "There wasn't fear of anything being taken away."
Sales climbed 17 percent in February from a year earlier as the presidential primary season and televised debates among Democratic hopefuls gained more attention. The coronavirus outbreak, stay-at-home orders, business closures and other steps taken to control the virus sent gun sales through the roof in March. Sales were fueled two months later, when civil unrest spread to cities across the nation following the death of George Floyd in the custody of Minneapolis police.
"It's been layer after layer, wave after wave. It's a very unusual period we're seeing," Brauer said. "It has led to a sales spike among all kinds of population groups—women, young people, minorities. It's not only among whites."
The same circumstances are feeding demand for permits to carry a concealed firearm. "The phone is ringing off the hook eight hours a day," said Allegheny County Chief Deputy Sheriff Kevin Kraus. The sheriff's office processes concealed carry permits in the county. "We've consistently seen increases when there have been mass shootings or unrest in the country."
Applicants must appear in person, which has been a challenge during the pandemic. They are now required to book appointments, wear a mask and undergo a health screening before entering. Still, deputies are processing an average of 80 concealed carry permits a day—more than the 40–70 a day they would handle in a typical year.
And relentless demand has resulted in a growing waiting list for time slots, which are already booked through January of next year.
No end in sight
A run on firearms tends to create shortages that threaten to dampen sales in coming months. This year, firearm and ammunition inventories started shrinking well ahead of the traditional high sales season and shop owners are uncertain when they will be able to replenish stock.
"The supply of ammo is more of a problem than the supply of guns right now," Ionadi said. "You can't get it at all."
He reserves the ammunition he has in stock for customers who buy a new gun. "I won't sell a gun without that caliber [of ammunition] in stock." And even then, he said, "I sell one box per gun purchase and that's it."
But the anxieties that led to record gun sales persist. Summer has brought a rise in coronavirus infections and deaths in the United States instead of a moment of respite ahead of the coming flu season, as was hoped. The streets of American cities are calmer than months earlier, but calls for police reform and social justice show no sign of waning. And presidential campaigns are poised to enter their most hotly competitive months.
"All in all, I expect sales to be abnormally high," Brauer said. "In eight months, we've breached 12 months of sales made last year, even before the real sales season starts. That's unprecedented. And it will continue."